Bob Dylan's CD Set, 'The Cutting Edge' — A New Look At How He Rocked The World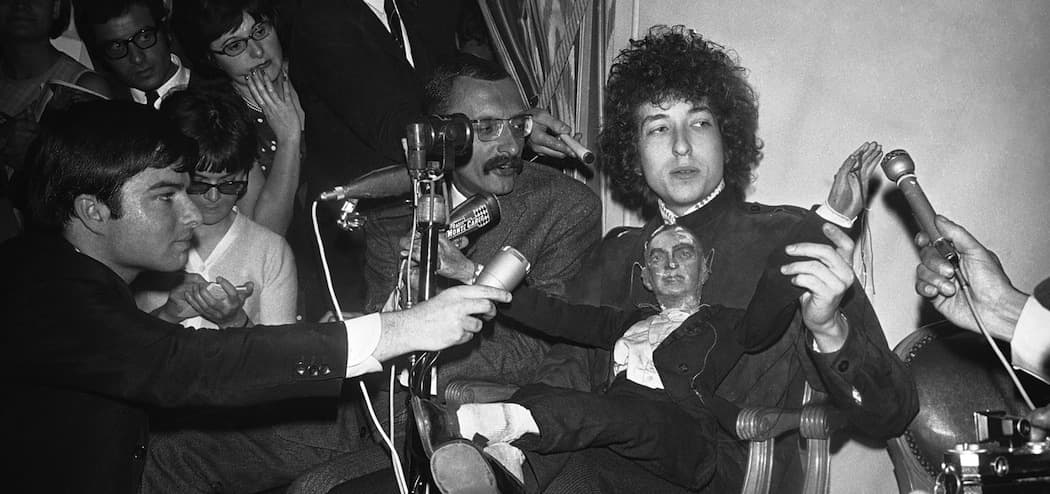 This article is more than 5 years old.
In 1965 and 1966 Bob Dylan rocked popular music, trading in his acoustic guitar for an electric. His introduction of some of the great rock musicians of his day (Paul Butterfield, Mike Bloomfield, Al Kooper), and days to come (The Band), were the musical equivalent of Marlon Brando and his motorcycle gang riding into a small town in "The Wild One" — but with even more of an attitude.
Newport was appalled and folkies wanted to ban him in Boston (or at least boo him off the stage). But the rock world all wanted to attach itself to him in some shape or form — sing his songs, perm their hair like his and follow along any way they could on his jingle-jangle pied-piper path.
The period produced three of the must-have albums in rock history — "Bringing it All Back Home," "Highway 61 Revisited" (featuring "Like a Rolling Stone") and "Blonde on Blonde." There were also enough other singles ("Positively Fourth Street") and unreleased songs ("Farewell Angelina") that Columbia could have filled a fourth A-level album with no trouble.
Even Dylan has had trouble explaining the extent to which he was possessed in those years, which ended in the famous motorcycle accident in the summer of 1966 that had him recuperating with The Band and recording what would become "The Basement Tapes."
It's tempting, then, to think that these songs —  "Mr. Tambourine Man," "Desolation Row," "Visions of Johanna" — were Dylan's equivalent of speaking in tongues, as if he were in a spell that connected him to the zeitgeist in some mystical way. You could imagine Leonard Cohen sitting at a desk, logically reworking the poetry of songs like "Suzanne," but Dylan's work seemed more intuitive, even divinely inspired.
Not so. "The Cutting Edge," the latest in the Columbia/Legacy "Bootleg Series" — made up of rehearsals and outtakes from those two years — makes it clear that Dylan was as much craftsman as artist, reworking song after song till he got the lyrics and the music just right. Not alone, certainly. There were two terrific producers — Tom Wilson ("Bringing It All Back Home" and "Like a Rolling Stone") and recently-deceased Bob Johnston ("Blonde and Blonde" and most of "Highway 61 Revisited") as well as an assortment of great musicians who caught his ear.
But 1965 and 1966 were Bob Dylan's world, everyone else was along for the ride.
If a six-CD set of multiple takes seems like too much, be advised there's the usual two-CD set as with the other bootleg volumes. (This is Volume 12.) But there is also, hold on to your wallets, a 19-CD set of every note recorded in those years along with all the singles and a leopard-skin printed spindle available only at BobDylan.com, all for $600.
A bit much? Not the six-CD version, at least if you're a past or present Dylan fan (a mere $120 or so on CD, less on vinyl and MP3). It's a fascinating insight into Dylan's process, akin to reading a favorite author's notebooks or a composer's crossouts.
In fact, it's reminiscent of Leonard Bernstein's legendary explanation of Beethoven's Fifth Symphony in which he played the first movement with some of the parts that Beethoven had discarded.
"You see, a lot of us assume, when we hear the symphony today, that it must have spilled out of Beethoven in one steady gush, clear and right from the beginning. But not at all … The man rejected, rewrote, scratched out, tore up, and sometimes altered a passage as many as twenty times."
That gush is also how I pictured Dylan's writing and recording in the '60s, but listening to this set shows that he's as logical and critical of his work as anyone, finding just the right word, just the right tempo change to give each song that sense of Beethoven-like inevitability — despite the fact that he would continue to rework each song in concert.
But do you really want to know how the sausage is made? If you're a Dylan fan, yes you do. The two-CD version is a fine addition to the collection in its own right — great outtakes of most of the landmark songs from the era and a few additions to the set list that you might not know. It's the six-CD version, though, that makes the real artistic statement.
There's one whole CD given to "Like a Rolling Stone." We hear Dylan with the germ of a musical idea. He knew what he wanted to say but worked hard to find how he wanted to say it. After noodling about for a bit Dylan and Wilson try it as a waltz. It's pleasant, which of course doesn't fit the mood, the in-your-face challenge of the song.
The tempo keeps advancing — he knows he's getting there — the chorus is right, musically, but there's no urgency and the lyrics aren't quite right. Then finally, a day later, the snap of Bobby Gregg's drums, the twin keyboards of Al Kooper on organ (a story in itself) and Paul Griffin on piano, Mike Bloomfield's restrained but powerful guitar fills and, of course, the vocal that changed everything in rock music.
If this was perfection, Dylan tried to make it better, upping the tempo before realizing that he had already struck gold. Here's Don Gonyea's take on NPR.

In other instances he'd go the other way. There have long been bootlegs around of the original hard-rock takes of the eventually languid "It Takes a Lot to Laugh, It Takes a Train to Cry."
They're represented here, but the real revelation is "Visions of Johanna," a driving version by The Band (Gregg instead of Levon Helm on drums). It's a little masterpiece in its own right, but it wasn't the sound Dylan was inching toward. The hard-rock version is on the two-CD set but the six-CD has a couple more in which Dylan and The Band keep slowing things down without ever quite reaching Nirvana. For that Bob Johnston would take him down to Nashville. On that track, Dylan goes for chain-smoking, blues in the night depressiveness. But it's a smooth sound, equally suited to the uptempo jocularity of "Stuck Inside of Mobile with the Memphis Blues Again" (five takes here).
Lyrics also get sharper, too. Grammarians turn your heads, but "What he doesn't know to begin with" on "Positively Fourth Street" sounds all wrong compared with the final "What he don't know to begin with"
The bootleg series is always filled with smart liner notes and no exception here. The point is made that Dylan's comic blues on acoustic songs are all mildly amusing ditties, but once he plugs in they take on a harder edge. You hear it in the acoustic version of "Bob Dylan's 115th Dream" here, knowing that once he adds Bruce Langhorne's electric guitar his satirical observations are literally electrified.
There's a camaraderie with the musicians that doesn't necessarily come across in concert. "You gotta put a wall up over him," he declares after one of Bloomfield's extraordinary guitar licks.
So be extra nice to that special someone as the holidays approach. As Columbia said in a famous — and accurate — ad campaign in the '60s: "No one sings Dylan like Dylan." It turns out that nobody rehearses and edits like Dylan either. The six-CD "The Cutting Edge" proves it.
---
Ed Siegel is the editor and critic at large for The ARTery.