GE Releases Renderings Of Proposed Boston HQ
Touting spaces for community connections and an environmentally friendly design, General Electric on Monday released detailed plans and architectural renderings for its forthcoming Boston headquarters.
The details were included in an 869-page filing with the Boston Redevelopment Authority and a company press release. The filing begins the permitting process for the much-anticipated move of the industrial giant from its Fairfield, Connecticut, base of operations.
The Boston site, located along Fort Point Channel in the Seaport District, is slated to include the rehabilitation of two brick former warehouse buildings and the construction of a new, glassy 12-story building with what the company is calling a solar "veil" cascading down off the top.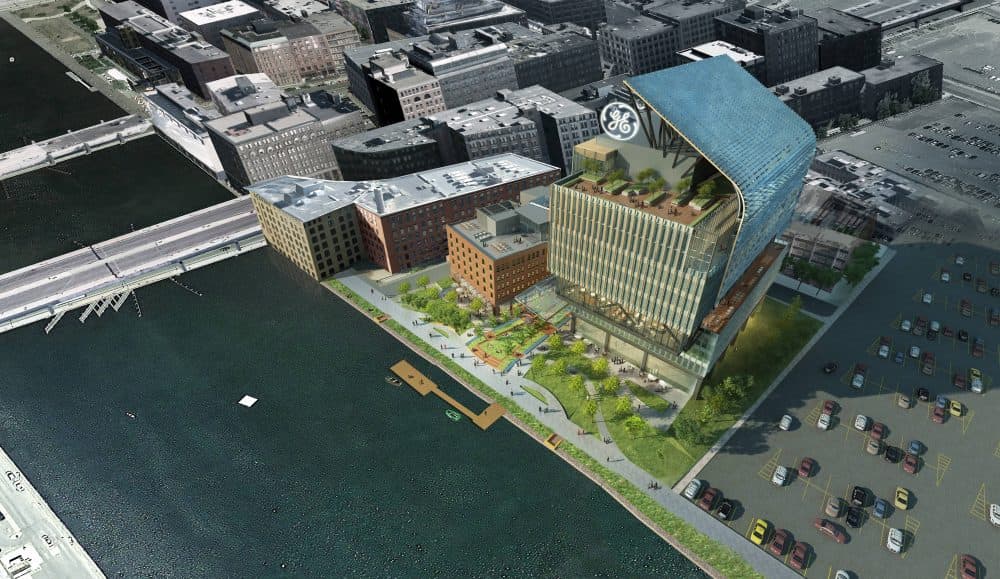 Ann Klee, head of Boston development and operations for GE, said in an interview that the new HQ will "reflect the transformation that the company is going through, coming from our industrial past to our industrial future."
She said the 2.4-acre campus is "being designed to foster collaboration," and the first floors of all three buildings will be open to the public. The site will include, according to the press release, a "maker space" for employees and classroom instruction, a "convener space" for presentations and events, a "community work lounge" and "improved public outdoor space."
Klee also pointed to the campus' green design aspects, including the rooftop solar system, vegetated roof areas and raised ground floors for resiliency to sea level rise. She said the solar "veil" is designed to relate to the neighborhood's maritime past, and she thinks it's going to be considered an iconic element.
Perhaps most noteworthy on Monday, however: Though the campus will ultimately house about 800 GE employees, it will only have 30 parking spaces.
"We really want to encourage employees to use public transportation," Klee said, citing South Station, for instance, as a five-minute walk away. She said the company "very intentionally" designed the building without a massive underground garage.
"The kinds of employees we hope to be attracting in the future really do want to take public transportation, they want to bike to work, so we'll have facilities for bike racks and showers," she added.
The city and state offered GE tens of millions of dollars in tax incentives to help lure its headquarters from Fairfield to Boston. Critics have voiced concern about the lucrative tax breaks, but GE officials and city and state leaders have said they're confident the offered incentives will pay off.
GE's new headquarters is scheduled to open in two phases in 2018. Beginning on Aug. 22 of this year, GE will occupy temporary office space on Farnsworth Street in Fort Point.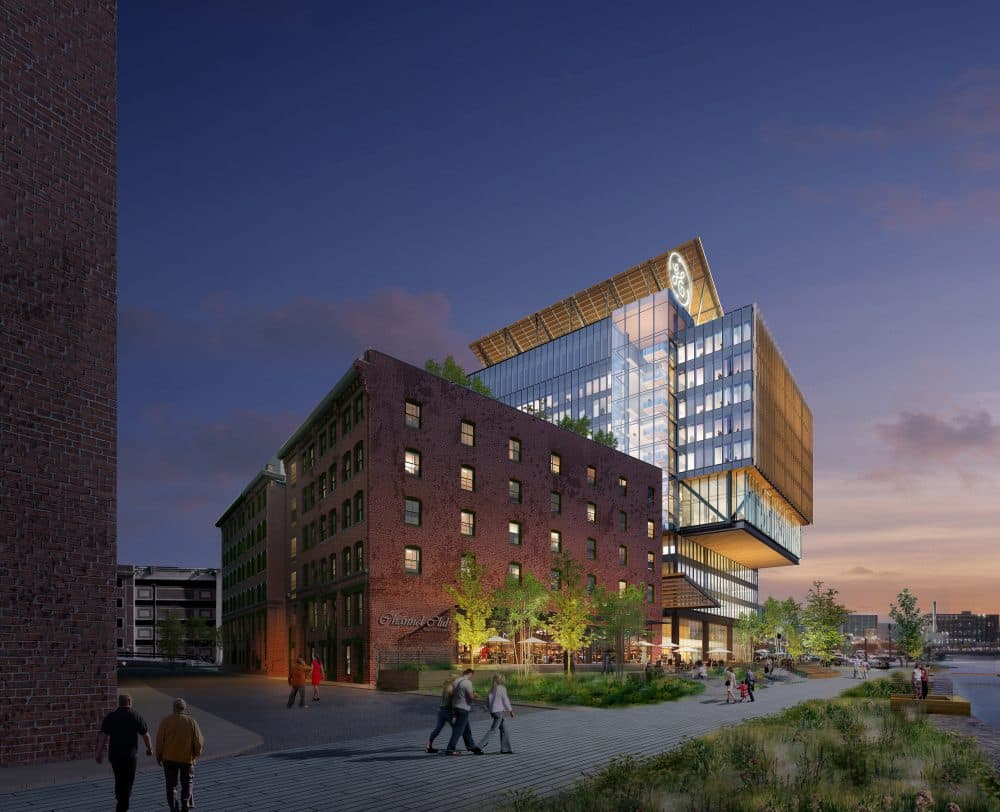 This article was originally published on August 01, 2016.