How Boston Residents Get To Work — And How Long It Takes Them
For 80 percent of residents in Boston's Longwood area who work, the daily commute takes less than half an hour each way.
In Mattapan, it's a different story. There, just about a third of the neighborhood's working residents have a commute of less than 30 minutes. For everyone else, it's a longer trip. In fact, a quarter of its working residents commute at least an hour each way.
The commute times reflect the differences in the neighborhoods -- with Longwood a more centrally located, job-heavy place, and Mattapan farther out and more residential -- but they also speak to unique situations — and challenges — for many of the city's residents.
For instance: public transit availability.
The figures come from a report out this week from the Boston Redevelopment Authority, and in the report the BRA specifically mentions that "Mattapan is a residential neighborhood with ... limited access to subway lines."
"When you look at the public transportation system in Boston what you can see is that inequality is already hardwired into the system," Alvaro Lima, the BRA's director of research, told The Dorchester Reporter, which first reported on the findings Wednesday. "A single mother who works in Mattapan and has to drop off her child to day care and then get to a job in Brighton has to have a car. I don't know how you make it."
The commuting times are based on five years of U.S. Census surveys, and the data excludes residents who work from home. Here's the BRA's table of commuting times for each neighborhood: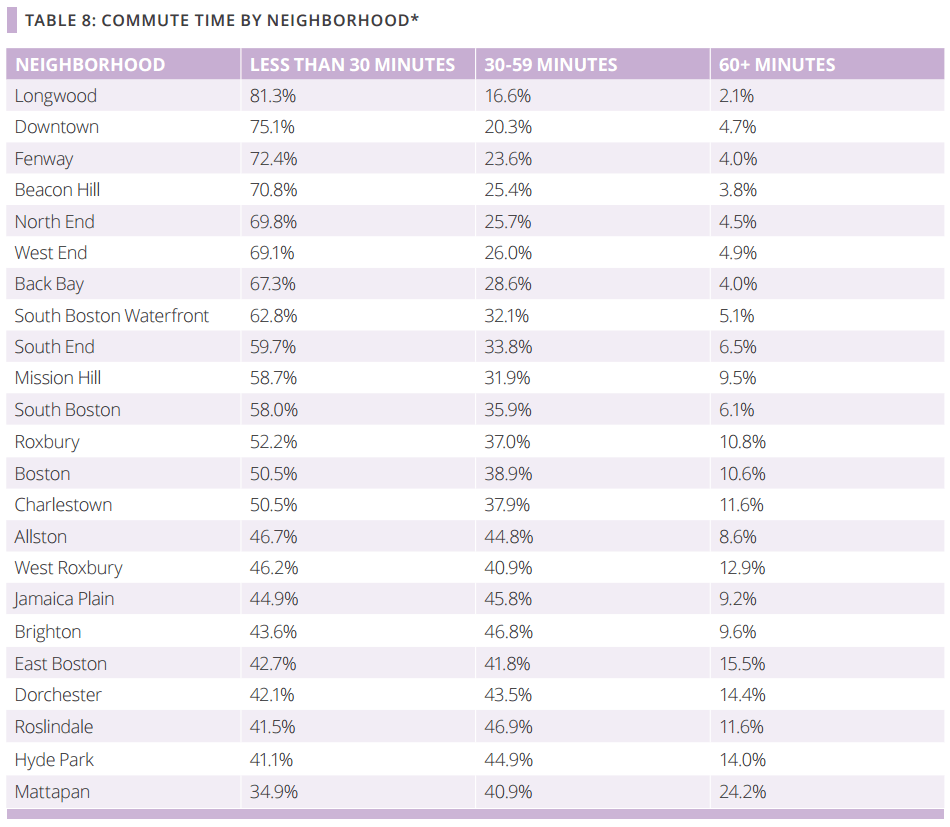 The report also details how each neighborhood's residents get to work.
And again, geography plays a role.
More than half of residents in downtown neighborhoods like Longwood, Beacon Hill and the North End walk or bike to work, while about three-quarters of residents in the more suburban neighborhoods of Hyde Park and West Roxbury commute via car, truck or van.
East Boston is the neighborhood with the highest share of public transportation commuters, at 58 percent of resident workers. Here's the full breakdown (again, using census data):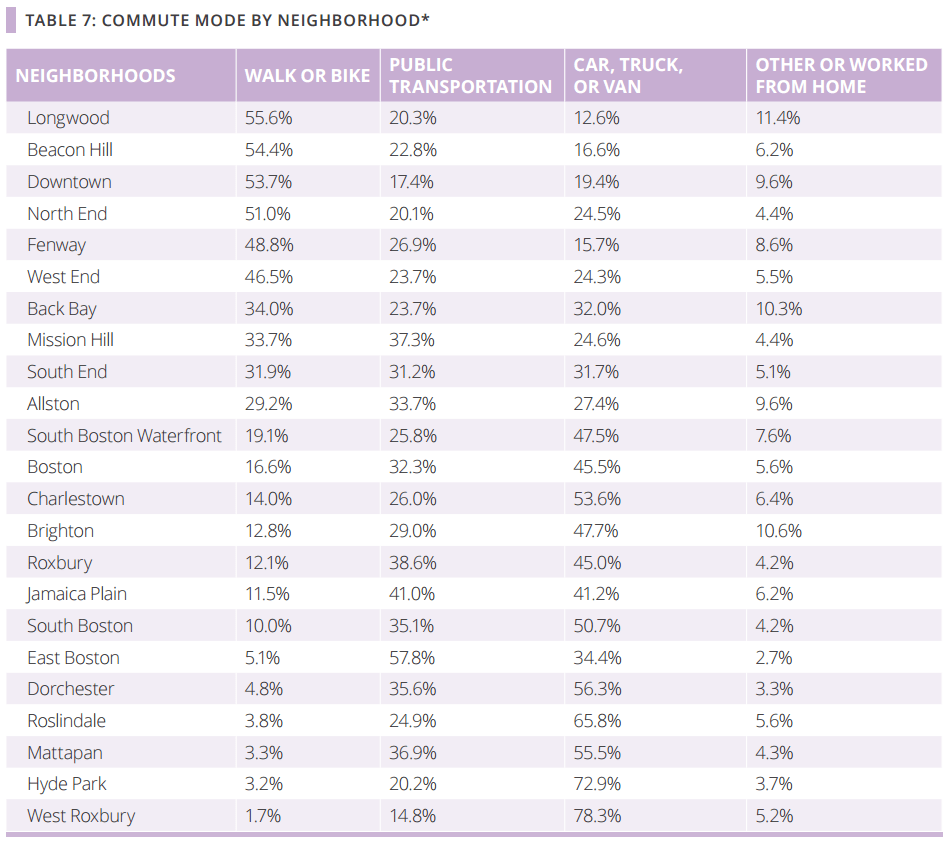 Now, these patterns aren't exactly new, and this isn't the first report to illustrate the commuting differences among Boston's neighborhoods — The Boston Foundation's Indicators Project, for instance -- but in a city so often struggling with effectively moving around its workers, the snapshot is noteworthy.