Analysis: Why Early Poll Numbers Are No Guarantee For Warren, Baker Reelections
Play
This article is more than 6 years old.
Though the 2016 election is dominating the national news, here in Massachusetts there are no major statewide races on the ballot.
Fast forward to 2018, and both Gov. Charlie Baker and U.S. Sen. Elizabeth Warren are expected to be running for reelection. They are a popular pair.
At this early moment, what are the prospects of a real contest for either office in the 2018 election? If very recent history is any guide, nobody should take anything for granted.
Baker has consistently held extremely high poll numbers on pretty much every measure since taking office. The new WBUR poll (topline, crosstabs) shows he still walks on water. Sixty-two percent of likely Massachusetts voters give him a favorable rating, compared to just 16 percent unfavorable. For the last few years, national polls comparing him to other governors have often found him one of the top two most popular governors in America.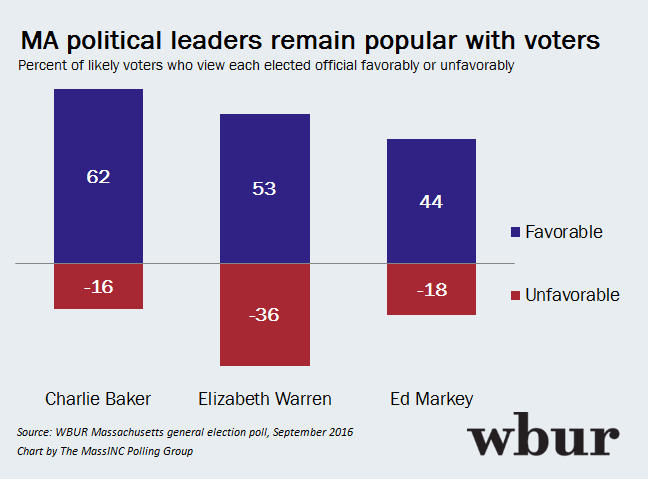 Warren's numbers are not quite as high as Baker's, but still look strong. In the WBUR poll she is viewed favorably by 53 percent of voters, and unfavorably by 36 percent. She too has routinely drawn positive reviews throughout her nearly four years in the Senate.
Both Warren and Baker are political juggernauts right now. But as two recent elections have shown, much can change in two years.
Former Sen. Scott Brown was once the state's most popular politician. As late as the summer of 2011, he faced no credible opposition, and seemed the overwhelming favorite to easily win reelection. But then Warren appeared on the scene, took the Democratic nomination, and beat Brown by 8 points in their 2012 match-up.
More evidence that polls taken months and years ahead can change in a big way comes from former Gov. Deval Patrick's reelection bid. In February 2010, the year he ran for reelection, a Suffolk University poll found just 35 percent of Massachusetts voters approved of his performance, and only 29 percent thought he deserved another term. He turned his numbers around by the fall, and won reelection handily.
Of course, unseating Warren would require the Massachusetts Republican Party to recruit a qualified and appealing candidate, which has been a struggle in recent years. And the Democrats would have to find someone willing to take on Baker, one of the nation's most popular governors.
But with this long to go until 2018, nobody is invincible, no matter how high their poll numbers are right now.
This segment aired on September 14, 2016.