Analysis: Mass. Voters' Concerns Ahead Of Gov. Baker's State Of The Commonwealth Address
Play
This article is more than 6 years old.
Two years into Charlie Baker's term as governor, Massachusetts residents have a lot to be happy about.
The state's economy is red hot, with the unemployment rate at an amazing 2.8 percent. In a new WBUR poll, 57 percent of voters in the state say they are satisfied with the economy. And a majority of voters also give the state's education system good marks.
But despite the strong economy, voters are also feeling the pinch on specific pocketbook issues. Just 27 percent of those recently surveyed in the poll are satisfied with the cost of housing in Massachusetts, and only 30 percent are satisfied with health care costs.
Both housing and health care costs have been climbing rapidly in recent years, challenging residents to keep up. On another key issue, only 37 percent are satisfied with the state's transportation system, despite new electronic tolls on the Massachusetts Turnpike and the governor's ongoing efforts to improve the MBTA.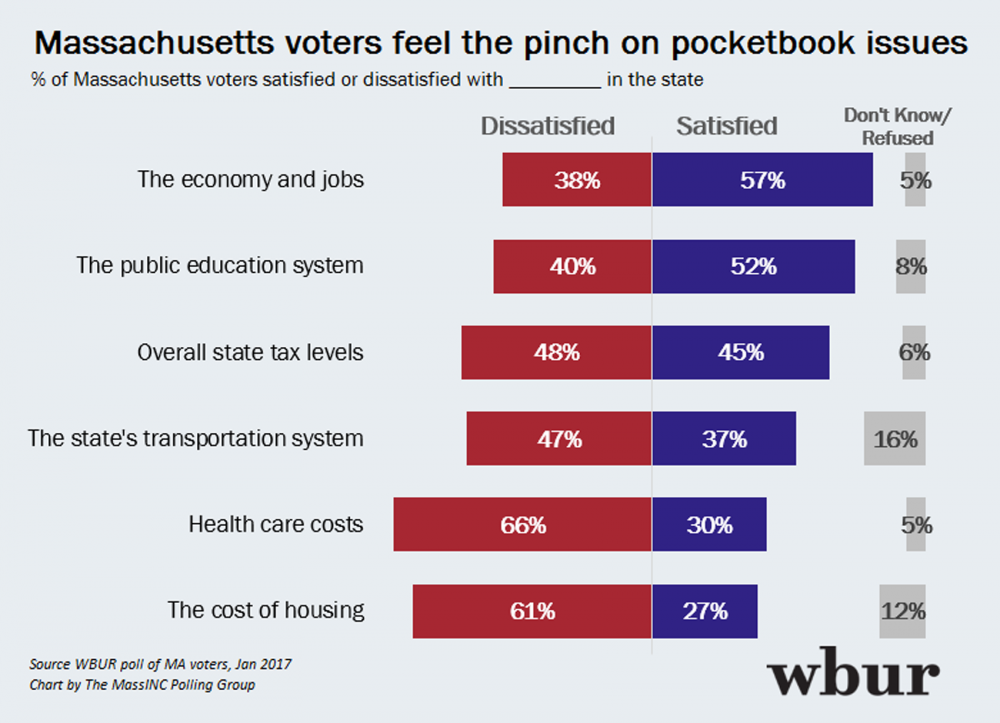 Some voter concerns also come from national issues. The poll found little optimism about the state's prospects under new President Donald Trump. Just 20 percent think Trump's presidency will be good for Massachusetts, and 28 percent have a favorable view of him. The day after Trump was sworn in, a massive crowd converged on Boston Common for the Women's March, a sign that national politics have come home to Massachusetts.
With this level of unease about Trump's impact on Massachusetts, questions about Trump's policies and comments will be harder for Baker to brush off as national issues — his usual strategy during the presidential campaign.
Baker will get some benefit of the doubt, as voters still hold him in high regard. Two years into his term, 59 percent view Baker favorably. This is down a bit from his sky-high favorables earlier in his term, but is still impressive for a Republican in a heavily Democratic state. Even 60 percent of Democrats hold a favorable view of Baker — an achievement in this age of partisan discord and almost as high as his 65 percent mark with Republicans.
On Tuesday night, as Baker addresses the commonwealth, he will face a mostly friendly audience, who generally like him and his policies. But even with a roaring economy and a strong education system, voters are still struggling to keep up with rising costs, anxieties over income inequality and nervous about the what President Trump will mean for Massachusetts.
This segment aired on January 24, 2017.