Gonzalez Launching Bid For Governor With Anti-Trump Focus
This article is more than 6 years old.
The race for the Democratic nomination for governor in 2018 will get a jolt on Monday when Jay Gonzalez, a former state budget chief under Deval Patrick, plans to make his candidacy official, becoming the first formal entrant as the party looks for a viable challenger to Gov. Charlie Baker.
Gonzalez, who served in Patrick's Cabinet before leaving to run the health insurer CeltiCare, will kick off his campaign by traveling around the state to meet with people and hear the concerns of residents, according to a copy of the announcement provided to the News Service.
As the son of an immigrant father from Spain, Gonzalez, 46, will also root his early messaging in the liberal backlash to the start of Donald Trump's presidency as he urges Massachusetts voters to "aim high."
Protests erupted across the country over the weekend, including in Boston, over Trump's order temporarily suspending entry to the U.S. of refugees and immigrants from seven majority-Muslim countries. According to the Trump administration, the order aims to prevent terrorist infiltration by foreign nationals and applies to countries designated by Congress and the Obama administration as posing national security risks in the Visa Waiver Program.
"From the American Revolution to marriage equality, Massachusetts has always been at the forefront of our country's biggest issues," Gonzalez said in a statement. "President Trump threatens our values and threatens to take us backward. Now more than ever, we need a Governor who is going to stand up and fight for our values and fight to move us forward. I'll be that Governor. I'll work with a sense of urgency to make sure that every working family has a fair shot for a better future."
Gonzalez added to WBUR's Newscast Unit: "I'm concerned that Gov. Baker has been too satisfied with the status quo and is too often sitting on the sidelines when we need him."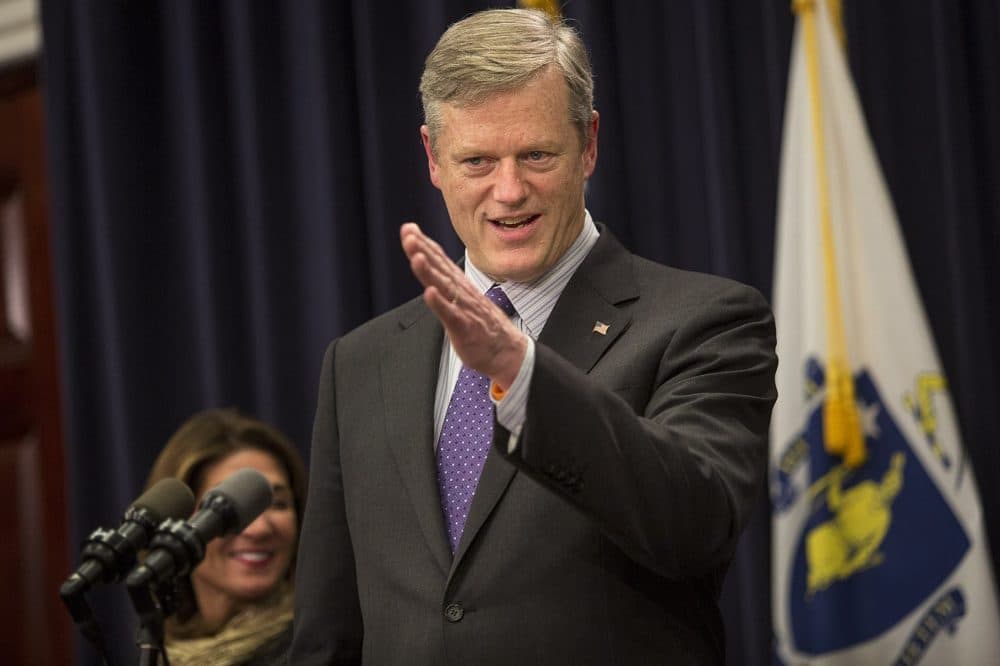 Gonzalez left his job as CEO of CeltiCare on Dec. 31 to begin exploring a potential candidacy for governor. By entering the race now, Gonzalez, as a first-time candidate, will be able to begin courting donors and building a campaign team. He plans to set up a campaign account on Monday, according to an adviser.
Much like Patrick who began his first campaign for governor around this time in 2005 nearly 20 months before the primary election, Gonzalez must overcome a deficit in fundraising and name recognition. He is working with former Patrick senior aide and 2010 campaign manager Sydney Asbury on his campaign.
Baker, who has not yet formally announced plans to seek a second term, has over $4.7 million in his campaign account. Newton Mayor Setti Warren, a Democrat who is also exploring a potential run, has close to $90,000 in funds that could be put toward a statewide campaign. Warren is working with John Walsh, who was a force behind Patrick's back-to-back victories in 2006 and 2010.
Since taking office two years ago, Baker has enjoyed strong popularity among voters, though a poll this month showed his favorability numbers down 10 points from June 2015 to 59 percent, which is still strong.
Some Democrats, including the state party, have seen a possible vulnerability for Baker stemming from Trump's victory in November, and have criticized the governor for not being a stronger voice of opposition to Trump. Though Baker did not support the president during his campaign, the governor attended his inaugural and has sought to keep an open mind toward the new administration with which it will have to work for at least the next two years.
Baker did criticize Trump's immigration order over the weekend.
"Massachusetts is a global community. We all benefit from the shared experiences of our partners from around the world. Our education, health care, business and public sector institutions rely on these relationships to deliver on their missions every single day. The federal government's recent decision puts this at risk and I believe focusing on countries' predominant religions will not make the country safer as terrorists have showed they intend to strike from across the world," the governor said in a statement Sunday.
Democrats, however, are likely to continue to try to tie Baker to the Trump, who lost in Massachusetts and remains deeply unpopular with Democrats. Gonzalez said in his announcement that Baker has been "too satisfied with the status quo, and he too often stands on the sidelines when we need him."
"He's been a status quo, wait and see governor," Gonzalez said of Baker. "It's not good enough. Now more than ever, we need a Governor who is going to stand up for every single person and make it crystal clear that hate and discrimination will not be tolerated."
Gonzalez developed and managed three state budgets under Patrick as the state grappled with the effects of the last recession before leaving the administration in early 2013 to take over CeltiCare.
After leaving government, Gonzalez briefly served as chair of the Massachusetts Board of Early Education and Care and in his announcement the one-time municipal finance attorney described himself as a "fierce advocate for high-quality early education and childcare for all of our children" that is also affordable for all families.
Gonzalez does not plan an event tied to his announcement Monday, but will likely be conducting interviews. He was unavailable to speak with the News Service Sunday night.
Before entering state government, Gonzalez was a partner at the law firm of Edwards Angell Palmer & Dodge where he specialized in public finance. He is a graduate of Dartmouth College and Georgetown University Law School, has two children and lives in Needham with his wife Cyndi Roy Gonzalez, who also worked for Patrick and Attorney General Maura Healey and is a former Stat House News Service reporter.
This article was originally published on January 30, 2017.