AG Healey: Mass. Is Joining Lawsuit Against Trump's Travel Ban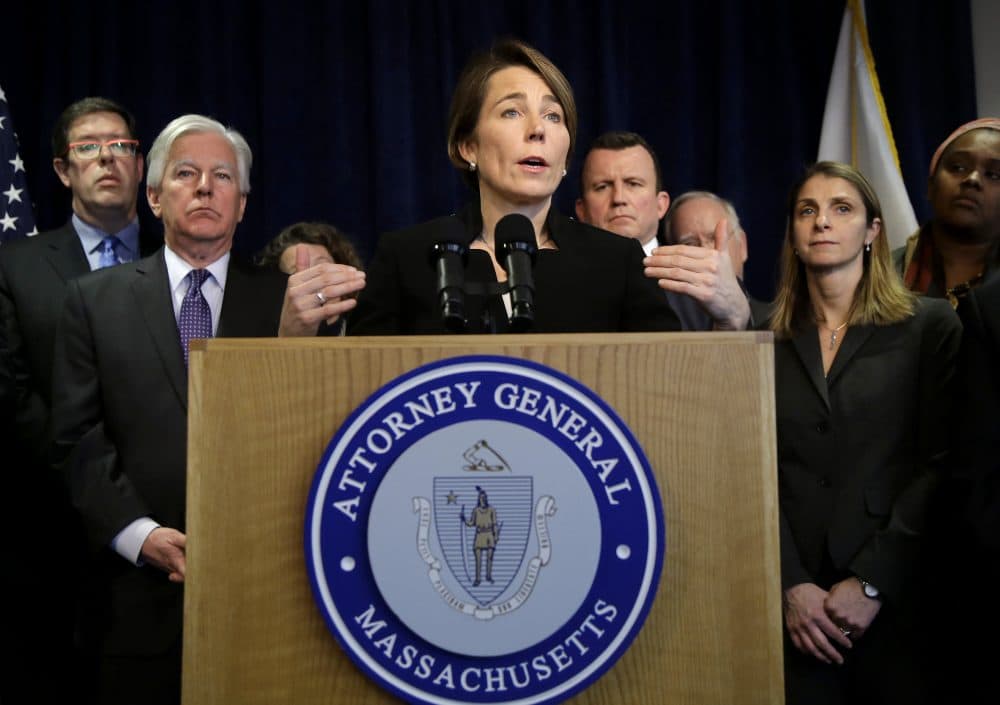 This article is more than 5 years old.
State Attorney General Maura Healey says Massachusetts will join a lawsuit challenging President Trump's controversial executive order that temporarily halts refugees and travel from certain Muslim-majority nations.
During a press conference Tuesday where she was joined by education, business and civil rights leaders, Healey denounced the order as "harmful, discriminatory and unconstitutional."
"By filing today, we're fighting for the principles that have made America a beacon of hope and freedom for the world," Healey said.
Healey is joining a suit that was filed over the weekend by the American Civil Liberties Union of Massachusetts on behalf of two University of Massachusetts Dartmouth professors from Iran. The professors were temporarily detained at Boston's Logan Airport on Saturday even though they are lawful permanent residents of the United States.
"[The order] violates the rights of Massachusetts residents, it violates their right to be treated equally under the law," Healey said Tuesday. "You are not supposed to discriminate against someone based on their religion. That's what this order does."
As a result of the ACLU's lawsuit, two federal judges in Boston on Sunday issued a temporary stay of Trump's order, halting enforcement for seven days. A hearing on the case is scheduled for Friday. Healey says the state will seek to extend the stay.
Gov. Charlie Baker did not join Healey at a news conference announcing the lawsuit but issued a statement that expressed support for the action and a hope that the courts would resolve the dispute quickly.
On Sunday, Healey was one of 17 Democratic attorneys general who signed a letter vowing to "fight" Trump's order. Washington state has also filed a separate lawsuit against the order.
It's the third lawsuit Healey has been a part of against the president.
Late Monday, Trump fired Acting Attorney General Sally Yates, concluding she has "betrayed the Department of Justice" by refusing to defend his executive order.
Trump has maintained his support for the order, which bars immigration for citizens of seven Muslim-majority countries for 90 days and blocks refugees for 120 days. He said in a statement that it is "about terror and keeping our country safe."
With additional reporting from The Associated Press
This article was originally published on January 31, 2017.