Tom Brady Filmed That 'Roger That' TV Ad Back In September
This article is more than 4 years old.
"Roger that."
Everyone knows pricey Super Bowl commercials get a lot of attention, but it's a local one that has Greater Boston buzzing right now.
If you watched the New England Patriots this season, you've probably seen an ad for Shields MRI, in which quarterback Tom Brady takes off his four Super Bowl rings before heading in for an appointment.
An altered version aired around Boston right after Sunday night's are-you-kidding-me Super Bowl win — Brady's fifth.
"Is that all?" he's asked.
"Actually no," he says, taking out a fifth ring. "I forgot this one. It's kinda new."
When it's suggested that Brady will need a bigger locker for his jewelry, he responds: "Roger that" — a not-too-subtle dig at Roger Goodell, the NFL commissioner who suspended Brady four games for the whole Deflategate saga, and who's been much maligned around New England for that decision.
In a press release Monday, Shields Health Care said both the original ad and the alternate ending were filmed in September.
Brady's four-game suspension officially began on Sept. 3. He returned for game No. 5, on Oct. 9.
"There were no guarantees, but there's faith in what the Patriots can accomplish, and there's faith in Tom Brady, so everyone on the [commercial's] set agreed to go for it," Carmel Shields, vice president of Shields MRI, told WBUR.
Shields said the ad was directed by Bobby Farrelly, one half of the Farrelly brothers, who directed comedies like "There's Something About Mary."
Shields had bought an ad slot for the moments following the Super Bowl. But — of course — it wasn't until the game was over that the alternate version got the green light.
The ad will continue to run over the coming months.
Goodell was booed vociferously by fans Sunday night before handing over the championship trophy to the Patriots. On Monday morning, he handed Brady the Super Bowl MVP trophy: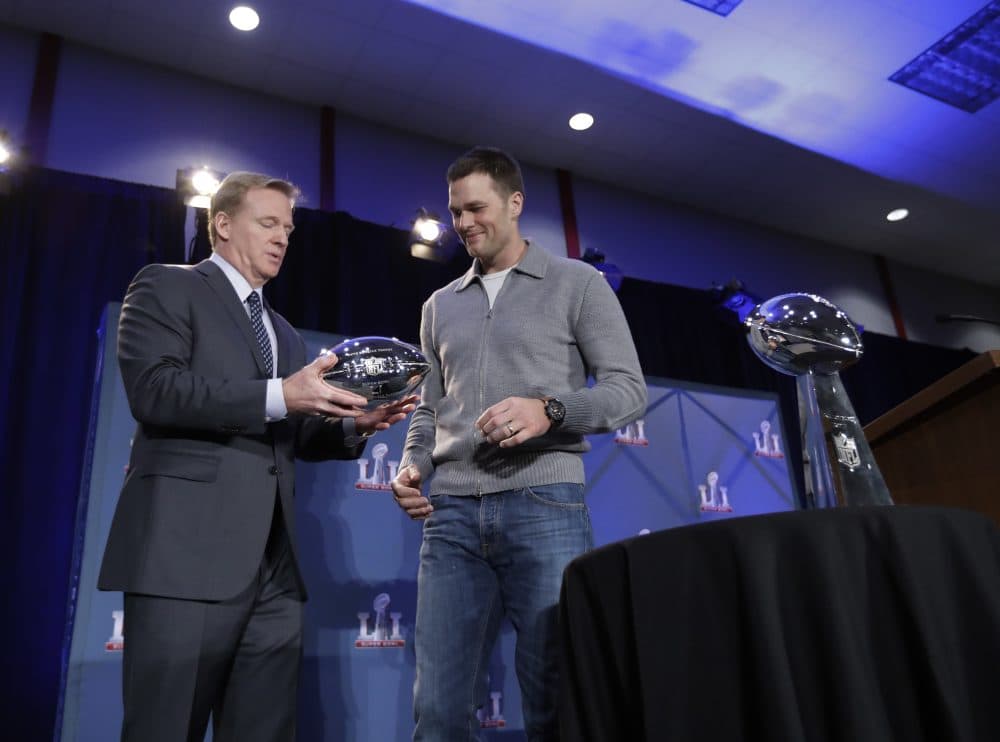 With reporting by WBUR's Simon Rios
This article was originally published on February 06, 2017.