So Boston Calling Got A Lot Bigger ... And Other Thoughts
Now that we've had a couple days to rest our ears — and our feet — The ARTery team has a few thoughts, and a few questions, about the dramatically expanded Boston Calling Music Festival in Allston this past weekend.
Amelia Mason, music critic — I suppose growing pains were to be expected with the move from City Hall Plaza in downtown Boston to the Harvard Athletic Complex in Allston, but I must admit I was surprised at the logistical challenges that ensued. The festival organizers apparently were, too.
Organizers estimate the event nearly doubled in size from last year, pushing 40,000 attendees, and on Friday when I visited, there were lines to prove it: at the food stalls, which couldn't produce fast enough to sate the hungry masses; at the entrance, where there was an hour-long bottleneck to get in; and at the Porta Potties, where the line seemed to stretch endlessly. (The issue with the bathrooms could have been easily remedied by pointing people to a large, but slightly hidden, group of portable restrooms on the far side of the complex.) I found the adjacent positioning of the Red and Green stages to be a major problem: As the headlining acts approached, the two audiences merged into one enormous, teeming throng that never seemed to stop moving. The fenced-in VIP area, with its open expanse of grass entirely visible but equally out of reach, taunted us.
That's not to say the festival was a failure — from an artistic standpoint, I thought Boston Calling knocked it out of the, er, athletic complex. (At least on Friday when I was there.) I really enjoyed the smaller supporting acts (and their smaller crowds), like Deerhoof, who delivered an appealingly quirky set.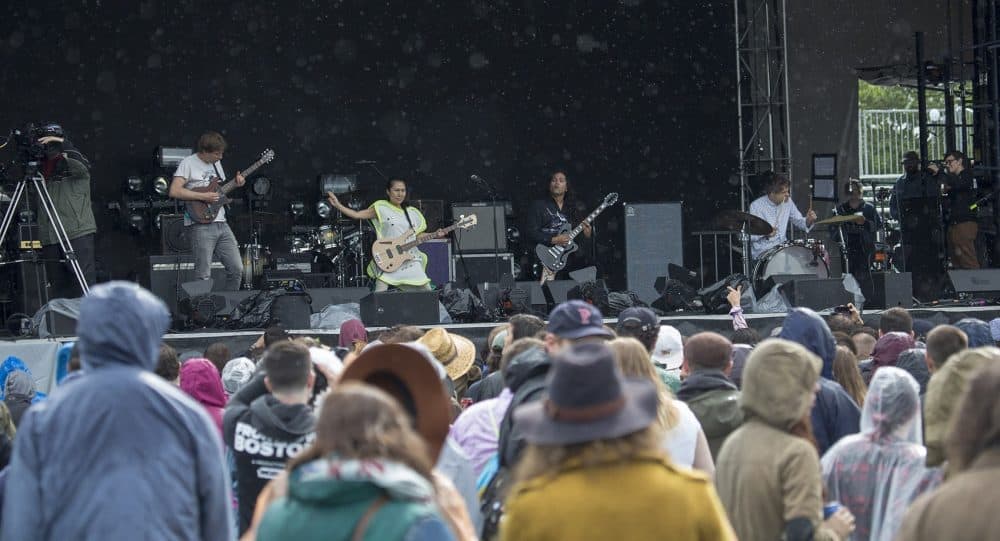 I was impressed at how well the comedy arena worked out, given its odd setting — Pete Holmes managed to make the vast, echoey Bright-Landry Hockey Center feel like an intimate club. But my favorite moment was probably during Car Seat Headrest's set. The band, which started out as a self-produced solo project by the precocious singer-songwriter Will Toledo while he was still in high school, was in fine form after months on the road. When the crowd started singing along to Toledo's songs — with their candid, wry explorations of sexuality, anxiety and shame — I was so overcome that I was compelled to send a most earnest tweet about it.
And — maybe this is a controversial opinion — but I enjoyed the AstroTurf, because it cut down on the mud.
---
Andrea Shea, arts reporter — Boston Calling seemed to be built on the idea of being uniquely brick and urban. So for me it was pretty much impossible not to compare the new, green location to the old red one. Inevitably, that fuels a list of pros and cons.
I arrived with my 15-year-old daughter on Friday around 6 p.m. and yes — to Amelia's point — the lines were crushing. But in the shadow of the attack in Manchester after an Ariana Grande concert, I welcomed the thoroughness of metal detectors and a bag check. I was told no bags would be allowed through security unless they were see through, but plenty of folks got in with all manner of purses slung on their shoulders. The high-tech, bracelet check-in system was impressive — and new. The food lines, on the other hand, were sobering, especially for my hangry teen. I'm sure she wasn't alone.
On Friday, the AstroTurf felt bouncy, almost fluffy. By Sunday it was matted and squished. I wonder what the folks at Harvard think of that — plus all the cigarette butts and trash. It sure was nice to walk, sit, dance and eat on the artificial grass instead of brick, though.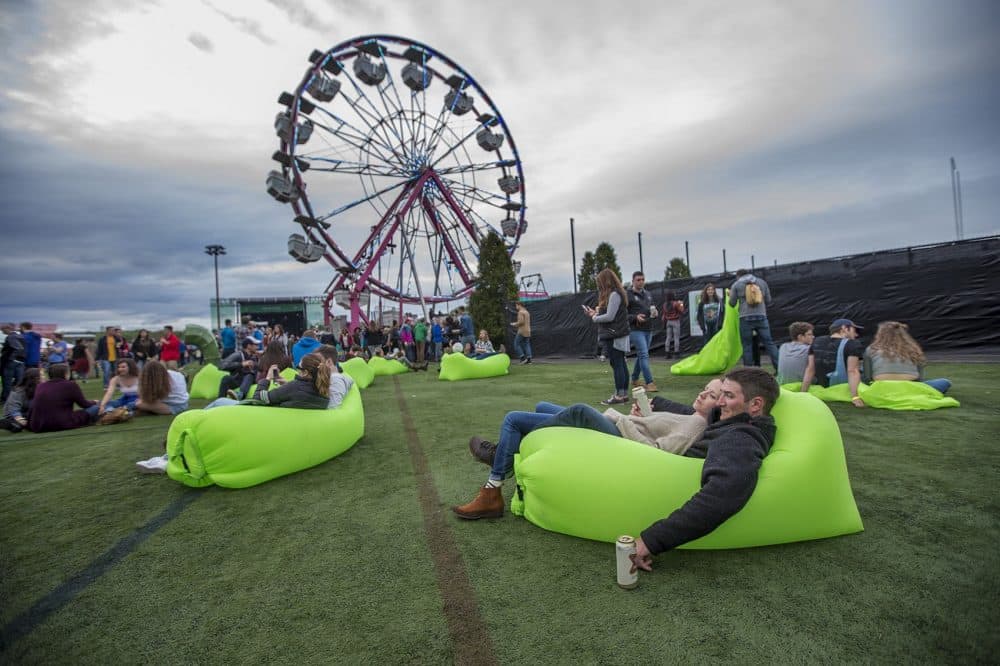 If Boston Calling does indeed remain in Allston, it will be interesting to experience the producers' learning curve as it moves forward (and kudos to them for creating a music festival for Boston, at all, in either location). Harvard must've learned a ton, too. I heard people marveling over the fact that the university allowed nearly 40,000 people a day (that's 80,000 feet) to trample 16-acres of groomed green. I heard one guy tell his buddy, "I went to school here. This is so un-Harvard."
By Sunday the circulation seemed to open up. It was calmer, easier. Perhaps everyone arrived at once on Friday? Was it the rain? Or maybe by Sunday we had adapted.
Something I kept wondering about was how much money Boston Calling helped generate for the restaurants on site. The Allston festival had 26 — up from six last year at City Hall. Most were local. Even the Porter Square cult-favorite Yume Wo Katare set up its ramen kettles for the weekend. I can only imagine how many pounds of noodles they sold.
While in the Mikkeller beer hall line (another welcome addition) I talked to festival-goer Sam Palma, who came up on Sunday from Hull. Palma had been forming his own pros and cons list, which he was happy to discuss.
"The headliners can get bigger now with the bigger stage — more people, more money," Palma mused. "But I definitely miss City Hall Plaza. It was such a cool environment, it was so special." I told Palma I was adjusting, too. We commiserated about mapping our time to get to the right stages in time for the acts we wanted to catch.
"Hopefully they can attract bigger acts," Palma told me. "Look at Bonnaroo, they have Pearl Jam and Radiohead. Hopefully Boston Calling can bring in someone bigger than Mumford and Sons or Tool — who I didn't even realize was still a band."
But the Tool fans were clearly out in full force on Sunday. And the turnout for Chance The Rapper was formidable. The two headliners, predictably, drew different crowds. I'm not sure Boston Calling attracted as diverse an audience as the organizers had hoped for.
The Blue Stage was a mellower scene for me. And I loved seeing Weezer fans dance.
As for noise, I heard from a friend who lives in the neighborhood who said it wasn't too loud — but he's a musician. He also told me he discovered a lot of music from the festival. I did too, with Car Seat Headrest!
I wasn't at the fest Saturday — but I was in Harvard Square after it was over. The streets and restaurants were packed. It was quite a scene. All in all I saw very little in the way of ruckus. I watched a drunk person being helped by the police. There was a fair bit of pot smoke in the air.
I will say I miss the way the sound traveled between the buildings as you walked away from City Hall Plaza. But heck, being able to ride my bike to the festival was pretty awesome. I am left wondering if Harvard will let Boston Calling take over its turf again, and if they do, could or should the festival get even bigger?
---
Max Larkin, education reporter — I haven't been to many, but it seems to me that the modern music festival promises to be a place where grown-ups can feel like kids. People dress up to see their favorite bands, they buy tacos and beers, they wait in line for rides and join mosh pits. It's a lightly-monitored magic kingdom with a high price of admission.
But the festivals I've liked best have felt kind and sunny, places where all kinds of adults and actual kids are comfortable, too. Solid Sound at MASS MoCA had carnival games set aside, as well as an entire museum to cool down in. Osheaga in Montreal had room to stretch out in hammocks and a play area reserved for families. I don't know that Boston Calling nailed it on either count in its first year on Harvard's athletic complex alongside the Charles River.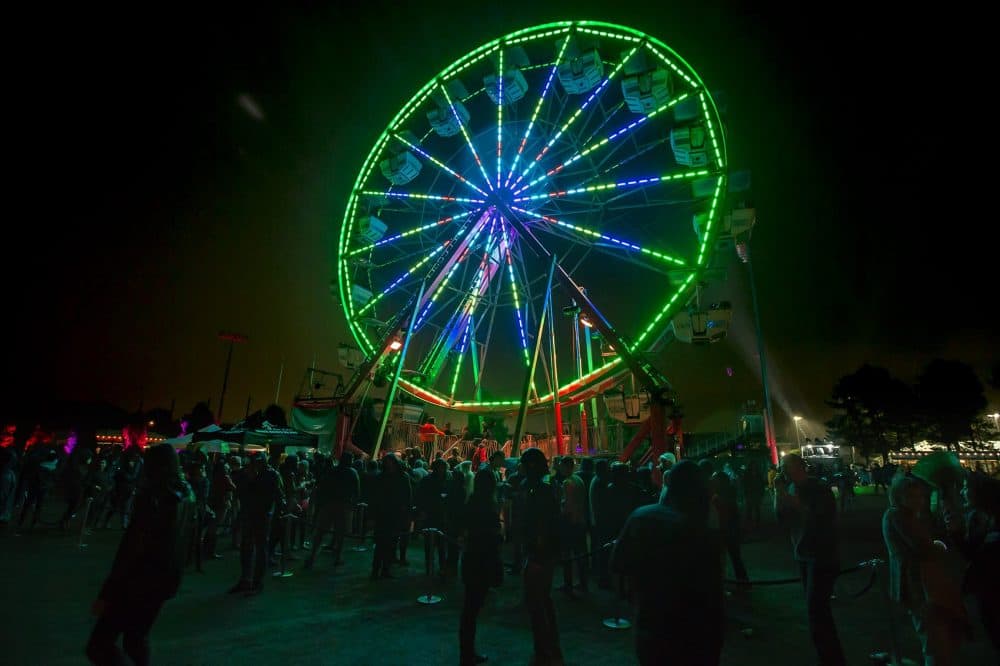 On Friday we met an hour-long crush of people at the front gate. I'm glad I didn't bring my 4-year-old until the next day, when that problem was almost entirely solved with the introduction of "no-bags" lines out front.
Both days there were long waits for bathrooms, food, for the Ferris wheel and the comedy tent. We saw a few other children in attendance — but there wasn't much for them to do, or even room for them to play. Outside of the more mellow Blue Stage area, very little felt easy or spontaneous.
That said, Bon Iver and Chance The Rapper (no kid) were a powerful pairing in the rain Friday night, and Nathaniel Rateliff (with kid) was fun accompaniment in line for the Ferris wheel.
It's great to have a festival here in Boston. I'm not complaining! But it will take some tinkering — and maybe some better weather — before Boston Calling feels like the happiest place on earth, for families or for the carefree late adolescents in the target demographic.
---
Jesse Costa, photographer — I only went Friday night so my reflections are somewhat limited. I think this year's festival was a success considering they expanded it exponentially. Between the number of bands and the number of food vendors, I'm sure they were flying by the seat of their pants. I will say I miss the intimacy of City Hall Plaza. Being there among the brick downtown, it felt different and special. This felt like I could have been at any other music festival.
Deerhoof was awesome (as expected), Car Seat Headrest was a big surprise for me, I didn't know much about them, and Sigur Rós was incredible. What a performance! I'd gotten bored with them 10 years ago but they blew me away.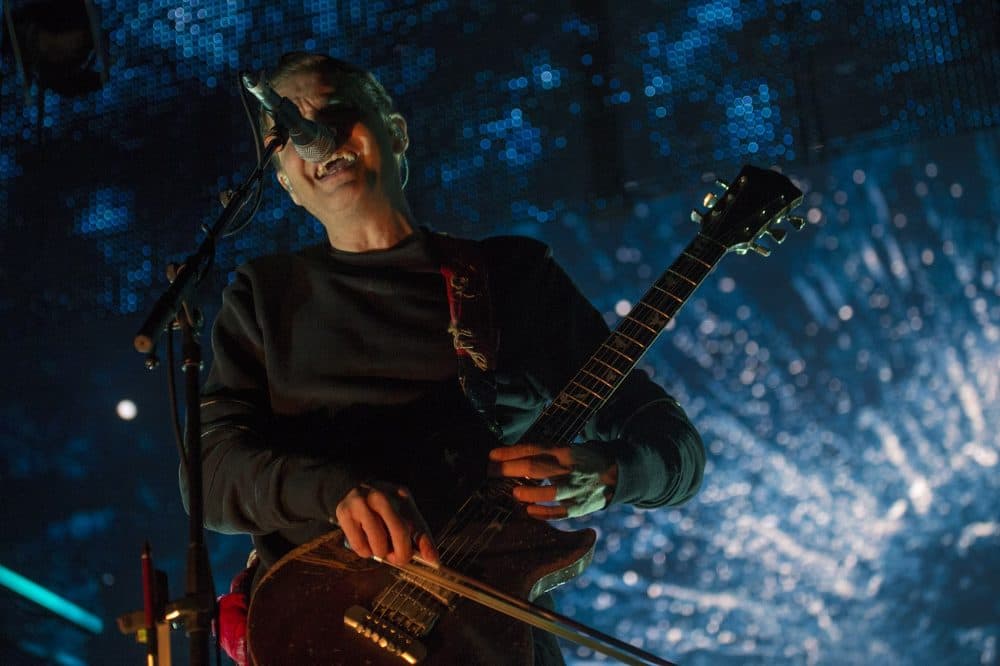 There were many challenges for organizers — the one I'm thinking of specifically is standing in the photo pit for the first band Friday night before festival goers were allowed to enter the venue. I'm sure they'll work out many of the issues for next year. The Ferris wheel was a nice touch.
All the rain Friday afternoon put a dour note the day. I saw a lot more drinking than last year (not sure what that means). Food lines were long, but I think that was just the vendors near the Green and Red stages that were overcrowded. The farther away Blue Stage was the most chill area. Although in my opinion, the best bands were playing there Friday. I'm with Amelia, big fan of the AstroTurf! I had enough mud at Harvard commencement the day before.
---
Amy Gorel, editor and producer — Frankly, I was impressed. Boston in general tends to be shy about trying — or bothering — to execute large-scale events. (Cough, 2024 Summer Olympics.) But this festival seems eager to change and expand.
I've been to the downtown fest a couple of times, and this was the first time Boston Calling earned the designation of "music festival" — flower crowns and all. The notion of moving the fest to the outskirts of the city gives it the headspace to become more than a multi-act concert — a getaway, rather than something you happen upon.
No different than years past, the crowd was overwhelmingly young and white — something comedian Hannibal Buress and the Run the Jewels duo had no qualms about pointing out during their acts.
Moving forward, I'm curious how much Boston Calling will prioritize the local arts scene over growing its bottom line. It's graduated into a real music festival, but now it'll be a challenge for the organizers to create something that's specific to Boston.
---
Readers, did you got to Boston Calling this weekend, or in the past? Add your thoughts in the comment section. We'd love to hear from you.