At Mayoral Forum, Walsh Defends Actions On Homelessness And Boston's Olympic Bid
Play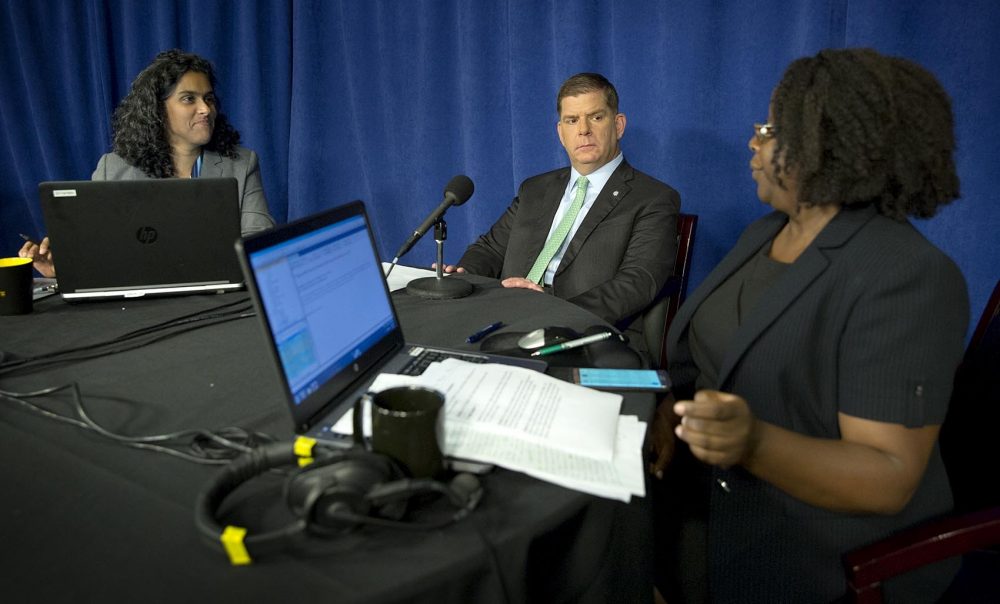 This article is more than 5 years old.
At an election forum held at the University of Massachusetts Boston on Thursday, Boston Mayor Marty Walsh said he's become a better listener throughout his three years in office.
His interview came one day after City Councilor Tito Jackson — his main opponent in this November's mayoral race — participated in the same Q&A.
The conversations, which were broadcast live, were sponsored by UMass, WBUR, The Boston Globe and NBC Boston. You can view the mayor's forum below, or via Youtube.
At the forum, Walsh admitted that his first three months on the job were daunting. He was surprised by the relentless pace and incessant questions from the press. After that early period, Walsh says, he began to manage the constant barrage of issues.
Walsh said he feels proudest of the way the city rebounded to address homelessness after an emergency evacuation of the city's main shelter on Long Island.
"After we had to close the Long Island Bridge — which was an awful decision that we had to make in the city — we actually looked at our homelessness," Walsh explained, "and we created a system that helped us house homeless vets, and then homeless people — chronically homeless folks on the streets, for a long time, for decades. We've housed over 1,100 people."
Walsh defended his initial support for trying to bring the Olympics to Boston and the city's subsequent withdrawal as it became clear that Bostonians opposed hosting the games.
He says his biggest mistake was waiting too long to appoint a permanent superintendent of schools. One of his priorities in a second term, he says, would be to persuade the Legislature to take funds reserved for an expansion of the Boston Convention Center to pay for universal pre-kindergarten for the city's children.
"... We created a system that helped us house homeless vets, and then homeless people -- chronically homeless folks on the streets, for a long time, for decades. We've housed over 1,100 people."

Boston Mayor Marty Walsh
Walsh talked about the difficulties of developing some of Boston's poorer neighborhoods. He said the city was having a hard time finding takers for its program to issue new liquor licenses to restaurants away from the city's most prosperous areas.
The mayor said in Mattapan, for example, most businesses the city approached to gauge their interest in beer-and-wine licenses said they did not want to deal with them. He cited the Ashmont area of Dorchester as an example of how long it can take for new restaurants to multiply.
"The Ashmont Grill came into that area probably 15 years ago. It took literally about 14 years for a second restaurant to open, and that second restaurant was Tavolo, which was [chef] Chris Douglass, who opened that restaurant," Walsh said. "What we have to do is continue to build supports, and we've been doing that in the last three years by giving our Main Streets additional money and additional resources and additional supports to help them beef it up."
Walsh was most passionate when he addressed the problem of guns on the streets of Boston. The city has seen a slight increase in homicides over the same period last year.
"We have young people in America, and most of these people are black and brown boys, are killing each other. This is a national public health crisis that needs to be addressed on a bigger scale," he said.
Walsh says violence on Boston's streets is the only thing keeping him up at night.
Walsh's opponent, Tito Jackson, endorsed Walsh four years ago. But Walsh says he was not surprised that Jackson decided to run against him.
"Nothing really surprises me in politics anymore. I think Tito is ambitious. Certainly, he's done a lot of great work in the city over the years," he said.
And the mayor said he believes opposition keeps politicians on top of things.
This segment aired on July 21, 2017.