Amazon Wants A Second HQ — And Walsh Says Boston Will Be 'Laser Focused' On Bidding
Resume
Amazon is on the hunt for a second North American headquarters. And Boston Mayor Marty Walsh says the city is game to host the online retail giant.
"Think about the public-private partnerships we could have with an Amazon here," Walsh said, just hours after the company made its intentions public. "Having a partner like Amazon will be incredible."
Amazon announced Thursday that it expects to invest over $5 billion constructing a second headquarters and bring up to 50,000 "high-paying" jobs. The company called on cities to submit proposals to host the facility.
Walsh said Boston plans to reach out to Amazon.
"I mean, it's an incredible opportunity — $5 billion of investment, 50,000 new jobs — I mean, that's a lot," Walsh said.
Walsh said he plans to pull a team together to discuss bringing Amazon's second headquarters to Boston.
"We'll be laser focused on this," he said.
In his tenure, Walsh has already welcomed a major company's headquarters to Boston — GE. The company moved its global headquarters to Boston after an offer of $25 million in property tax incentives from the city (and up to $120 million more from the state).
Amazon's plans for a second headquarters are pretty grand. The company said the facility would be "a full equal" to its current campus in Seattle. That campus is over 8 million square feet and has 33 buildings.
Walsh said the city could "absolutely" handle an Amazon headquarters.
"If Amazon wants an East Coast headquarters, I don't see any city better in America than Boston, Massachusetts," Walsh said.
Michelle Hillman, a spokesperson for the state's Office of Housing and Economic Development, says the office plans to present "a convincing argument as to why Amazon should choose Massachusetts for its second U.S. headquarters."
Amazon didn't specify whether it's looking to build in a particular region. The company's request for proposals does, however, outline several preferences, including: metro areas with more than a million people; a "business-friendly" environment; areas with strong technical talent; and being close to mass transit, highways and an international airport.
These infrastructure needs could present a challenge for many Boston-area communities hoping to bid for Amazon's headquarters.
"Can you build a full campus? Maybe. Can you build a full campus that's also on the train? That's a tall order for a lot of communities around here," said Chuck Tanowitz, the director of the N-Squared Innovation District in Newton and Needham.
Tanowitz said while the Boston area has the workforce and tech ecosystem to support an Amazon headquarters, the region's transportation infrastructure could hold it back.
"Until we can really get our transportation system moving in a way that we want it to move, some of our efforts in going after companies like this might be limited," Tanowitz said.
Housing is another concern. Namely, that there's already high demand and high costs. The median selling price for a single-family home in the state is now over $400,000, with higher prices around Boston. Walsh said Boston's housing plan is "in pace" with Amazon's headquarter plans.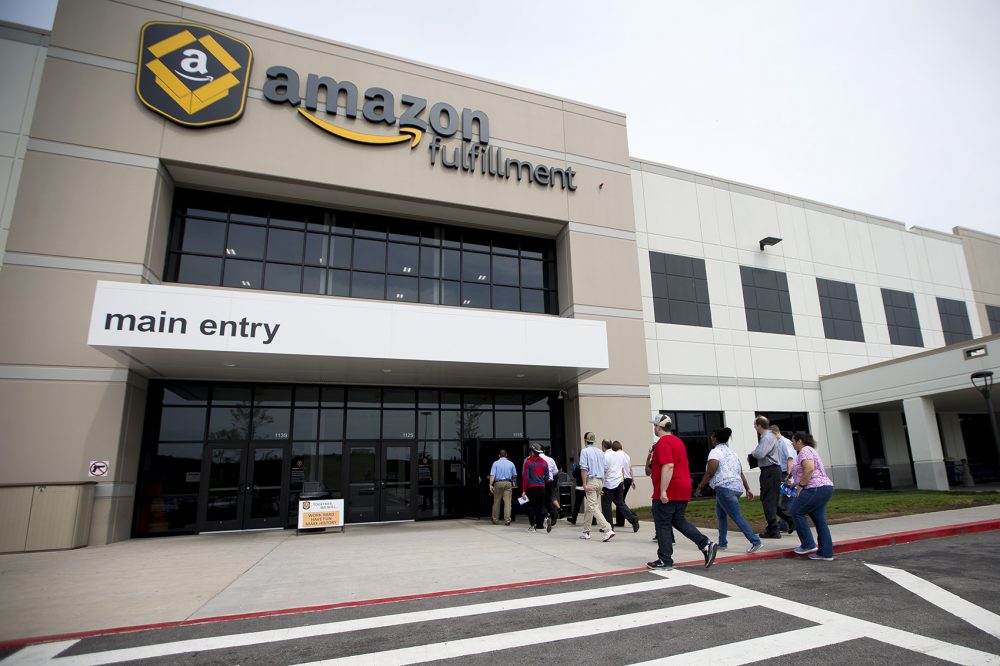 There's some thinking that a strong bid could be made for Amazon's headquarters if several communities joined together to do a joint proposal.
Cambridge, as an innovation hub, would appear to be an obvious choice in such an effort. But the city manager's office said Cambridge does not plan to submit a proposal for Amazon's second headquarters.
And of course there would be stiff competition from others states, for any local community that ends up bidding.
"[Amazon] could choose almost anywhere they want to go and the question becomes, do they want to bring their people to a place in the country that really needs it? You have a lot of secondary and tertiary cities, Rust Belt cities and so on," Tanowitz said. "Or do they want to go where the people are that they need? Which really, you're looking at the major cities at that point, Boston included."
Amazon, which just completed its purchase of Whole Foods grocery stores, has already expanded its footprint in Massachusetts.
The company plans to add 900 jobs when it opens a new office along Boston's Fort Point Channel next spring.
Amazon also has a massive warehouse in Fall River, a robotics division based in North Reading and teams in Kendall Square working on its Echo device. The tech giant has also grown its brick-and-mortar retail business in the Bay State, opening its first East Coast bookstore in Dedham earlier this year. Amazon later opened a second Massachusetts bookstore in Lynnfield.
The company has also set up package pick-up locations in the area.
This article was originally published on September 07, 2017.
This segment aired on September 8, 2017.