Lawrence Considers Turning Down Grant Money That Would Help Homeless People Get Housing
Resume
Even through the arctic cold in recent weeks, Gesabel Feliciano slept in a tent along the Merrimack River in Lawrence. She's been living in a tent for about two years.
"This is my home," the 46-year-old says as she unzips the tent opening. "I have a bed, I have like six blankets. This is where I put the candles." She taps on a little table where she burns candles, even while she sleeps.
"I have to — to stay warm," she explains.
Her home is actually two tents, one inside the other for added warmth. Feliciano pulls a blanket-covered piece of sheet rock across the inside of the front of the tent to help block the wind. She's constructed a little "porch" out of wood scraps.
Feliciano is a petite, talkative woman with long, dark hair. She's dressed in sweatpants, an orange fleece sweatshirt and blue winter hat. Born in Puerto Rico, she's lived in Lawrence since she was a teenager. She says she struggled with opioid addiction for about four years but has been drug-free for one year.
Her tent is propped up next to an abandoned train track, right next to an old bridge that carries the tracks over the river. She has neighbors — including her half-brother — in three other tents.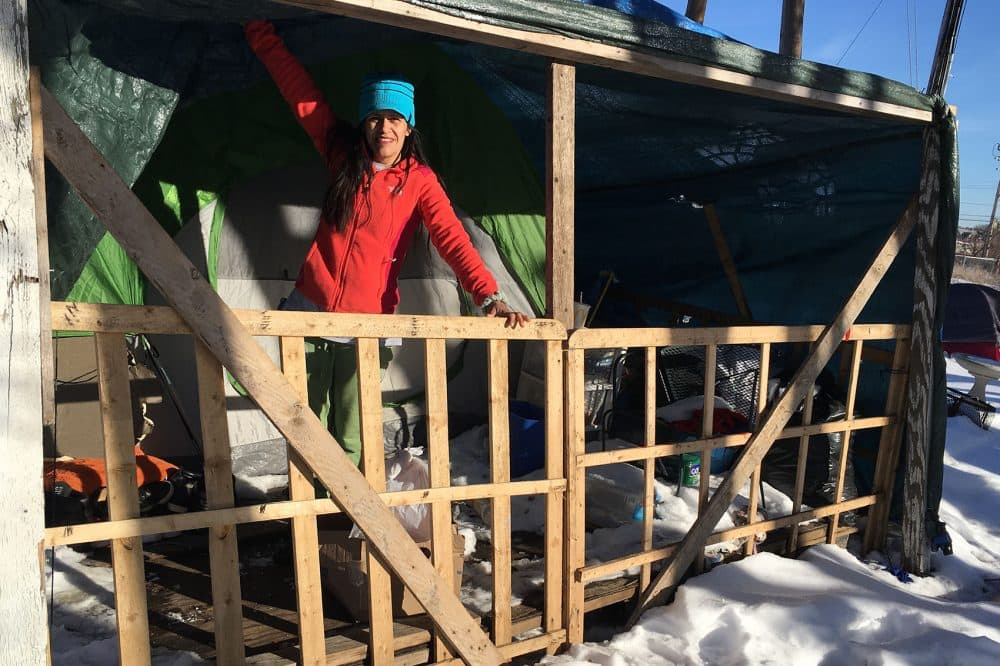 Lawrence is one of many cities wrestling with how to find homes for a homeless population. When the city last counted, a year ago, there were about 100 people living on the street and 600 who were homeless but had a temporary place to stay, according to the city's Community Development Department.
But Lawrence is the only city in Massachusetts where some officials are considering turning down federal money to help people who are homeless get permanent housing.
That targeted money comes in the form of Emergency Solutions Grants from the U.S. Department of Housing and Urban Development. Late last year, HUD awarded the grants to 12 Massachusetts communities — from Lowell to New Bedford to Springfield. Lawrence learned it was getting $136,695.
That was welcome news to Anil DaCosta, the city's homeless initiatives coordinator. The city had spelled out its plans for how it would make use of the money — should it receive such a grant — in its annual housing and development plan every city has to submit to HUD.
"What we intend to do with [the money] is put it for rapid re-housing," DaCosta says. "So what that means is, we put it for first and last month's rent for individuals."
Anyone who works in social services will tell you there's never enough of that kind of money. But some officials in Lawrence have concerns about the city accepting this piece of the funding pie.
"I will be voting no," says Lawrence City Council President Kendrys Vasquez.
The council has the final say on whether to accept the federal grant and will take up the issue at its meeting on Tuesday, after tabling it last month.
"I do not think that this will be actually beneficial to the city of Lawrence," Vasquez adds. "The grant is not sufficient to address the need that we have. And by accepting it, we are sending the wrong message throughout the area, throughout the region. Individuals will believe that we have the necessary funds to help everyone."
Vasquez says he believes the grant would make Lawrence an even bigger magnet than it already is for people from surrounding towns who are homeless.
"That $136,000 is actually going to cost us more in the long term because as a result of the increase in the homeless community, we're also going to have to talk about additional public safety concerns, additional panhandling in the corners of our streets," he says.
In comparison to the Lawrence grant, Fall River received $234,813. Lynn received two grants totaling more than $520,000. Newton received about $275,000, and Worcester about $627,000.
Carina Pappalardo is CEO of The Psychological Center, a nonprofit organization that operates Daybreak Shelter in Lawrence, which has 50 beds for men and women who are homeless. She says she finds it "extremely disappointing" that the council wouldn't accept all money that comes its way to help people from the community.
Organizations like The Psychological Center will compete for the HUD funding if the city council accepts it. The city will issue a request for proposals, and one provider will be selected to receive the grant money.
"It's a situation where that money could help more homeless individuals get into housing and then get more people off the street and get them into shelter at Daybreak Shelter, where they would be much safer," Pappalardo says.
That includes people from Lawrence.
One person who might be helped through such a program is Laurie Gleason. Now 42, she has lived in Lawrence her whole life. She recently became homeless for the first time.
"I honestly thought that I would never be in this situation," Gleason says.
She and her husband were evicted from their apartment last month after they withheld the rent because of problems with the property.
They don't have money to get another place. She works as a grocery store cashier about 20 hours a week. Her husband gets Social Security benefits and does odd jobs. He has epilepsy.
We met Gleason at a new day center in Lawrence for people who are homeless, called House of Mercy. She says she understands the concern about more people from outside Lawrence coming into the city for homeless services.
"I think the people from Lawrence should get the help before other people. I'm sorry. I'm not trying to be mean, but it is what it is," Gleason reflects.
But the federal grant money doesn't allow for local residents to be prioritized.
Despite that, Gleason thinks Lawrence should take all the funds it can get.
"If that money can help with giving us a place to stay at night, then yeah, you know, they should [accept it], because it's not fair that we have to be out on the street," she says.
Twenty-eight-year-old Willy Pena also grew up in Lawrence. He says he's been clean for a month after being addicted to cocaine and heroin for a decade. His home is a mattress in an abandoned warehouse.
He says it would be a detriment to Lawrence to not accept the HUD grant and, he points out, Lawrence isn't the only city providing homeless services to people from other communities.
"Right now the shelter situation is out of control," he says. "People from Lawrence have to go to Lowell. ... Sometimes I call a shelter and they send me to Lowell. They send me them to Haverhill. That's hypocritical. If they can't [send people to our city], what's to say that we can continue doing it, you know?"
Lawrence City Councilor Marc Laplante says before he decides whether to vote to accept the HUD money, he wants to see data on the people receiving services in the city — particularly, where they lived before they became homeless. He thinks homelessness needs to be tackled regionally.
"Why is it that my city, our city, the residents of our city, are being tasked with this obligation when the monies that we're going to be taking and probably continue to take because we'll have a better system than others, why are we continuing to be asked to do this and why aren't the other communities being asked to do a little bit more themselves... ?" Laplante asks.
DaCosta, who oversees homeless initiatives for Lawrence, will speak before the city council Tuesday. He says he hopes to convince councilors to take the federal grant.
"I think a lot of times people really follow stigmas and misinterpretations over fact," DaCosta reflects.
Stigmas, including the idea that everyone who is homeless is addicted to drugs, which isn't true.
DaCosta says there are many factors that lead to homelessness, and a city with a strong infrastructure — from soup kitchens to shelters to community clinics — is going to attract people in need, whether it accepts the modest federal grant or not.
WBUR requested an interview with Lawrence Mayor Dan Rivera to discuss his position on the matter, but he declined to comment.
Council President Vasquez says he's convinced additional funding will mean Lawrence will see more people who are homeless than the city can handle.
Asked about the evidence upon which he bases that theory, Vasquez says he doesn't need to see data.
"Logic speaks volumes," Vasquez says. "If you were homeless and you hear that any city receives $136,000, you will assume that, 'Hey, you know, that's sufficient for me for my needs.' You will run where the money is."
A spokeswoman for HUD's New England office tells us that to the department's knowledge, no Massachusetts community has ever rejected the emergency grants to help the homeless.
This segment aired on January 12, 2018.