Nor'easter Brings Coastal Flooding, Heavy Precipitation To Mass.
This article is more than 4 years old.
A nor'easter lashed Massachusetts Friday, flooding low-lying coastal areas and bringing heavy rain and high wind gusts to the region.
As of 9:15 p.m., 442,000 residents were without power statewide, with southeastern Massachusetts towns like Bridgewater hit hardest. Many locations in the region had reported wind gusts over 60 miles per hour. Woods Hole, on Cape Cod, recorded a gust of 88 mph.
The coastal flooding concern was centered around three high tides: midday Friday, midnight and midday Saturday. Boston saw a near-record-high tide around noon Friday, according to the National Weather Service. Boston's storm surge was near 4 feet after 2 p.m.
Seawater rose in many locations, including in downtown Boston — in the Seaport and at Long Wharf — and in the South Shore town of Scituate.
"We got through the first tide I think fairly well," Scituate Town Administrator Jim Boudreau told WBUR's Newscast Unit Friday afternoon. "It's been about ... what we expected. At this point, we're urging people [to] stay there, and if you've gotten out, please do not go back until this is over."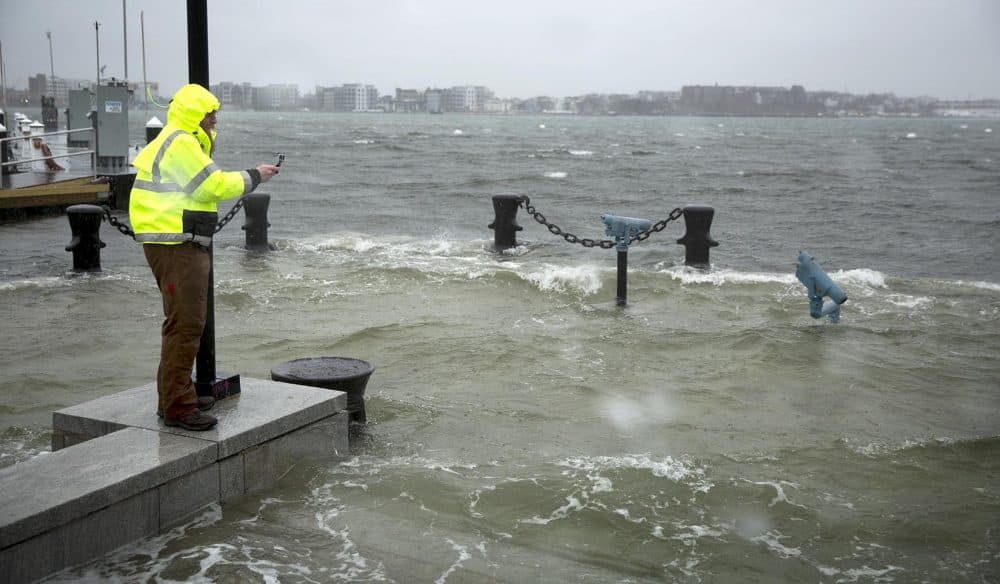 As of Friday afternoon, the Massachusetts Emergency Management Agency reported no major evacuations because of the nor'easter. Several communities had opened shelters, including Lynn, Marshfield and Winthrop.
Police and fire personnel did help get residents out of some sections of Quincy, but resident John Loughran called it "just another day in New England."
Many coastal roads in the state — and the MBTA's Aquarium station in Boston — were closed due to flooding around the midday high tide.
A coastal flood warning remains in effect for much of the Massachusetts coastline through 3 a.m. Sunday.
In total, up to 5 inches of rain was forecast to fall in parts of Massachusetts. WBUR meteorologist Dave Epstein expects all precipitation in Greater Boston to end early Saturday morning.
In central and western Massachusetts, residents were dealing with heavy, wet snow. Up to 18 inches of snow was forecast to fall in Berkshire County.
Amtrak suspended service between New York and Boston, and numbers of flights were cancelled at Logan Airport.
Gov. Charlie Baker — who had on Thursday afternoon warned residents that this storm would be more severe than a Jan. 4 storm that caused significant damage in flood-prone areas — activated 200 members of the Massachusetts National Guard to help deal with the nor'easter and its aftermath.
According to Major General Gary Keefe, the guard had readied 53 high-water rescue vehicles — about five times as many as the Jan. 4 storm.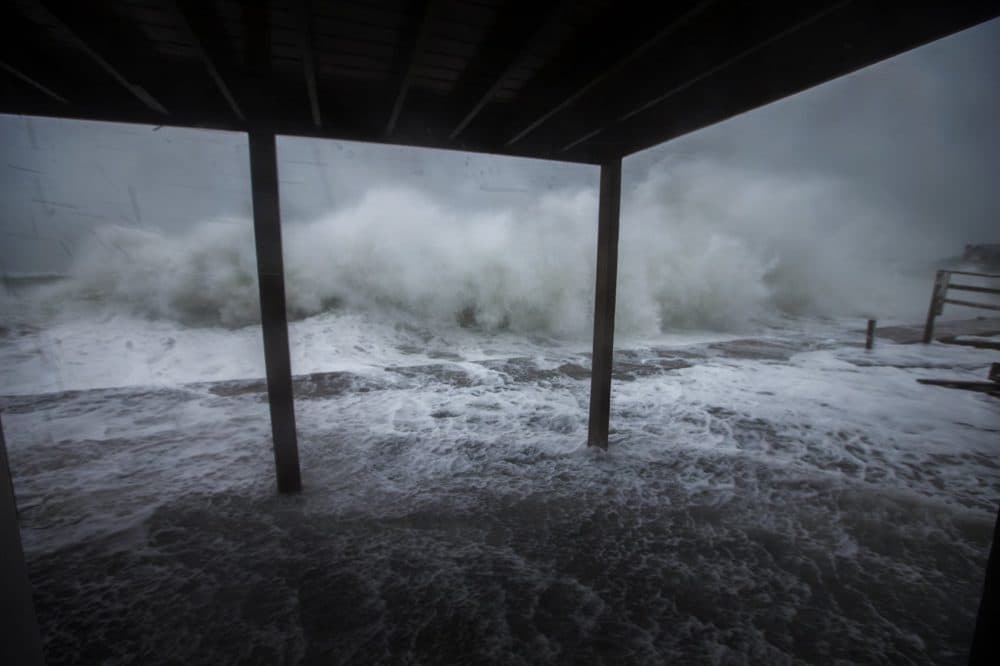 That January storm raised new questions about climate preparedness and resiliency in Boston. Local sea levels increased nearly a foot over 100 years, and are projected to rise several more feet through the end of this century.
The speed on the Mass Pike was lowered to 40 mph Friday. State Highway Administrator Jonathan Gulliver reminded drivers to take caution.
"We're talking some pretty high sustained winds along with the rainfall or snowfall that is going to make travel very, very difficult," he said.
With reporting by WBUR's Newscast Unit and Steve Brown
This article was originally published on March 02, 2018.