Plastic Bag Ban In Boston Starts Slow Rollout Friday
This article is more than 4 years old.
A ban on plastic bags at Boston stores and restaurants takes effect on Friday with the goal of reducing the number of bags used and improving the environment.
Retail outlets will no longer be able to give customers free, thin plastic bags for their groceries or takeout orders. Instead customers will be encouraged to use their own reusable shopping bags. Stores will be allowed to give customers either recyclable paper bags or compostable plastic bags, but must charge at least 5 cents per bag. That fee will be retained by businesses.
"Ultimately the goal is to make sure there are no plastic bags at all," said Christopher Cook, chief of environment, energy and open space for the City of Boston. "The big emphasis we want is people to be bringing their own reusable bags when shopping in Boston."
The ban that takes effect Friday will at first only cover larger supermarkets and other retailers that are larger than 20,000 square feet. Smaller businesses will be phased in by July 1, 2019.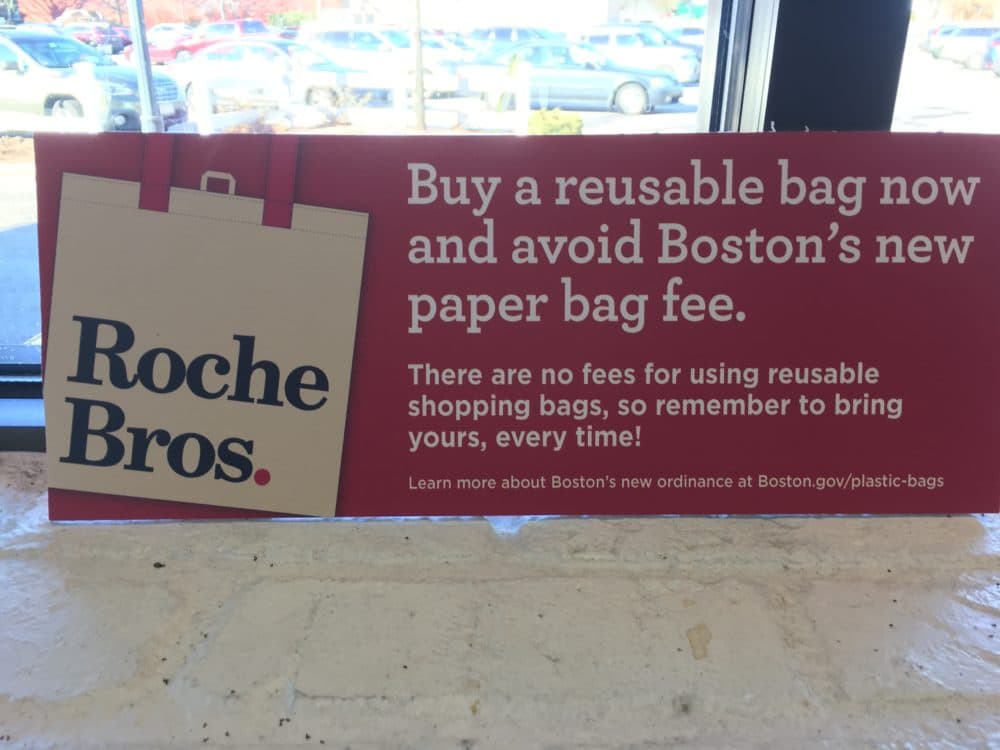 Days before the ordinance went into effect, the Roche Bros. grocery store in West Roxbury had already pulled its plastic bags and was only stocking thicker paper bags. Signs were being posted outside of the store and at the checkout counters to remind customers of the city ordinance and the charge for bags.
"The cashiers are going to be impacted the most," said Ryan Gray, the store's assistant manager. "We've done some substantial training with them. We spoke to all the cashiers and they have the bullet [points] with them, with what they need to say to the customers as they come to the checkout."
Businesses that are found in violation of the ban by the city's Inspectional Services department will receive a warning for their first offense. A second offense will result in a $50 fine; a third offense and beyond could result in a $100 fine.
The city is allowing smaller businesses to apply for an exemption to the ordinance if it can prove that it has no reasonable alternative to plastic bags; complying with the ban would deprive it of a legally protected right; or there is a need to use up its existing plastic bag inventory. Exemption requests must be filed by Friday and need to be refiled monthly.
Cook says the move will reduce the city's carbon footprint and benefit the environment. He dismissed accusations that the ban is a small or insignificant step that will be detrimental to consumers.
"I think everybody wants to do the right thing but so often in this world it's like anything else, we have to be reminded what the right thing is," Cook said. "Sometimes what is super convenient is not what's good. But guess what? Bringing a reusable bag is pretty convenient too once you get in the habit."