Porsha Olayiwola Named Boston's Next Poet Laureate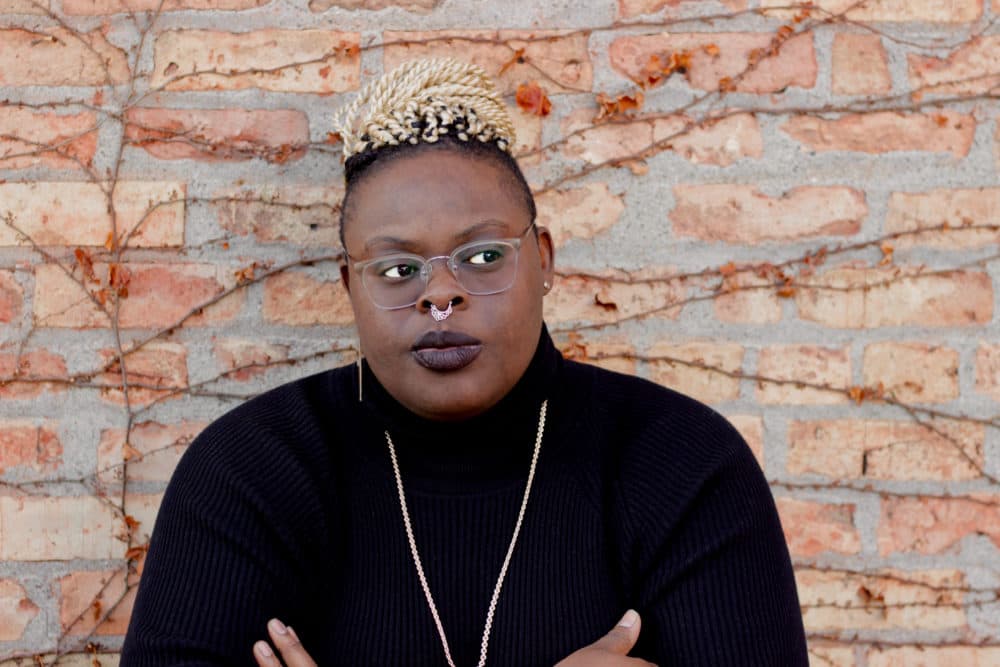 This article is more than 3 years old.
When I sat down for lunch with Porsha Olayiwola at a densely populated cafe in September, we were discussing her upcoming one woman show titled "Black and Ugly As Ever." Olayiwola was nervous about it, glowing with the humility of someone still coming to terms with the immense power of their work. On Monday, Olayiwola was named the city of Boston's next Poet Laureate and still exudes that same endearing humility about her work, which is about to have yet a bigger platform.
"I'm still in shock," Olayiwola said. "But I'm excited about what work will be possible with these resources."
Mayor Marty Walsh appointed Olayiwola, a Jamaica Plain resident, to the four-year term, which includes a stipend.
The Poet Laureate position was established in 2008 as a way "to highlight literary arts and promote a citywide appreciation for poetry." In addition to acting as the literary ambassador for the city, poet laureates carry the responsibility of visualizing new and innovative ways poetry can impact youth in Boston. Current poet laureate Danielle Legros Georges and her work often focused on the beauty of multi-cultural identity.
Olayiwola will assume the mantle on Jan. 1. In her first year in this position, Olayiwola will release a full-length poetry collection with Button Poetry.
During her eight years of living in Boston, the Chicago native has fostered mycelial connections and relationships with myriad communities in the city. Olayiwola is the artistic director of MassLEAP, a program that fosters an affinity for spoken word and poetry in Boston's youth and she's the co-founder of The House Slam, a free bi-monthly poetry slam and open mic night at Haley House Bakery and Cafe. What's most striking about Olayiwola isn't the depth of work she's doing in the poetry community in Boston, it's her modest silence about all of it. She lets her work, and its residual impacts, speak for itself.
Olayiwola, who was named the Individual World Poetry Slam Champion in 2014 and National Poetry Slam champion in 2015, is no stranger to poetry slam competitions.
Here's her performing "Water" at the 2014 Individual World Poetry Slam:
But Boston, despite having a long history and presence in the slam scene, hasn't garnered the reputation other cities, such as Chicago and New York, have. "I'm not sure why that is," Olayiwola said. "We have so much talent and a rich history of poetry in Boston." Some of the reasons are structural and tie into ongoing conversations about Boston's seemingly difficult environment for artists. "I think Boston comes off as this kind of transient place," she pointed out. "Because of these structural issues, artists may not see a space for themselves here, long term."
Olayiwola's deep involvement in community organizing and her roots in spoken-word literary tradition will add a refreshing level of accessibility to the poet laureate title.
"Porsha's eagerness to enhance the City of Boston through poetry, along with her commitment to increasing access to the arts in every neighborhood, make her an incredible asset," said Mayor Walsh. "I'm excited to see her vision of how we can use arts to facilitate inclusive and welcoming conversations across the City come to life over the next four years."
Boston residents will be able to see Olayiwola in action at The House Slam nights in Roxbury or at MassLEAP events in the South End. Her dedication to youth work is integral to fostering a long lasting poetry community in the city.
"Porsha's extensive experience working with youth is something the City considers to be extremely valuable, as we continue to work toward making arts education and arts-enhanced learning available to all Bostonians, in all stages of their lives," said Kara Elliott-Ortega, the city's chief of arts and culture.
Some of Olayiwola's plans as poet laureate are to "establish a youth Poet Laureate program, develop residential and workspace for writers and weave poetry into the everyday lives of Bostonians," she said.
At the nucleus of Olayiwola's work and these plans? Creating intersectional environments where poets and artists can thrive and grow in perpetuity.