By The Numbers: Section 35 Civil Commitments
WBUR's Deborah Becker has reported extensively on Section 35 civil commitments in Massachusetts. Here's a look at the issue, by the numbers:
Section 35 — Section 35 is a state law that allows a family member, physician or police officer to ask a court to involuntarily commit someone to substance use treatment.
90 — The law allows people to be civilly committed to treatment for up to 90 days, although Deb has reported that the average stay is much shorter.
10,770 — There were nearly 11,000 Section 35 case filings in the 2018 fiscal year. That's up from about 6,000 filings in fiscal year 2011: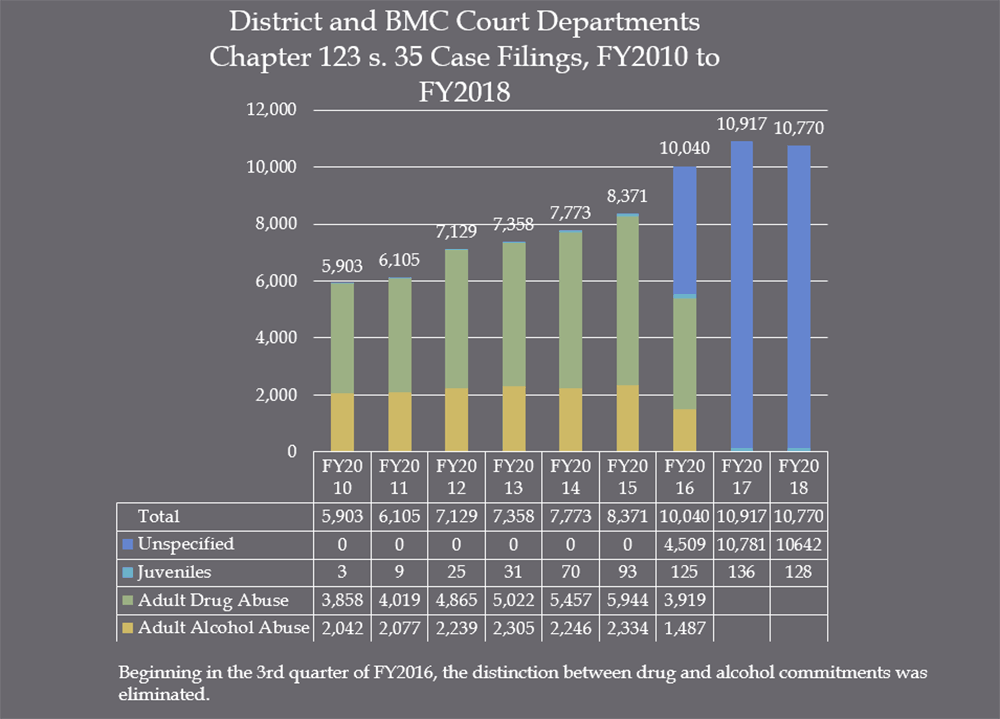 3 — There are three Section 35 facilities in Massachusetts just for men, including two that are run by the state Department of Correction. Civilly committed women no longer go to the state prison for women in Framingham. (Here's a list of all Section 35 facilities.)
3,000 — One of those DOC-run facilities for men is the Massachusetts Alcohol and Substance Abuse Center in Plymouth. Since it opened in 2017, officials have told WBUR that more than 3,000 men have been civilly committed there.
$76,819 — According to the DOC, that's the annual cost per male held as a Section 35 commitment at the MASAC.
2 — Under a new state law, two of three available medications to treat opioid addiction will be offered at some DOC facilities this year, including the MASAC.
July 1 — Last year, the Baker administration established a committee to review the Section 35 process. Its report is due to the Legislature by July 1.