A Boston City Councilor Reveals He Has 5 Cars. Twitter Freaked Out
A Boston city councilor is facing backlash over his resistance to charging for resident parking permits — and his family's five cars.
Councilor-At-Large Michael Flaherty this week pushed back against a proposal from his fellow councilor, Michelle Wu, to charge Boston residents $25 annually for a parking permit. She says it will help reduce traffic and congestion in the city.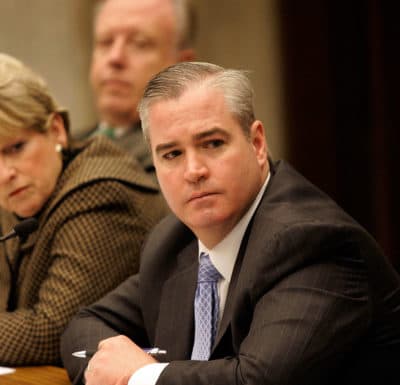 If parking prices are too low or even free, said Wu, it will put more cars on the road and cause people to keep circling the block looking for a spot — creating more congestion, more traffic and more demand for spots.
"As tough as it is, we need to step up, because the traffic is getting worse, day by day by day," she said during a council hearing Wednesday.
But Flaherty said the real problem is that handicapped placard abuse is widespread — that if parking fees go up, or become a burden, placard fraud increases. (Those with handicap placards can park at meters for free, for an unlimited amount of time.) He didn't offer any evidence of that.
He also suggested there are too many bus stops and that the MBTA could consider removing some to free up parking spots.
"We don't need a bus stop on every single street corner, and they don't need to be a football field in length," he said.
Flaherty wasn't the only councilor concerned about the plan — others said it would put too big of a financial burden on residents, especially middle-class residents — but it was Flaherty's suggestion of removing bus stops, and his disclosure that his family has five cars, that drew outrage on social media:
Meehan, who coined the #FiveCarFlaherty hashtag, was among the first but not the last to criticize Flaherty's comments as out of touch.
Dempsey is the director of the advocacy group Transportation for Massachusetts, and Dinopoulos ran for city council in 2017.
A Jamaica Plain woman, Mary Church, said she is going to run for the council, spurred on by Flaherty's comments, according to Universal Hub.
There's now a #FiveCarFlaherty parody account on Twitter, and at some point on Wednesday afternoon or Thursday morning, someone edited Flaherty's Wikipedia page, saying he "owns 5 personal vehicles and believes Boston's parking problems are due to the size of MBTA bus stops." However, by late Thursday afternoon, the edits had been removed.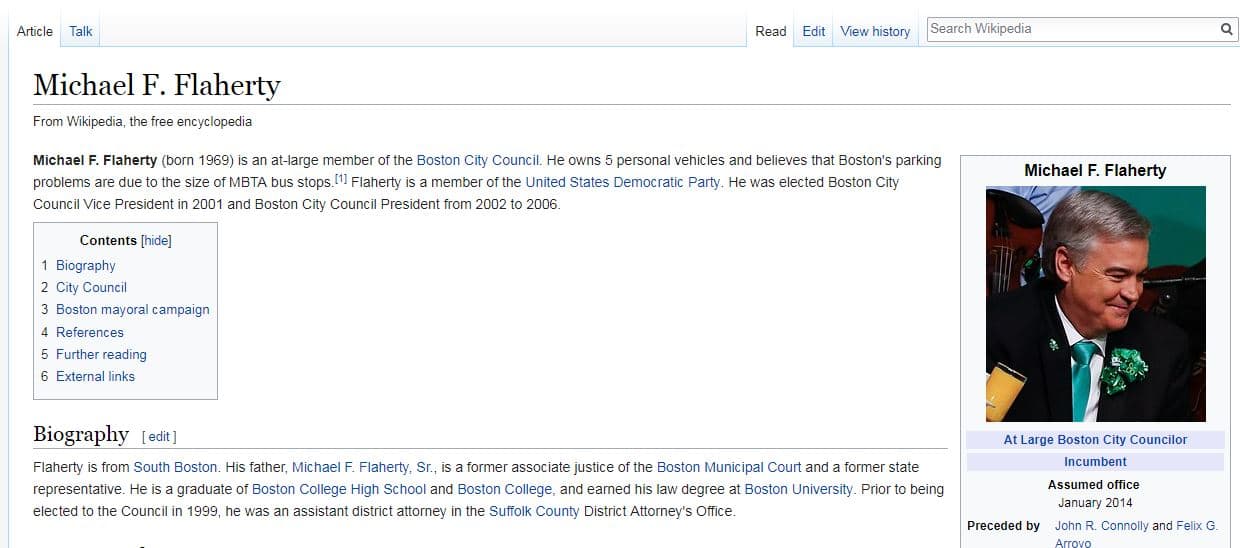 In an interview this week after the hearing, Flaherty chuckled about the social media reaction.
"That doesn't bother me in the least," he said.
Flaherty said the five cars he mentioned are all parked in his South Boston driveway: one car each for himself and his wife, and three shared among his four adult children, who live with him.
He's not alone in having several cars. A Boston Globe analysis in 2015 found more than 300 homes have five or more residential parking permits.
In the interview, Flaherty said he stands by what he said at the meeting, and that he's standing up for the people in Boston who need a car.
"Many people feel that having a car in the city is a luxury, but for a lot of people it's not a choice, it's a necessity," he said.
He said he wants to bring the T to the table to discuss the possibility of reducing the number of bus stops, using 8th Street in South Boston as an example. (You can see Route 11, City Point to downtown Boston, here).  The route stops at most of 8th Street's block-length intersections between Columbia Road and Dorchester Street.
Eliminating every other stop or every third would mean there's "still plenty of opportunities to get the bus," Flaherty said.