Transportation Delays Are Causing Many Greater Boston Workers To Consider Leaving
Resume
Has crawling along I-93 made you think of relocating? What about being stalled somewhere on the Orange Line?
If so, you're not alone.
Greater Boston is growing, but the region's struggles moving its residents around are causing a sizable number of them to consider leaving the area.
Among Massachusetts voters who live within Route 128 and work full time, a third say that delays on the roads or on public transit have caused them to consider moving out of Greater Boston altogether.
That's according to a poll out Wednesday by The MassINC Polling Group, which also conducts surveys for WBUR. The poll was sponsored by the Barr Foundation, a nonprofit that's called for revenues to support "bold, new, transformative [transportation] projects." (The Barr Foundation also supports WBUR.)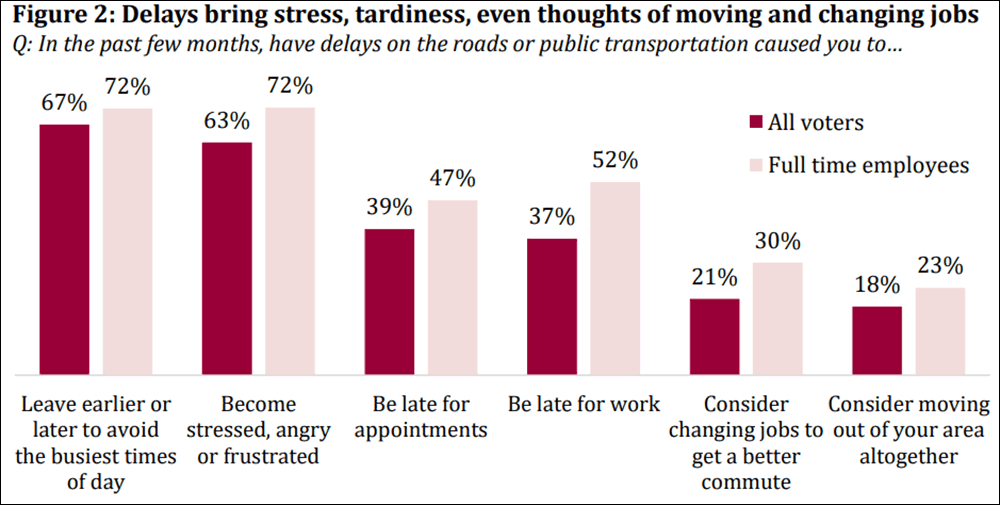 It's not just those right around Boston who've thought of packing their bags.
Statewide, 30% of voters surveyed who are full-time employees say that in the last few months, they've considered changing jobs for a better commute. About a quarter of those people have thought about leaving their area entirely.
And it's even worse for those who travel farthest.
The poll found: "Among those with commutes longer than 45 minutes, about half (51%) have thought about changing jobs; 30% have considered leaving their area altogether."
"These impact numbers, especially among those with the longest commutes, should be a red flag for the business community in Massachusetts," Steve Koczela, president of The MassINC Polling Group, said in a statement. "The levels of frustration we are seeing in this poll suggest a significant portion of workers are reaching a breaking point when it comes to their commutes."
Wednesday's survey recalls a 2016 poll — this one conducted by MassINC for a WBUR series on traffic — that found that 14% of voters within Route 128 have considered leaving the region because of worsening congestion.
The latest poll comes as focus on the state's jammed roadways and the beleaguered MBTA seems more pronounced than ever.
For example: In his January inaugural address, Gov. Charlie Baker said there's "much to do in transportation." A month later, a (debated) ranking found Greater Boston has the worst rush-hour traffic in the United States. In March, the T's board approved a fare hike package (after a Boston city councilor suggested the MBTA be free). And also last month, House Speaker Robert DeLeo told business leaders that "everything and anything has to be on the table" to address transportation issues.
Here are four of the poll's other findings:
1. Thirty-eight percent of voters think it's gotten harder to get around their part of the state over the past five years.
2. Two-thirds of voters agree more with this statement: that "urgent action is needed to improve the state's transportation system." Just 21% think "the state's transportation system is working pretty well as is."
3. Though specific user fees or taxes were not asked about in the poll, "80% of voters support a general call for new money to invest in the transportation system."
4. Most voters think traffic in Greater Boston "will always be a serious problem." But they're more optimistic about the ability to fix the T. Two-thirds of voters think that "with the right policies, [the MBTA] could get much better."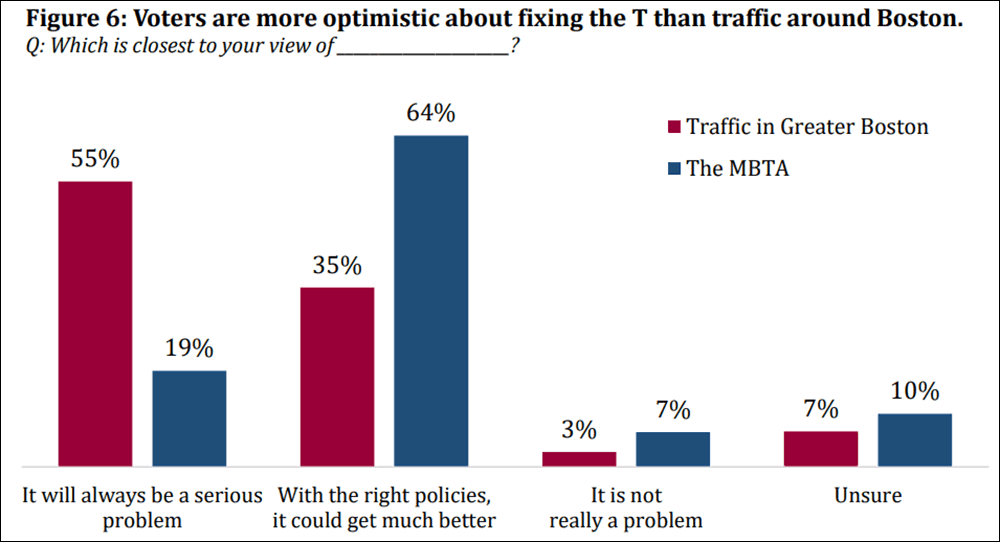 The online survey of 1,200 registered voters was conducted between March 15 and 25. Click the audio player next to this story's headline for Bob Oakes' interview with pollster Koczela on Morning Edition.
This segment aired on April 24, 2019.