Bus Vs. Car: Driving On Mexico City's Streets Is A Different Experience
Play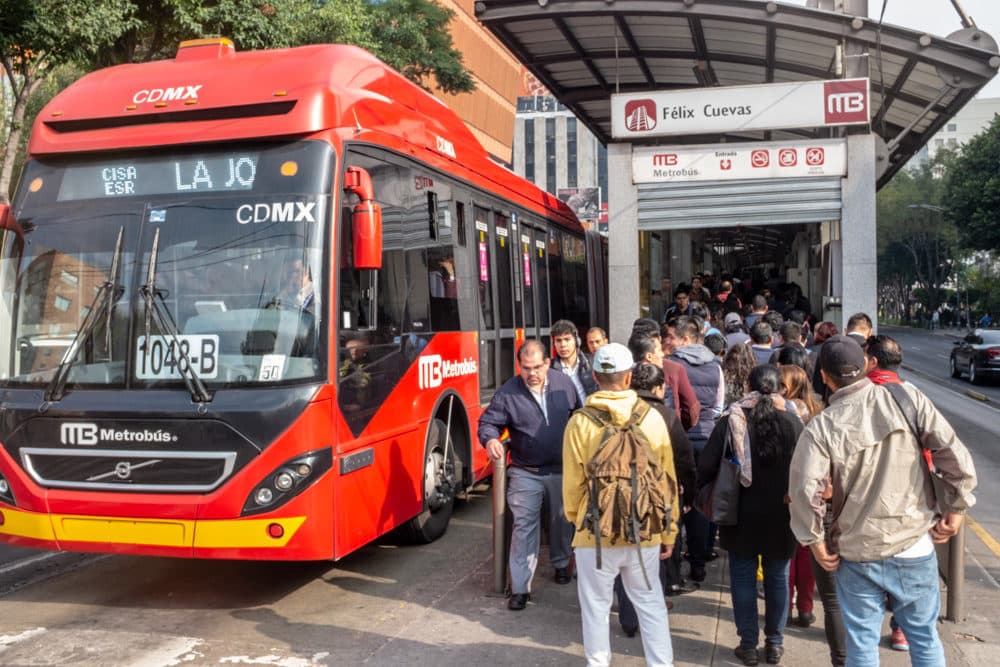 This article is more than 3 years old.
Part 4 of a series. Here are parts 1, 2 and 3.
Este reporte tambien está disponible en español.
Bright red buses barrel down the streets of Mexico City.
These buses are part of the city's bus rapid transit system called Metrobús.
As you enter a Metrobús station, you tap your card at the gate to pay. Then you wait on a platform, ready to board quickly when the bus comes.
Several cities have turned to this faster, more efficient type of bus system in an effort to get more cars off the road. That's what happened when Mexico City built Metrobús.
So, what is it like to drive on the roads there?
Jorge Mares is one of the people behind the wheel of Metrobús.
"It is faster, especially in the city center where there is more traffic," Mares says in Spanish. He has been a Metrobús driver for almost two years.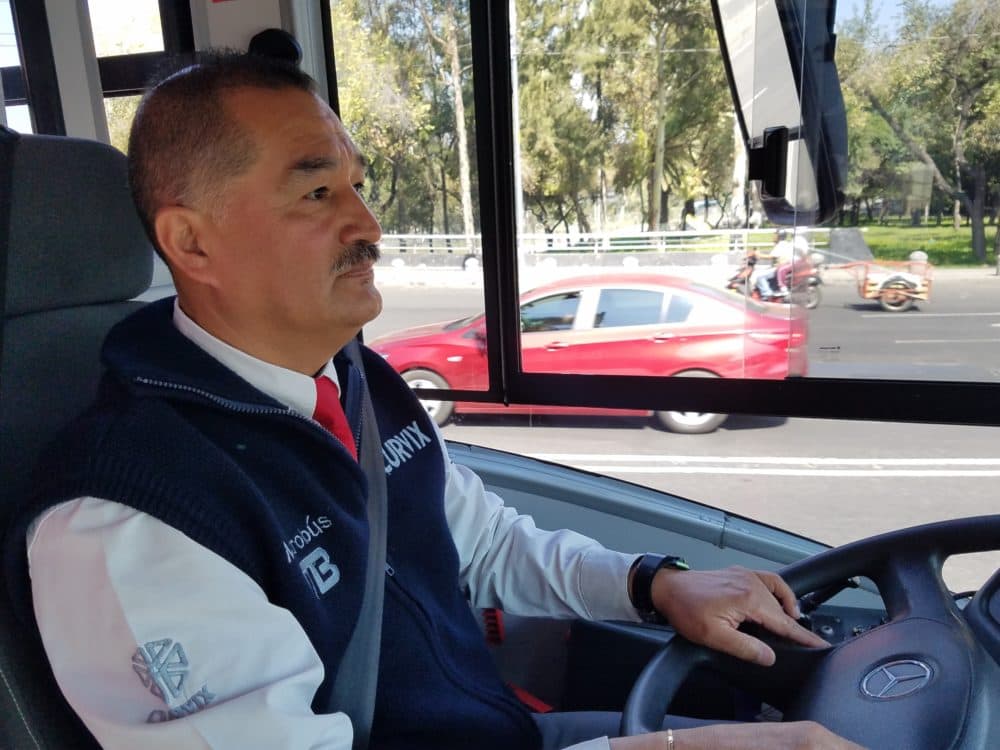 It's a Tuesday morning and Mares is at El Rosario station ready to start driving his regular route — Line 6 of Metrobús, which runs across the northern part of Mexico City.
"We have to adapt to a schedule. So if I get behind, I speed up to keep on time," Mares says as he starts to drive.
Mares can speed up because the buses in this system have their own exclusive lane — a key feature of bus rapid transit. And buses come every few minutes. As Mares pulls into each station, he honks a little to let passengers know he's arriving.
Mares likes that he doesn't have to sit in traffic. He used to do that when he drove moving trucks at his old job.
So does he feel bad for the drivers he now zips past?
"No," Mares says, laughing. "I feel comfortable because I'm moving without anyone stopping me."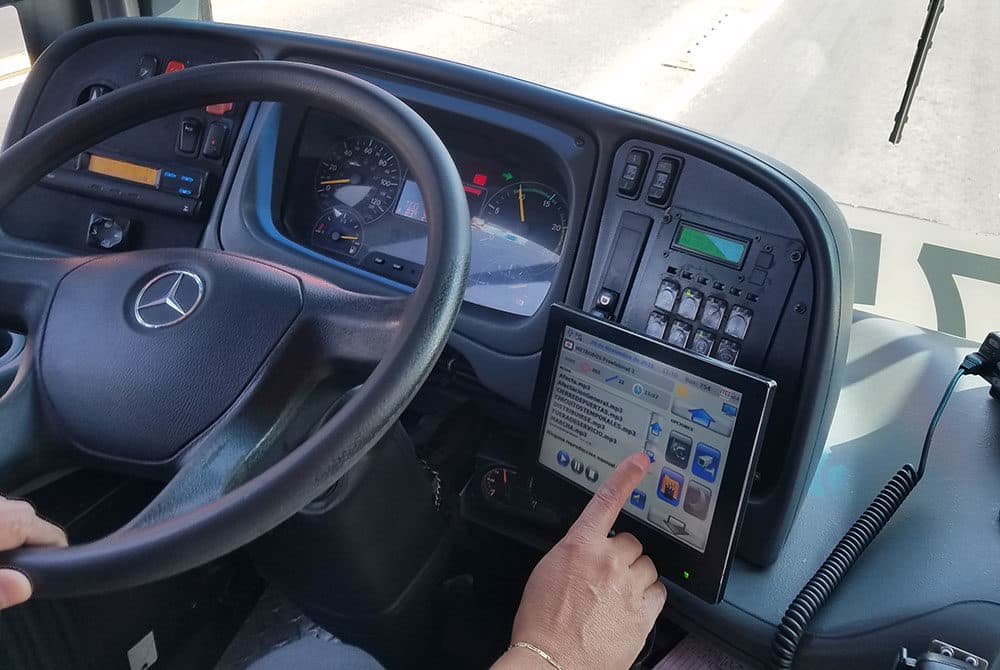 Beating traffic is all well and good for Mares and his passengers on the bus, but what about the people in cars?
Julio Rojas is one of those people. Rojas is an Uber driver in Mexico City — and not a fan of Metrobús.
"Before the Metrobús, we don't have traffic, and now we have more traffic in the principal avenues, like Insurgentes, Reforma, Cuatehmoc," Rojas says, while driving through downtown Mexico City later that afternoon.
Rojas expresses frustration that the Metrobúses get their own lane, leaving less space for cars.
But transit officials in Mexico City say Metrobús has actually improved congestion. Some people who use the system even ditched their cars, according to officials.
Of course, this is still a city with millions of people. And lots of traffic.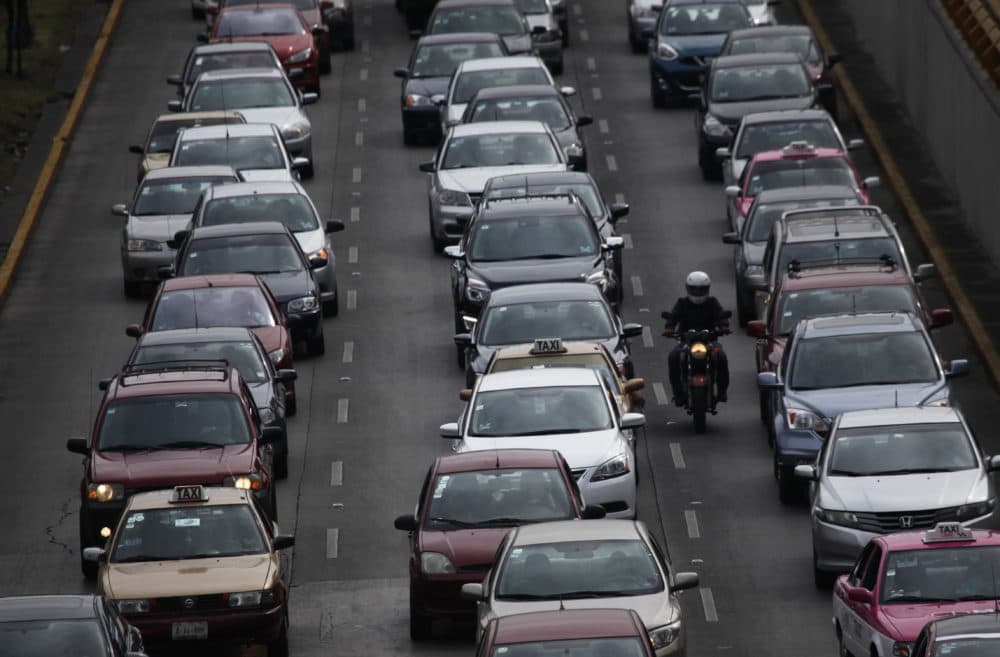 "It's helpful for the people," Rojas says of ride-hailing services.
But Rojas acknowledges he might be part of the problem since he's adding to the number of vehicles on the road. He feels he needs his car. He works as a pastry chef and drives for Uber to earn extra money. Even though he doesn't like Metrobús, Rojas admits it works well for many commuters.
The bus rapid transit system is popular — to the point that it's overcrowded. It also doesn't reach all parts of the city, which means sometimes you have to use other transportation options, like a car, private minibus or a ride-hailing service.
Still, Metrobús is considered a success. And communities in Greater Boston are looking to bus rapid transit systems as one way to improve commutes.
This segment aired on May 2, 2019.