SpeakEasy's 'School Girls' Is 'Mean Girls' With A Serious Twist
The sting of the African queen bee is keenly felt in "School Girls; Or, The African Mean Girls Play," Jocelyn Bioh's West African riff on not just the 2004 Tina Fey-penned film from which it lifts part of its name but a whole gaggle of mean-teen comedies from "Heathers" to "Jawbreaker."
In the play, which is set in a Ghanaian girls' boarding school in 1986 and is receiving a saucy area debut by SpeakEasy Stage Company (at the Calderwood Pavilion through May 25), the new wrinkle is colorism, a sort of internalized racism that, along with the universal suspects of body shaming, fashion tyranny and great expectations, complicate young black women's pursuit of prettiness. Not that Bioh is on a soapbox: "School Girls" is a comedy rooted as much in its characters' misinformed devotion to Americana as in their preening ringleader's blatant bullying and comeuppance by colorism.
Paulina Sarpong is the alpha girl whose giddy gang of minions is just starting to rebel when the arrival of a light-skinned new girl who has been raised in the United States pushes the incipient coup over the top. Queen bee Paulina has lorded it over her subjects with her alleged knowledge of American designers like "Calvin Klean" and "trendy American boutiques" like Walmart. Alas, newcomer Ericka Boafo knows that White Castle, where Paulina's expat cousin works, is not "a castle with food," as has been rapturously imagined, but an American Midwestern burger joint.
Of course, Bioh is up to more here than relocating "Mean Girls." Inspired by both her own American boarding-school experience and her mother's in Ghana, she endeavors to expose the way in which insecurity translates into cruelty among teenage girls. And she was equally inspired — well, appalled — by a 2011 situation in which an American-bred biracial woman was sent to the Miss Universe pageant as Ghana's representative, presumably because Ghanaian pageant officials thought a light-skinned woman would have a better shot.
In the play, Bioh pushes this incident back to 1986, where it can be allowed to coexist with the pop songs and sitcoms that were the soundtrack of her first-generation-American youth while at the same time speaking to the demoralizing effects of skin-tone prejudice on women of color. And yes, she gets to have it all: a visit to the Aburi Girls School by a recruiter for the Miss Ghana pageant sparks not only unconscionable vindictiveness among the girls but also a group rendition of the Whitney Houston hit "The Greatest Love of All" that will take its place in the pantheon of cringe-worthy hilarity on stage, showcasing the full, oblivious awkwardness of being an adolescent.
Summer L. Williams helms the spontaneous SpeakEasy staging with a loving eye toward the ambition and ungainliness of those years. And she keeps the vehicle on the road when it threatens to veer from seriously intended comedy into melodrama. Set designer Baron E. Pugh adds both African and disco fillips to the boarding-school cafeteria setting, the apertures of which Devorah Kengmana fills with pulsing colored light during the production's boogying scene changes.
Ireon Roach manages the near-impossible task of making the wincingly smug and nasty Paulina sympathetic, so obviously rooted in fantasy and perceived inferiority are her manipulations. Sometimes her bullying seems as desperate as it is spiteful, and her would-be-beauty-queen posing is silly yet somehow touching. For her part, Victoria Byrd makes the sweetly aspiring Ericka almost goofy, which makes her likable as well.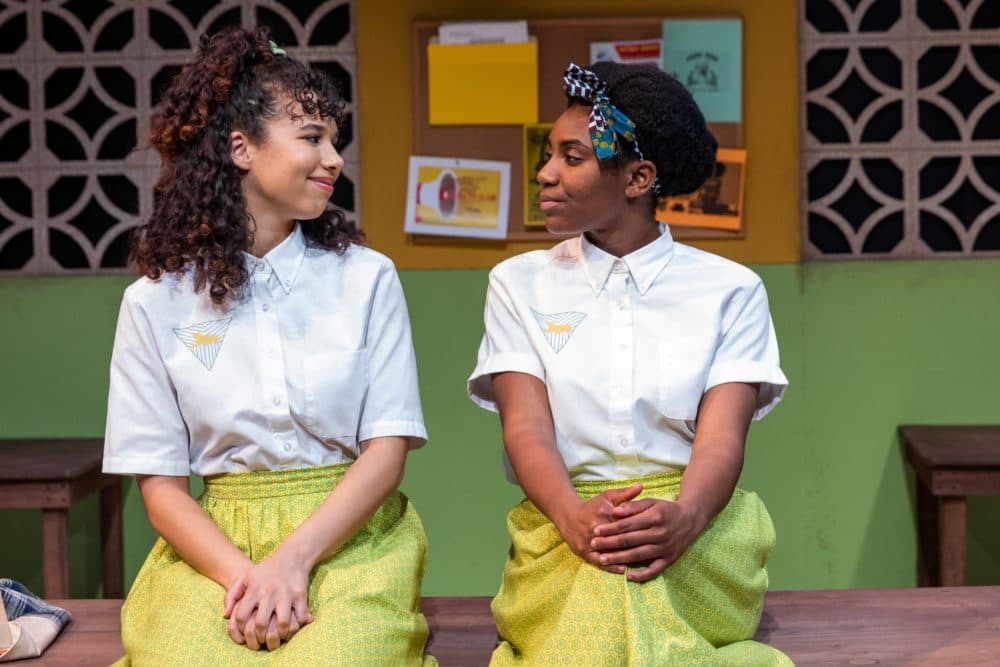 Paulina's posse consists of only five girls who are collectively cowed but individually drawn — even if clear diction and the Brit-tinged African accents don't always cohabit perfectly in their mouths. But Tenneh Sillah, Geraldine Bogard, Sabrina Victor and especially Shanelle Chloe Villegas are wholly convincing as overenthusiastic if under-confident teenage girls.
It is amusing that at least one of the play's two adults is a bit of a mean girl herself. Crystin Gilmore plays Headmistress Francis as a compassionate if exacting teacher, whose catty inner schoolgirl can be made to meow just a little by the appearance of former Aburi classmate Eloise Amponsah, the proud erstwhile Miss Ghana who turns up as the pageant recruiter. Tellingly, the poised Kris Sidberry plays Eloise as a tougher, more polished Paulina. Mean girls don't necessarily grow out of it.
"School Girls; Or, The African Mean Girls Play" had its world premiere at New York's MCC Theater in 2017 and won the 2018 Lucille Lortel Award for outstanding Off Broadway play. Just 80 minutes long, the piece is fresh and funny if far from subtle. And it has fueled the career of dramatist Bioh, who has gone on to pen episodes of the Netflix series "She's Gotta Have It" and "Russian Doll." She is also an actress, which may contain a clue to her gift for spunky, instinctive dialogue. "School Girls" plays like an imperfect early work. But it's one by a writer who knows how to coat a discomforting thematic pill in a tart comic shell.
---
SpeakEasy Stage Company is staging "School Girls; or, the African Mean Girls Play" at the Calderwood Pavilion through May 25.