Review Finds No Excessive Force In 2018 Arrest Of Black Harvard Student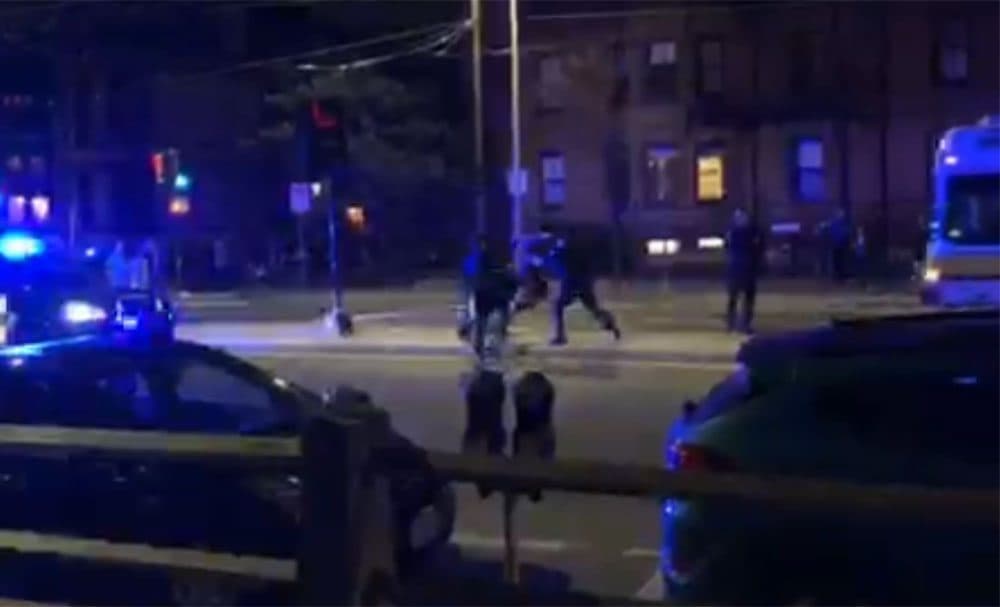 This article is more than 3 years old.
Cambridge police officers "acted appropriately" and did not use excessive force in a much-scrutinized 2018 arrest of a black Harvard University student, a review from a former Massachusetts Supreme Court chief justice concludes.
The 18-page report from Roderick Ireland, the first black chief justice on the state's high court, comes more than a year after police arrested then-21-year-old Selorm Ohene.
On April 13, 2018, officers responded to reports of a naked man on Massachusetts Avenue. After several minutes of conversation, officers physically restrained Ohene by taking him to the ground. Video recorded by an onlooker shows Officer Steven Burke punching Ohene as they restrain him. Ohene can be heard yelling.
---
Editor's Note: This video contains scenes and explicit language that some may find disturbing.
---
In his incident report, Burke said that Ohene did not respond to commands to give officers his hands to put them in handcuffs, so Burke "delivered approximately 5 strikes with a closed [fist] to the area of his stomach."
At the time of the arrest, Cambridge Police Commissioner Branville Bard said that the use of force complied with department policy and "was required in order to effectuate the male's arrest."
But Mayor Marc McGovern (a member of the Cambridge City Council) and then-Harvard President Drew Faust both called the incident "disturbing." And Harvard's Black Law Students Association called it a "brutal instance of police violence."
Ireland, who retired from the bench in 2014, said bystander video of the arrest is "upsetting to watch," but he ultimately agreed with police, writing in his review out Friday that "officers' actions were in keeping with the department's policy," and that officers' incident reports "adequately explained that their use of force was a technique designed to try to distract the student so that they could get his hands out from under his body and could place handcuffs on him."
An email sent to a Harvard group called Black Students Organizing for Change, which formed in response to the incident, hasn't been returned.
Charges against Ohene, including indecent exposure and resisting arrest, were dropped in late May 2018. A woman who appeared to be an acquaintance of Ohene's had said he had taken a narcotic of some sort, but Ireland's report says Ohene tested negative the night of the arrest for the presence of drugs.
Ireland suggests the Cambridge Police Department continue public outreach and to offer additional training to its officers. Among its offerings, city officials said in a statement that a new implicit bias training will be offered for officers on June 3 at Harvard.