At The Rose Art Museum, Maya Watanabe's 'Liminal' Recognizes Peru's Disappeared
Cicadas buzz as the camera pans slowly over what appears to be grit, stone and gravel. Textured layers appear solely abstract, until suddenly it's understood what's being shown: This is not earth, roots and rocks but bone, teeth and clothing. This is not the soil of the forest floor. These are human remains.
This realization hits in the large darkened gallery at the Rose Art Museum at Brandeis University where visual artist Maya Watanabe's new film "Liminal" is on view. What at first seemed to be an ethereal contemplation of life is instead a probing — even horrifying — examination of death.
"This shift of recognition was important to me," says Watanabe, a 36-year-old Peruvian artist who spent last year filming at the excavation sites of mass graves from Peru's 20-year armed conflict between insurgent guerilla groups and the Peruvian military.
"Because when you recognize something, you realize that you were not recognizing it before," she says. "You were looking at something horrible, but you didn't react to it because you didn't recognize it."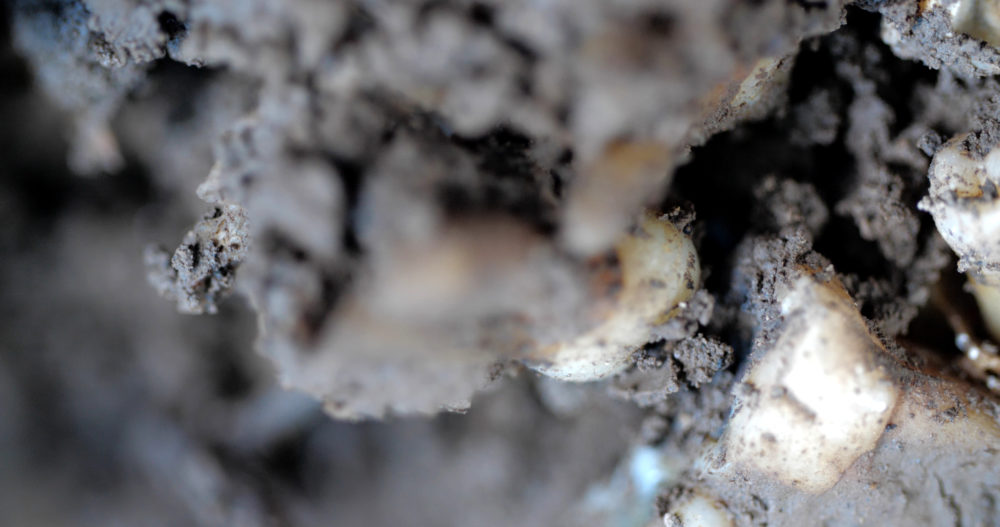 Watanabe's video installation is the inaugural exhibit of the Rose's new summer season, which also includes "Into Form," a selection of the museum's post-war and contemporary holdings.
The installation is Watanabe's first solo exhibition in the United States and is on a subject close to her heart. Growing up in Lima in the 1980's, her life was pervaded by a sense of fear and intimidation bred by terrorism and violence happening in the more remote parts of the country. While her film could be likened to a Buddhist meditation on death in which contemplators ruminate over a human corpse as they consider the fleeting nature of life, it is Watanabe's goal to instead ponder the notion of transition. The word "liminal" means a transitional state, phase or condition. These people, "disappeared" in the Peruvian countryside so long ago, have never been quite one thing or the other. They weren't alive, but they were never acknowledged as dead. They have remained in a state of transition.
An estimated 70,000 Peruvians, including indigenous villagers and journalists, died in violent clashes in Peru between 1980 and 2000. The Maoist insurgent group Sendero Luminoso (Shining Path) and the Marxist Movimiento Revolucionario Túpac Amaru (the Túpac Revolutionary Movement) fought a bloody war to overthrow the state, launching guerilla warfare in rural areas around Peru. The conflict was accompanied by widespread human rights abuses, including enforced "disappearances" among impoverished Andean villagers. The "disappeared" were buried in unmarked mass graves throughout Peru's remote and rugged highlands region, although most of these victims were never officially recognized as dead. (According to the UN Working Group on Enforced or Involuntary Disappearances, Peru registered the highest number of enforced disappearances in the world between 1987 and 1990.)
"The whole idea of the project is about recognition," says Watanabe. "These people were killed because they were not recognized as subjects in the first place. Of course, they were human, but they were not assumed to be citizens in the broad sense… And then, at the moment of exhumation, they were not recognized as subjects. They were not identified. They were in this limbo between being 'disappeared' people and officially dead. When I recorded, they were leaving their 'disappeared' status to become something that doesn't have a legal status."
In other words, they were liminal, just as they'd been for 35 years.
"You might walk in at a moment where it actually almost looks like a mist or like a cloud in front of you," says assistant curator Caitlin Julia Rubin of a viewer's first impression of the installation. "It's so abstract that it's more atmospheric than it is truly representative of something that you might be able to identify. But then there are those moments where it shifts and comes into very sharp focus. It's deliberate within her work that she's asking viewers to engage… to recognize what they're looking at."
These moments of sharp focus include points in the film where we can see archeological markers and measuring tools that reveal that these are bodies awaiting forensic identification. In these moments, Rubin says, "it hits you hard." (Visitors are advised of what they will see on wall text outside the gallery).
Watanabe, who left Peru at age 21 and now lives in The Netherlands, says she knew she wanted to address the Peruvian disappearances in her work.
"It felt like something that I had to do," she says. "There was a kind of urgency that I had to talk about this."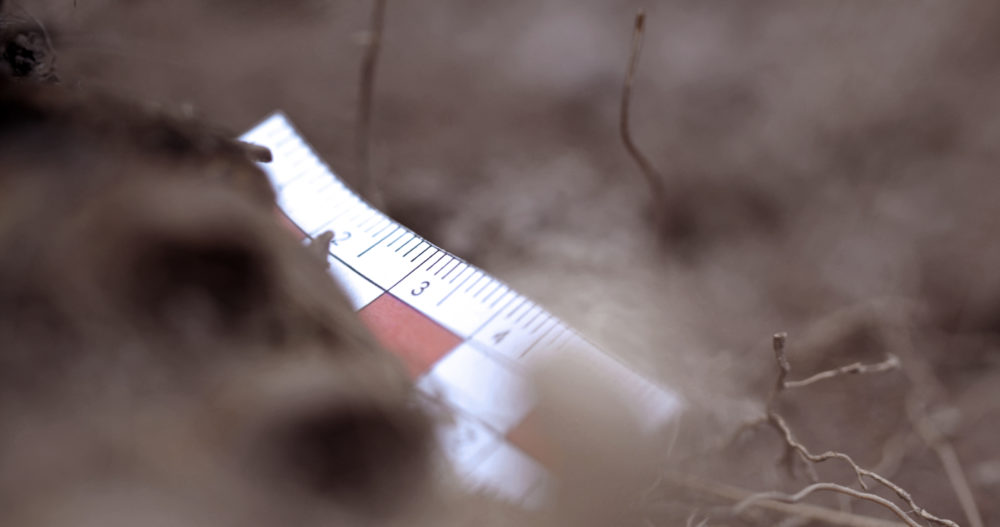 Still, she struggled with exactly how she would do it until last year. While making two trips to excavation sites, one accompanied by family members, the other with forensic experts, she began to understand the kind of approach she could take. She asked family members searching for relatives how they would like the remains to be filmed. The process, she says, "ended up being like a kind of ritual for them."
"I knew I didn't want to show the whole picture," she says. "I didn't want to focus on sadistic things, because there were sadistic things there."
And so, she settled on abstract images that are both hauntingly beautiful and at the same time horrific.
Rubin admits that it might seem a rather dark subject for a season that we associate with summer beach reading, barbecues and picnic outings, but she says, the show is in keeping with the Rose's mission, which remains the same in every season.
"It's important for us that we continue to engage with issues of social justice across the entirety of our program," she says.
Certainly, events in Peru, where so many have died without their deaths ever being acknowledged, fits that mission.
Some might imagine that the failure to register the deaths of the disappeared means their lives were insignificant. "Liminal" was designed to counter that notion, taking that first step to seeing, recognizing and ultimately grieving.
---
"Liminal" is on view at the Rose Art Museum at Brandeis University through Aug. 25. "Into Form" is on view through Jan. 5.