On Eve Of Expected ICE Raids, Mass. Residents Organize And Educate
On the eve of raids expected to be carried out across the country Sunday by federal Immigration and Customs Enforcement officials, Bostonians gathered to educate immigrants and their families about their rights.
While Boston isn't one of the 10 U.S. cities reported to be the focus of the ICE sweeps, which could result in thousands of arrests, local advocates for immigration rights say non-U.S. citizens still need to be prepared.
On Saturday, a handful of people gathered at the East Boston Public Library, where Patricia Montes of Centro Presente, an immigrant advocacy group, organized an immigrant rights education session.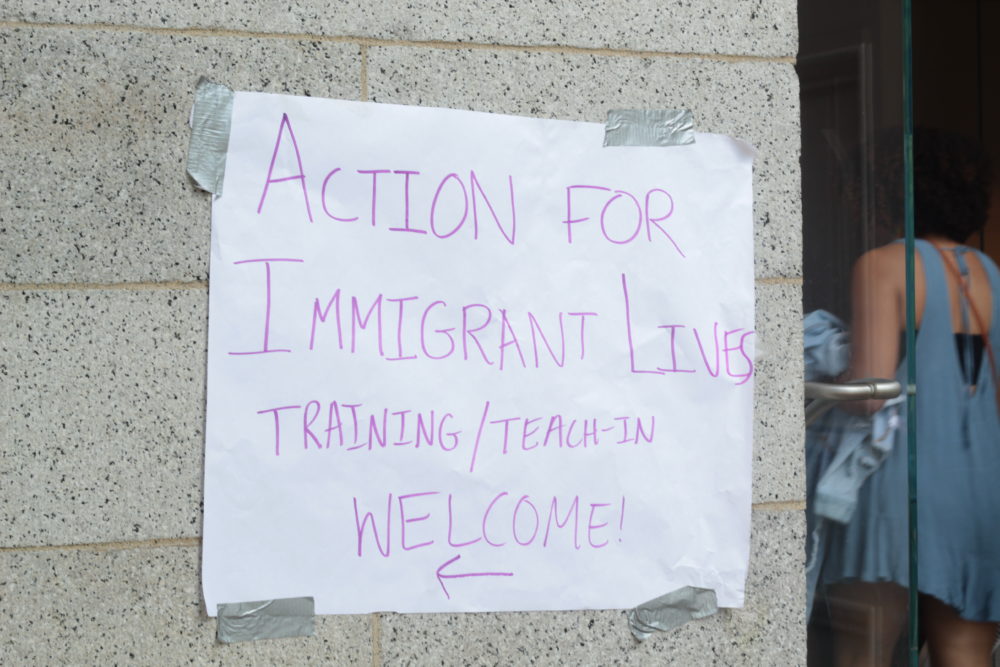 "Even if the government is not going to conduct raids in Boston, we know that [ICE] is always conducting operations and always going to people's houses," she said. "People should know their rights."
Montes said even if those people are in the country illegally, or if they're undocumented, they should be equipped with information so they don't forfeit their rights in panic if ICE or local law enforcement show up at their homes.
"They need to know that they don't have to open the door if [ICE] doesn't have a warrant that is signed by a judge with the name of the person they're looking for," she said.
Montes also said people need to know that they're entitled to legal representation.
Nora Torres, who's originally from Honduras, has been living in Boston for 20 years. She says she came under Temporary Protected Status (TPS), which allows people to stay in the U.S. for a certain amount of time if their home country is roiled by conflict or natural disasters.
While she explains that she feels safe for now, she has family and friends with a not-so-guaranteed stay in other parts of the country. Torres says that's why she showed up to Centro Presente's meeting Saturday.
"I feel worried for the people in that situation, and I want to help," Torres said. "It's important to have the information, because that way I can help other people who might be facing raids."
There was a small turnout to the event, but Montes said it could be explained simply: "People are afraid. They're even afraid to send their kids to school."
'It's Time To Stand Up And Fight'
Across town at the Cathedral Church of St. Paul, near Boston Common, there was a larger crowd. Residents from many parts of the state flocked to a training and teach-in organized by the advocacy group Action for Immigrant Lives.
Attendees said they were galvanized by the threat of Sunday's ICE raids and the continued reports of mistreatment of migrants at the U.S.-Mexico border. Their concerns included separated families, and migrants held in cramped conditions, cordoned off with chain-link fences.
At the church, people talked about what can be done to protect immigrants who may be scared under the Trump administration's approach to immigration. Some ideas were collecting signatures for legislation that would require law enforcement to focus on public safety instead of immigration enforcement, screening movies in people's homes about the experiences of TPS-holders and other non-citizens and tabling at events to educate immigrants about their rights.
Doris Landaverde, originally from El Salvador, said she has been in America for about 19 years under TPS. She says she feels her family is safe from ICE, but she wants to advocate for other families who don't have that assurance.
"It's time to stand up and fight," Landaverde said. "It's so bad. When I think about it, my heart is broken. ... It's time for the community to stand up and say, 'it's enough'. What'll happen with these families if they get arrested tomorrow? Because they have kids. It's time to think about the kids."
Saturday's training and teach-in was organized by Leah Bloom. She said she's not sure if the event will lead to improved treatment of migrants at the border, help keep migrant families together or stop ICE raids.
"But I can say for sure that if we don't do this work, things will not change," Bloom said. "We have to do this work."