Vivid And Lush, Farah Al Qasimi's Photographs Draw On The Imagination At MIT List
Farah Al Qasimi creates lush, vividly detailed photographs that leave almost everything to the imagination.
And if that sounds like a paradox, it is. Somehow, as colorful and object-packed as Al Qasimi's photographs of life in the United Arab Emirates are, it's usually implicit that the real story lies just outside the camera's frame.
For example, in her 2017 photo "Living Room Vape," on view beginning July 30 as part of Al Qasimi's show at the MIT List Center for the Visual Arts, we see a man sitting on a brocade couch engulfed in a cloud of vapor emanating from his e-cigarette. The cloud obscures his face. A woman stands across from him with hand extended, as if she might be gesturing for her own chance to take a toke. Most of her figure is outside the frame and we can't see her face or be sure what she is doing. What we can see is the rich royal blue of the walls, the deep purple and fuchsia of her silk robe, the ornate decorative screen behind the couch, the intricately patterned vases on the coffee table, the crimson of the Persian carpet and the Thomas Kinkade-like pastoral landscape above the couch.
Al Qasimi snapped this photograph one night after dinner at a friend's house in Abu Dhabi.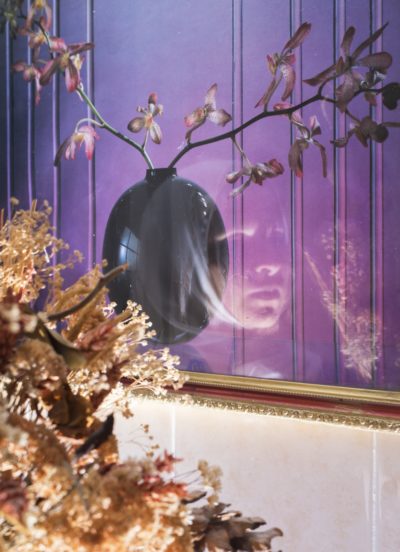 "There was something particular about that scene that was really indicative to me of the highs and lows of Western influence in the Gulf," she says. "For me, it becomes a kind of amalgamation of all these signifiers of taste and culture. But then, there's also the anonymity of the sitter and the person who's calling to him. For me, he's kind of like the Cheshire Cat, shrouded in luxury, shrouded in smoke, but there's something also about entrapment there, or at least disengagement."
That so much meaning could be parsed from one simple photograph is an intrinsic feature of Al Qasimi's work. Relatively simple subjects and compositions — a man standing in a luxury shopping mall, a kiosk draped in cloth, a display of perfumes in a bathroom — are laden with meaning, often questioning social customs and conventions, ideas around consumption and consumerism, postcolonial structures of power, taste and gender in the Gulf Arab states.
"I'm trying to communicate that [life in the Emirates] is a lot more complex than many people assume it is," says Al Qasimi. "And I mean even the people who are very familiar with it, who are from there, who have grown up there."
Al Qasimi, grew up in Abu Dhabi, went to Yale and now lives in New York, while also teaching photography at the Rhode Island School of Design. She travels between New York and the Emirates every few months and does much of her shooting in Dubai. She says she is especially interested in looking at how the Emirates has changed since it became a union in 1971.
"I started to think about some of the more complicated effects or consequences of the union, religiously, politically and also socially," she says.
She records the small moments of life with all the sensitivity of a socially-attuned documentarian, while wielding her camera with the artistic flare of a skilled fashion photographer. Her work is intriguing for this reason, inviting the viewer to puzzle out exactly what might be going on in photographs that often involve an element of camouflage. Viewers may or may not be aware that she is questioning what "progress" in the Emirates looks like, and whether economic development has translated into a general well-being for Persian Gulf citizens. But whether they get that point or not almost doesn't matter, since the photos are so arresting simply as photographs.
"There's something very visually satisfying, almost seductive, about her staging of these scenes," says exhibition curator Henriette Huldisch. "But at the same time, when you delve into it, you realize that there is a very sophisticated visual language that she employees using layers of disguise to make subtle investigations into gender, into social status, into consumerism, without being heavy handed about it all. It's a very subtle way of addressing a larger socio-political context but also making something that I think is visually quite satisfying to look at."
To the Western eye, Al Qasimi's work documents a land that is both "hyper-colorized" and sometimes surreal in its contradictions.
In her 2019 photo "Aviary," an anonymous room is filled with sand, bushes and walls painted to suggest a boundless, infinite horizon. But any pretension of natural open space falls short, thanks to an oppressively low, fluorescent-lit ceiling befitting of an office park.
Another photograph, "Falcon Hospital 2 (Blue Glove)" of 2016, is ostensibly a straightforward shot of a falcon awaiting treatment in a veterinary examination room. The falcon is hooded, as is the usual practice, to keep him calm.
"For me, that photograph has a lot to do with the kind of ubiquity of surveillance in a lot of countries, but I think it's certainly something that has come up in the Emirates recently with the introduction of new technology and also just with the political unrest in the region," reflects Al Qasimi. "For me, it's just thinking about making an analogy for what it means to look at something that can't look right back at you."
Because falconry is a popular sport in the Emirates and the golden falcon is the national symbol, the image also touches on issues of patriotism and national identity.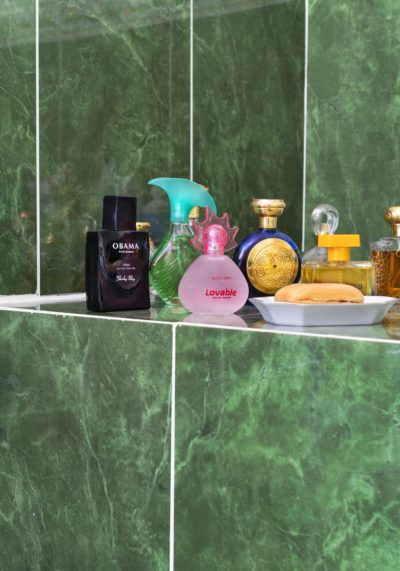 Carefully composed and exuberant with color, many of Al Qasimi's photographs seem influenced to some degree by Instagram culture in the Middle East, in which young men and women snap photos, but not so much of themselves as of objects around them. Many of her photos look as if they could be ripped straight out of a fashion magazine, although they admittedly display a different aesthetic than the clean-lined minimalism favored in urban America and design-conscious Europe.
"I feel almost a responsibility for the work to be a counter to this new wave of pseudo- industrial Brooklyn minimalist design," she says. "I am attracted to the opposite of that. I grew up in the opposite of that." The blatant maximalism of her homeland, she says, is "extremely sincere, extremely comforting and beautiful."
In addition to a small selection of her photographs, The List show also includes Al Qasimi's 2019 video, "Um Al Naar" or "Mother of Fire." Styled like a reality TV show, it follows a "jinn," a supernatural spirit in Emirati mythology. The disconsolate spirit narrates changes seen in the country in the last few decades now that fewer people believe in the existence of the supernatural.
"I wanted to use the metaphor of an invisible being who is struggling with change," says Al Qasimi.
And in the end, it is very much in keeping with Al Qasimi's oeuvre, hinting at something that is there, but almost always unseen.
---
"List Projects: Farah Al Qasimi" is on view at the MIT List Center for the Visual Arts from July 30-Oct. 20.