Luke O'Neil Thinks The World Is Going To Hell And He's Not Afraid To Tell Us
Posted up at the bar in the corner of The Sinclair, poking at an ice cube in a drained lowball glass, Luke O'Neil admits he's a bit out of his element. "Just make sure you know that I know that this all sounds really douchey to be talking about yourself. I haven't done this enough times that I'm comfortable with it."
He's used to being on the other side of the interview, asking the questions. For the past 15 years, he's worked as a journalist, first writing about music, cocktails and culture for Boston's alt-weeklies before moving on to outlets like Esquire, The Wall Street Journal, The Guardian and more. The Sinclair is his typical scene; he DJs the bar's monthly emo night, a local hit.
But these days, his most high-profile work has taken a more political direction, spurred by an increasing sense of urgency behind his leftist views and a perspective on media dynamics that sometimes complicates his freelancing career.
Tonight we're here to talk about his forthcoming book, "Welcome to Hell World," which comes out in September, but O'Neil's journalistic background makes this a tricky proposition at times. He's written profiles before and knows how it goes; he half-jokingly assures me that he's not going to judge my questions. His answers tend to come with a just-provocative-enough sheen, like he's speaking in pull quotes.
But he's not being disingenuous. O'Neil speaks the way he writes, wired into a permanent state of journalist-brain. In a way, that's what "Hell World" is about. The book, which grew out of his popular Substack newsletter of the same name, is largely a collection of his essays and reporting from the past year, combining interviews and far-left perspective on a litany of topics — police brutality, pharmaceutical-industry greed, crowdfunded health care, political media — with elements of memoir, often within the same piece.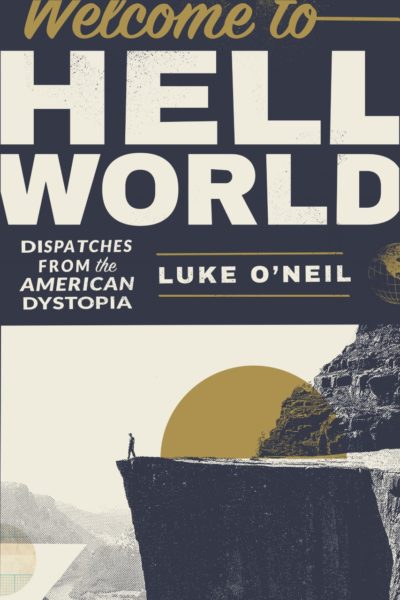 It's an unusual mix but O'Neil makes sense of it, connecting disparate topics in a darkly funny, occasionally crude, and often profane stream of consciousness that compulsively reveals the headspace he was in while writing each piece. "I'm trying to be more honest by not bulls---ing you into thinking that I believe anything that I don't, and part of that is just stopping in the middle of reporting something to say 'this is f---ed up', right?" he says. "But it's just some sort of reminder that I'm not a dispassionate voice from nowhere."
His style draws from his time in Emerson's poetry MFA program (he did everything but turn in his thesis), though it was also partially inspired by Nico Walker's "Cherry", which he read just prior to starting the newsletter. The book reminded him that "you can write about serious stuff in a weirdly effective, bemused way," and O'Neil's "Hell World" runs with that philosophy. Plus, the lack of imposed structure is efficient: he cranks out 3,000- and 4,000-word pieces in a few hours.
No one would mistake "Hell World" for the New York Times, and that's the point. What the Times refers to as "border facilities," O'Neil calls "the baby jails which we literally have now and have kind of gotten used to." Where traditional reporting leans on statistics and clinical terminology, O'Neil opts for jarring specificity. As a result, reading "Hell World" can feel like peeling back your eyelids and forcing yourself to watch current events veer toward dystopia, with particular attention to the ugliest and most inhumane details. It's often an uncomfortable read. But if you're aligned with O'Neil's views, it might also force you to face your own discomfort and ask yourself if you're doing enough to reform or dismantle the institutions responsible for the stories he covers.
Much of his more political writing rails against what he calls "both-sides-ism," the rampant false equivalencies in media that so often cross into moral waffling. "I don't have any interest in, not even telling both sides, I don't want to hear both sides. I have no interest in presenting the side of the bad guy, and there are bad guys," he says.
Over the past few years, he's made an effort to bring a far-left perspective to more mainstream publications, though it's been a challenge at times. "I think newspapers are still holding onto this idea of objectivity as if being centrist is a neutral position, but it's not. Being centrist is a radical position at this point," he says. "In order to be a centrist, you have to allow for so much corruption and abuse."
He double-checks that this article is running on WBUR, then smirks. "NPR is the epitome of this s---," he says. "It's almost like I can't consume any culture anymore because it's all so centrist and down the middle it's driving me insane."
"Welcome to Hell World" is partially the product of his distaste for the dynamics of the digital-era journalism industry. Last summer, before launching his newsletter, O'Neil had hit a particularly difficult stretch: he was technically writer-at-large at Esquire, but his position and paycheck seemed to be in limbo and he was "starting to run out of money." Other outlets were folding or being elusive about payment. When Substack's founders approached him about starting a paid email newsletter of his own, he approached it with his typical skepticism, but "Hell World" took off before long.
Substack's model allowed him to charge a subscription fee for his own email newsletter — $6.66 per month or $69 for a year, he decided — but it also freed him from the business agendas of traditional publications. Without editorial oversight, no one could require him to tone down his writing style, run his pieces alongside endless "Game of Thrones" clickbait, or hold him to the conventions of traditional comma placement. ("Constant speed bumps," he calls them. "F---in' pause on your own time, man.")
Writing the first newsletter was an immediate rush. "While I'm writing I'm in this feverish state. The feeling after the first few I did, my pulse was racing, and I was anxious, like 'What if I made the readers feel that way too?' "
Now, in a little over a year, he's accumulated nearly 7,000 total subscribers, with around 1,100 who pay for complete access and set up "Hell World" to pull in around $70,000 this year, minus Substack's 10% cut and a 3% cut to the online payment vendor Stripe. "The fact that people are paying for it makes me want to try. It's kind of cool, instead of working for f---ing Hearst, which is a billion-dollar company with thousands of middle managers, just working for the people who read my newsletter."
He hadn't set out to write a book, but when indie publisher OR Books reached out about it, he agreed that it made sense. In a year, "Welcome to Hell World" went from being an experiment to becoming O'Neil's main platform, which had given him a different kind of visibility and creative license. It had both launched him into national conversations and given him a stable way to survive the ensuing controversy.
O'Neil is well-acquainted with what he describes as the "viral wringer." Last December, in an act of trolling-as-philanthropy, he started a GoFundMe page to "build a giant escalator" over Trump's proposed border wall. The "escalator" in question was really a joke designed to raise money for RAICES (and piss off some conservatives in the process); he wound up collecting and donating over $10,000.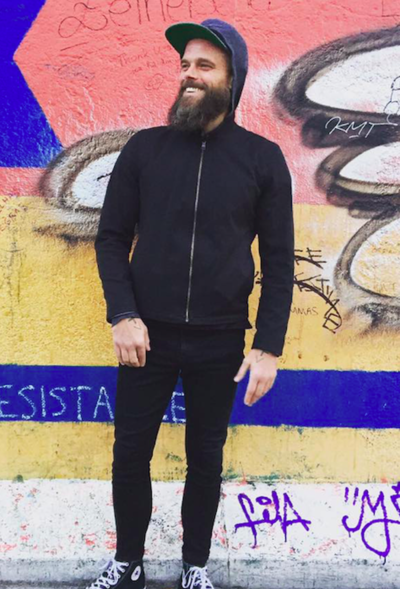 In April, "Hell World" itself went viral with a piece entitled "I Hate What They've Done to Nearly Everyone in My Family," in which O'Neil described "feeling like you've lost a piece of your loved ones to Fox News brain cancer." It blew up online after Alexandria Ocasio-Cortez shared it on Twitter. But perhaps most infamously, less than a week later, the Boston Globe published, edited, and then unpublished an op-ed of O'Neil's that compared Trump allies' discomfort with public confrontation in their daily lives to the family separations and conditions in ICE detention centers that resulted from the policies they supported. However, the point of the piece was overshadowed by backlash to O'Neil's tongue-in-cheek line about regretting "not pissing in Bill Kristol's salmon," which launched a national debate about journalistic ethics. O'Neil was already used to being the subject of a certain degree of online controversy, but over the following days, death threats and vitriol poured in with disturbing volume.
Though O'Neil describes writing as "not a real job" compared to his past experiences — years working in restaurants, a brief stint in construction — he doesn't diminish the emotional toll that it can take. The weight of the stories he covers stays with him after they're published. As much as "Hell World" focuses on current events, it's also a memoir about wrestling with mental health while fully tuned into a brutal nonstop news cycle.
Like his other writing, the pieces that he shares from his own life don't shy away from the most unpleasant details: he describes his experiences with addiction, disordered eating, and physical injuries with his typical candor. Often, readers write to him. Sometimes they even send money out of appreciation.
"I'm a pretty f---ed-up dude, and I think a lot of people who read my s--- have their own sorts of problems. But I think a lot of people who read it are like, 'It's just nice to see someone talk about this s--- frankly," he says. "This is how I am anyway, whether or not I was writing about it."
Still, while "Welcome to Hell World" isn't exactly a feel-good read, readers sometimes ask O'Neil if there's an element of optimism to it.
"Sometimes I really am as pessimistic as it seems," he says. "A lot of what we do online is preaching to our own choir, but I think it's useful in a way. I don't think I can convince somebody watching Tucker Carlson or whatever, reading Breitbart or Infowars, to see things the right way, but I do think you can turn a liberal into a leftist."
O'Neil has no illusions about what an e-newsletter and book can do in the grander scheme of current events. Still, the fact that "Hell World" has found such an audience matters. For some — O'Neil's readers and otherwise — the sense that we're living in a hell world is nothing new. But paying close attention to how a hell world works might be the first of many steps toward making it less hellish.
"I don't think we're ever going to save everybody," he says. "[But] if you present things to them in such a way that's like 'Wait a minute, this isn't just a specific story about me and the people I know. This is affecting everybody,' I think we can peel those people off one by one. That's the only optimism I have."