This Art Exhibit Shows Makeup Is Political
Makeup is unabashedly political. Suffragettes sported cherry red lipstick when they stormed the streets to fight for women's right to vote in 1912 and face paint-covered protesters in Puerto Rico called for Gov. Ricardo Rosselló's resignation in 2019. Cosmetics can signify one's values: Flappers in the 1920's asserted power against the patriarchy by defiantly smearing on dark lipstick and punks in the 1970s and 1980s sported heavy black eyeliner that matched their studded leather jackets. Makeup is also cultural: In Japan, people emphasize rosy pink cheeks to emulate the Harajuku look. Makeup challenges gender roles: Drag queens perform exaggerated femininity. Makeup is metamorphic: David Bowie painted a lightning bolt over his face and Prince rocked smoky eyeliner onstage to take on new personas.
A transformative tool that is deeply embedded into our culture, makeup is a manifestation of something deeper and that's what Dorchester Art Project's exhibition "Face Value: Makeup, Art, and Identity" explores. The show opens Aug. 3 at DAP and runs through Aug. 31. Seventeen local and international artists explore their relationship with makeup through painting, photography, sculpture and more.
Emily Bass, arts editor at Boston Hassle and show curator, said that she wanted to host a show that looks at makeup and how it intertwines with identity, culture and politics. Carefully selecting works that span a wide range of perspectives, Bass said that one theme artists addressed is patriarchal beauty standards.
"I think a lot of times when we talk about makeup, we flatten it into, 'It's so bad for young women to be wearing makeup,' but I think the conversation should be more like, 'Why do we tell people they have to wear makeup that looks a certain way or what they are isn't good enough?' Why isn't the conversation how could you or could you not use makeup to feel better about yourself?"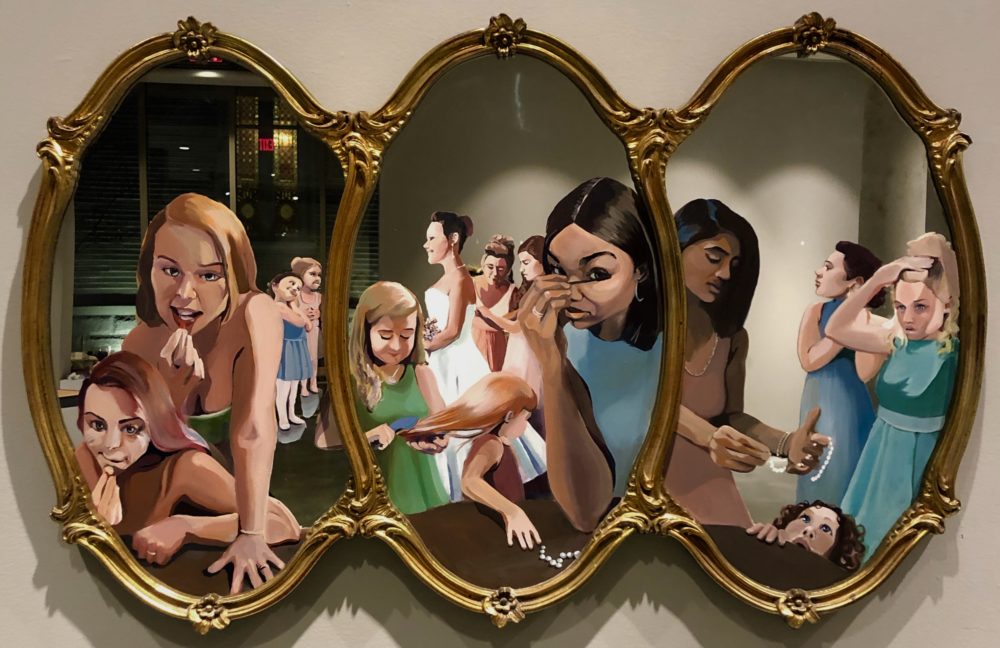 Bass added that femme people in the workplace are unfairly perceived as vain for wearing makeup.
Siena Hancock, an interdisciplinary artist who often does sculpture installations, constructed a bulbous bright pink mask embedded with reflective mirrors. She said that the mask is influenced by the playful, kitschy and decadent makeup aesthetic found in the disco era of the 1970s. Hancock pieced together round bubbles, with imperfectly rough texture like crumbling old eyeshadow, shocking hot pink color that mimics bold blush, and mirrors that resemble makeup compacts.
"I often work with mirrors so I kind of have an interest with that concept, the idea of how a person may be wearing a facade or wearing a mask, not in a literal sense but in a metaphorical sense, that is then a reflection of how other people might view them, a reflection of what they believe they are meant to look like to society or civilization," Hancock said.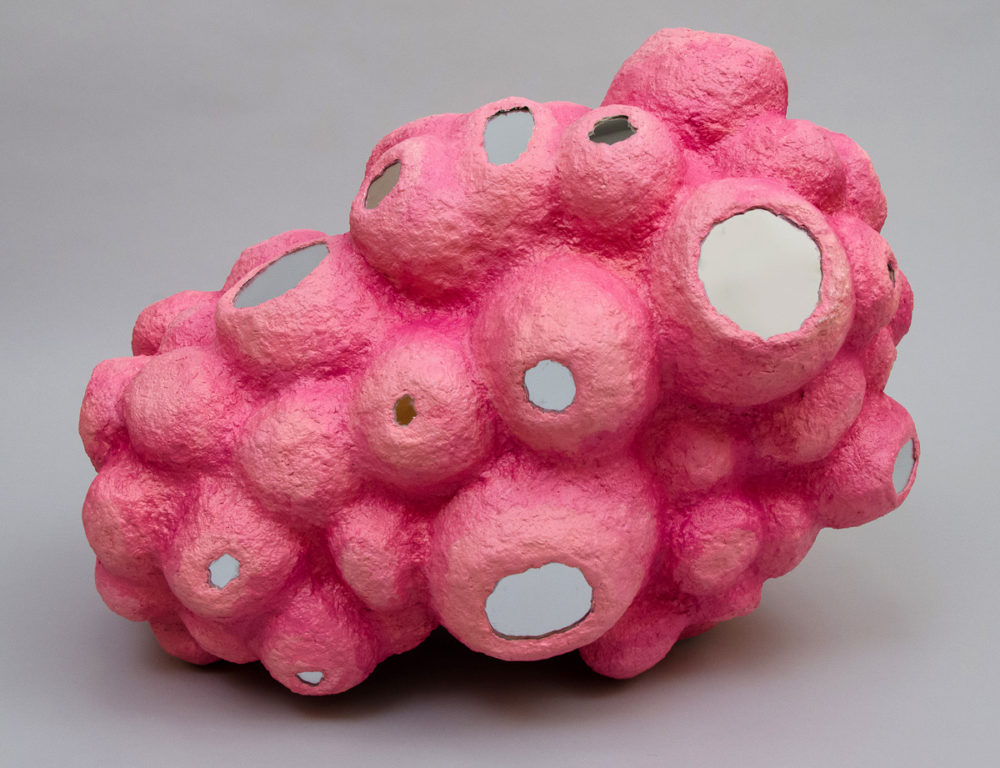 With the prevalence of social media (Instagram especially), selfies flood the internet. Hancock said her piece is a commentary on what selfie culture means for people's perception of themselves and their self-esteem. The person wearing the mask can't see anything; with the reflective components, the mask is like multiple mirrors for others to view themselves. Hancock said the larger bubbles convey the feeling of losing control amid worry about how others think of you, like something is growing out of your face and body.
Like Hancock, Kit Collins incorporated mirrors into her art. On display are two mirrored compacts and one small purse mirror that's hand embroidered to include natural scenery. Collins focuses on how perception shifts in different environments. "I was thinking about looking to nature to find ourselves. Looking at nature, looking at myself. How makeup converts to the outside world. Looking for perception in the environment."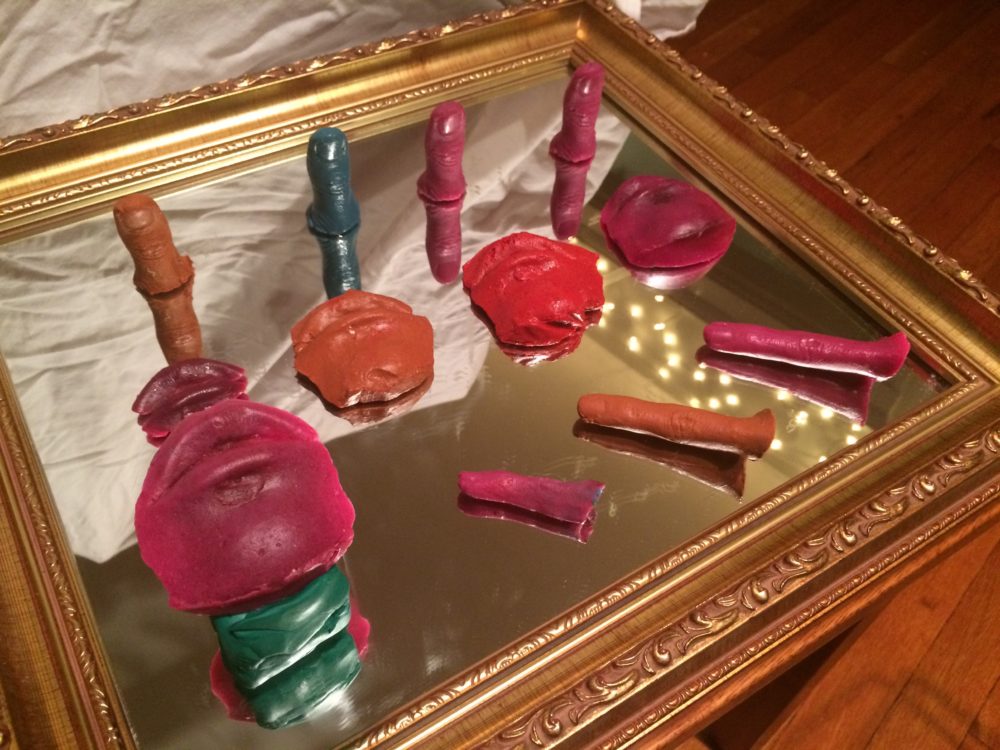 Collins compared looking into a mirror in the woods and how that differs greatly from looking into a vanity mirror surrounded by products. "We don't change but we feel that we change depending on the environment that we put ourselves in," Collins said. "Virtually every interaction anyone has with any mirror is colored, overtly or unconsciously, by our patriarchal, racist, colonized, queer- and trans-phobic society, and all of the general and specific beauty standards that flow from that reality."
Christy Petrie and Tyler Nicholson's flashy piece is about embracing maximalism and gender nonconformity. A defiant stand against calls to be demure, Petrie photographed Nicholson in full, gloriously extravagant drag makeup with paper eyelashes. Like Hancock, they prominently featured hot pink: it's in the blush, eyeshadow, lipstick and earrings.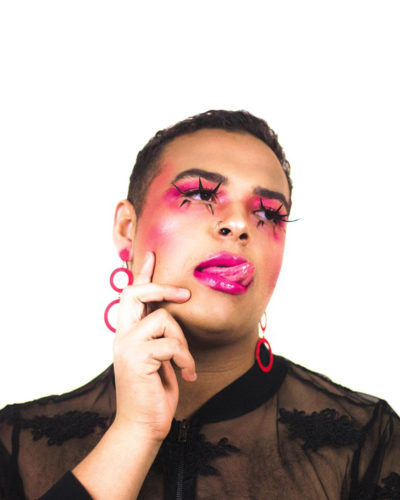 Petrie said that she worked with Nicholson, who's into drag makeup, to create portraits that conveyed the meeting of genders. Nicholson, who doesn't present himself as conventionally feminine on a day-to-day basis, transformed himself with makeup. The idea of a guy, who seems maybe more masculine, to wear pink and big lashes is very loud to me which ... gets the idea across," Petrie said.
The makeup techniques Nicholson employs and that have become mainstream in internet makeup culture originated in the drag and queer communities: cut crease, contour, and face paint, to name a few. "I think drag influenced a lot of what we're doing today, kind of without the credit," Bass said.
The narrow idea of who should and shouldn't wear makeup is tied to gender assumptions. William Barriteau photographed himself with a mirror reflecting a black void over his crotch. His piece confronts how people assign gender to others.
Annie Harrington's oil painting on a mirror depicts mother-daughter bonding by applying makeup together and getting ready. Tracy Huerta's pieces draw from their identity as a non-binary Latinx. For one of their pieces, they arranged lipstick-like fingers on a mirror. Bass said Huerta wants to dispel the myth that people who wear makeup are substanceless. "You can talk about political issues and also wear makeup," Bass said.
It's easy to dismiss cosmetics. At first glance, makeup may be surface paint, but the powders, creams, gels, liquids and glitter have been visual symbols of impactful movements. "Time and time again makeup is tied up in conversations about political activism, and I think it's hard to talk about women's rights and gender and LGBT history without also talking about makeup as a tool for achieving those goals," Bass said.
Since the dawn of civilization, people have adorned their faces, as far back as 4000 B.C., Egyptians lined their eyes with kohl and applied rouge to their lips to enhance their features. Painting one's face channels excitement, playfulness and power. Like an engine to start up the day, makeup has long been a source of confidence and expression. People resort to their signature looks, be it winged eyeliner or a classic red lip. Conversely, not wearing makeup takes a stand against the pressure for femme people to look polished. Makeup is a visual culture in its own right: a system of visual cues that can convey alliance and self-actualization.