Congestion In Mass. 'Has Gone From Bad To Worse,' Transportation Secretary Says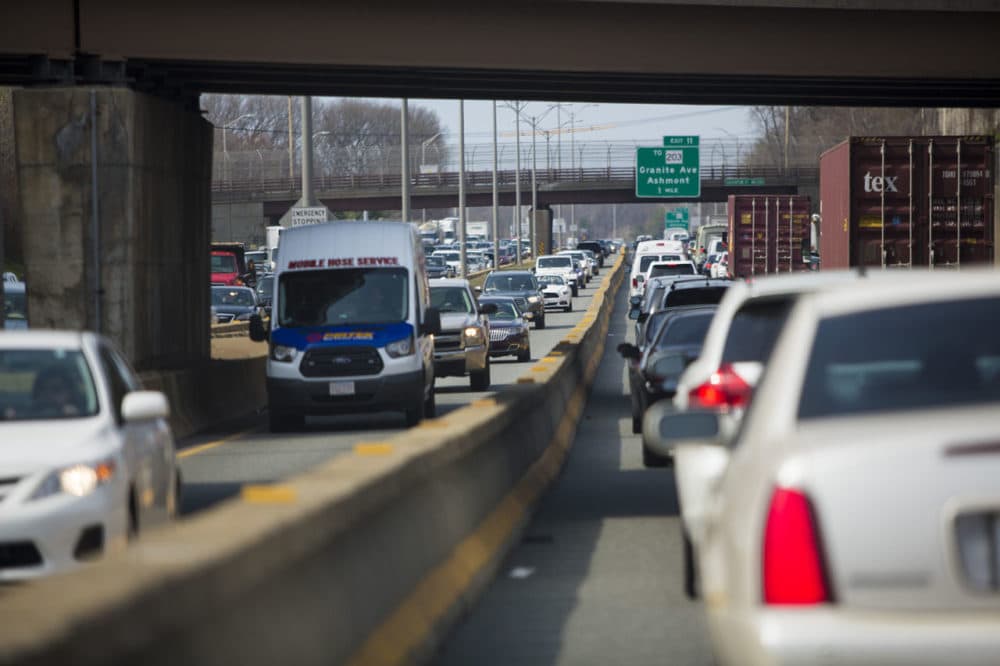 This article is more than 3 years old.
The near-omnipresent congestion on Massachusetts roadways has worsened to the point where access to employment is strained and the state may struggle to meet its greenhouse gas emissions targets, according to a long-awaited Baker administration report.
Department of Transportation researchers concluded that, following a steady increase in traffic between 2013 and 2018, the state is at a "tipping point" where many travel routes are unreliable and delays extend well beyond the traditional rush hours.
Roadways within the Route 128 belt, for example, now see a 14-hour "peak period" stretching across the day. Congested roadways include Interstate 93, Route 28, Fresh Pond Parkway and Route 1A.

While much of the uptick has been a result of a strengthening economy — more job openings bring more people to the state, who then put more cars on the roads — the conditions are likely to cause negative economic and environmental impacts, the 157-page report concluded.
"People in Massachusetts don't need this study to confirm what they experience every day: congestion has gone from bad to worse, from occasional inconvenience and frustration to a constant and daily reality," Transportation Secretary Stephanie Pollack wrote in a letter introducing the report.
The report, ordered in August 2018 when Gov. Charlie Baker vetoed a bill to implement a congestion-pricing pilot, concluded that a multi-pronged approach is necessary to address growing traffic.

"From this report, we have identified several ways to address congestion by expanding capacity on our transit system, adding more housing, and exploring managed lanes to help make people's commutes be more reliable," Baker said in a statement accompanying the report's release on Thursday.
Under such a managed lane setup, the state would effectively offer drivers two options: to remain on the free multi-lane highway or pay a toll to use a new, separate lane with a 45 miles-per-hour minimum speed.
Some drivers would switch over and immediately enjoy better commutes, the thinking goes, and those who do not would see some improvement because fewer cars would be in the free lanes.
The state would have to add a lane for that to work, either by constructing a new one or converting a shoulder, because federal regulations prohibit taking away an existing lane of travel.
Such a change would require significant adaptations on existing roadways, though, and the congestion report calls for a follow-up study over the next year of how feasible managed lanes are in Massachusetts.
Chris Dempsey, executive director of Transportation for Massachusetts, praised the suggestions that were included in the report, but criticized the emphasis on managed lanes over using tolls to reduce traffic.
"The Governor's proposal to build new highway lanes won't fix our congestion problem and it runs counter to the Commonwealth's environmental and transportation goals," he said in a statement.

Another of the report's recommendations is to boost remote working and telecommuting. As part of his transportation bond bill, Baker last month proposed a $2,000-per-employee tax credit, capped at $50 million per year, awarded to businesses that allow working from home.
Baker also argued his push to lower zoning-change requirements will lead to more housing production, which would in turn give more workers shorter commutes.
The report also highlighted fees on ride-hailing services such as Uber and Lyft as a possible target to reduce congestion. Legislators are debating bills to increase the surcharge on those companies, currently a flat 20 cents per ride, both to increase revenue and push more users into shared rides or public transit.
The transportation sector is by far the state's biggest source of greenhouse gas emissions, accounting for 43% of overall emissions in 2016.
Jim Aloisi, a former state transportation secretary, took issue with the report on Twitter, writing that it's "[i]nsulting & offensive to blame traffic congestion on a 'good economy.' ... How about decades of auto centric investment while transit lagged[?]"
With reporting by WBUR's Benjamin Swasey
This article was originally published on August 08, 2019.