Boston Artist Creates Sculpture From Used Basketballs
Artist Shaka Dendy said he was often told by the adults in his life and even strangers, that he should play basketball. So he did. The constant comments about how he looks like someone who plays basketball led him to believe he would be a professional basketball player, but the odds — which show that only three in 10,000 high schoolers will go on to play in the NBA — were stacked against him.
For Dendy, basketball was a fun pastime, that is, until he was old enough for the game to become competitive.
In middle school, he began to dabble in skateboarding culture, which opened up a different world of alternative music and style for Dendy. That's how his life opened up to art. Later came an English degree from Florida State University and graduate school at Emerson College, where he fully embraced his artistic sensibility.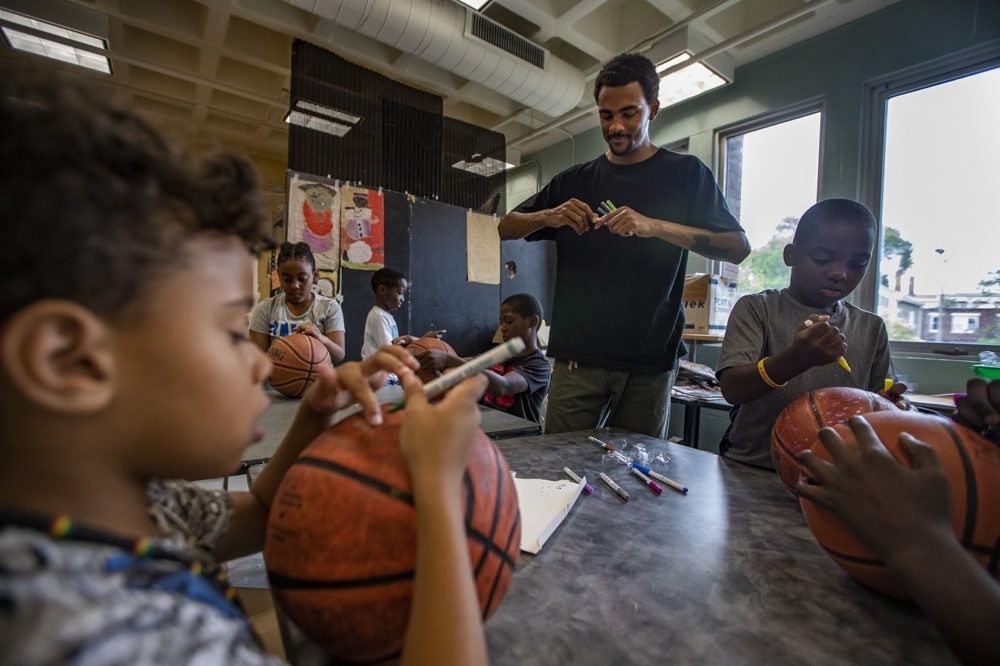 Still, basketball and the words from the adults he encountered as a child lingered in his mind.
Thus, his thesis project began. "[It was] this whole thing about basketball as dealing with identity, accessibility, around race and identity politics," Dendy said. For his thesis, he performed at a basketball court where he shot 1,000 consecutive free throws, a feat that took him about three hours, with two cameras filming him. The closeup of his face showed how tiring the simple task of shooting a free throw became as he shot time after time. An overview of the court showed the performance basketball could be without the excitement of a game.
While Dendy didn't spend his whole life trying to become a professional athlete, he knows the ramifications of what it's like to be pushed toward that line of work. "There's a whole lineage of problems around [a child who's pushed toward playing sports]. And how, especially black and brown bodies, are commodified and used for entertainment and labor and these kinds of things."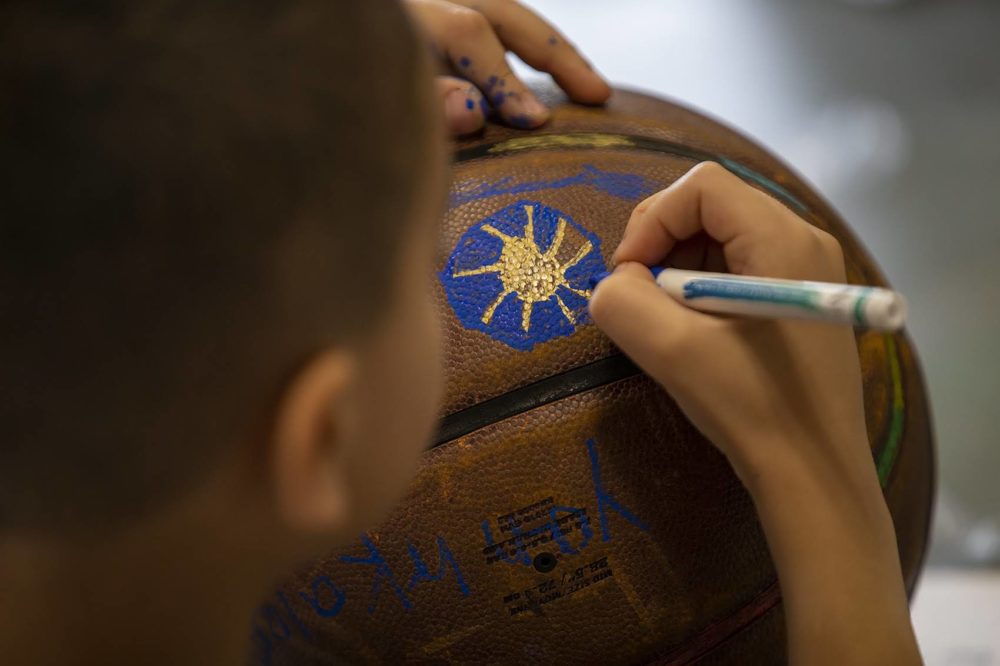 Dendy's latest project, a public art piece called "Gestures of Incompleteness," in a way, is an extension of his thesis project. He has been collecting used basketballs from members of the community in exchange for new ones for the public art sculpture he's making as a part of his residency with the Boston Center for the Arts. The piece will feature the used basketballs inside milk crates.
"Everyone knows a milk crate and a basketball," Dendy said. "But then they have all these other associations. It's sort of an implicit suggestion [that] if you can manipulate a basketball well enough, then you can attain a status in life that you won't have to touch a milk crate."
"Gestures of Incompleteness" comes with a double meaning.
"For me, the basketball is sort of like a symbol of this idea of socioeconomic mobility. For people who look like me, sports and entertainment are the two paths that are given to have that [mobility]," Dendy said. On the other hand, "I am presenting this incomplete proposal of a work that can only be completed by community support and in the community getting involved with it."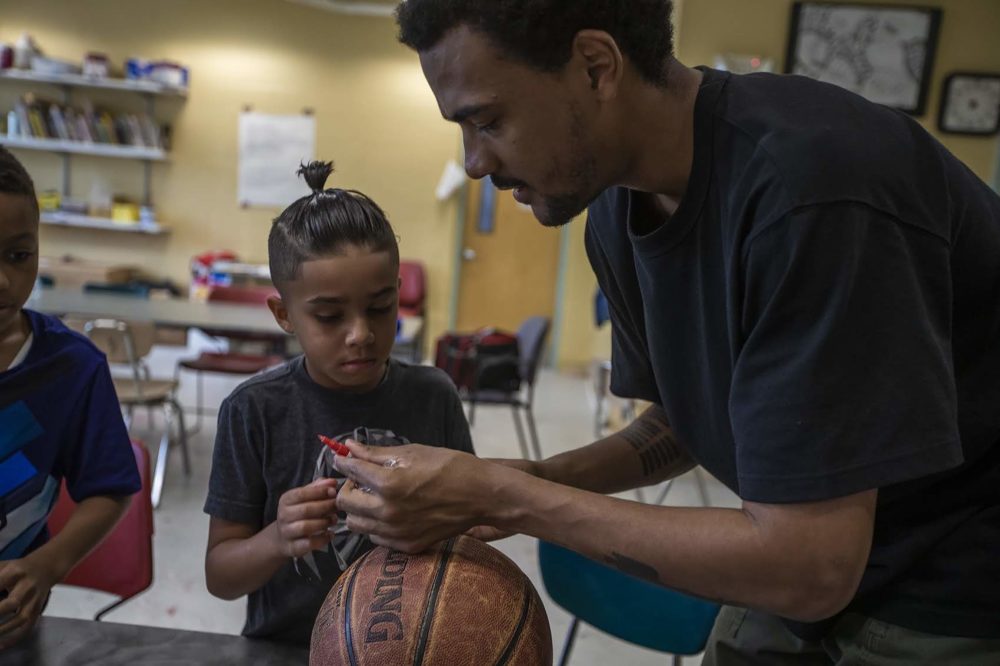 Through this project, Dendy wants to show the kids who are giving up their old basketballs for new ones that there can be more to aspire to in life beyond sports and entertainment.
Basketball also felt like a natural pathway to engage with communities. For Dendy, the project is meant to show art can have an impact beyond the conceptual. "I feel like you shouldn't just impose something into a community. So it's a way to use the resources of the BCA to actually give people something tangible from art, which can be really abstract at times, and conceptual, and very heady, but to actually give someone something immediately and tangible they can take is another good thing for kids to see. That an artist can do something that will directly impact your life and not just make you think about things."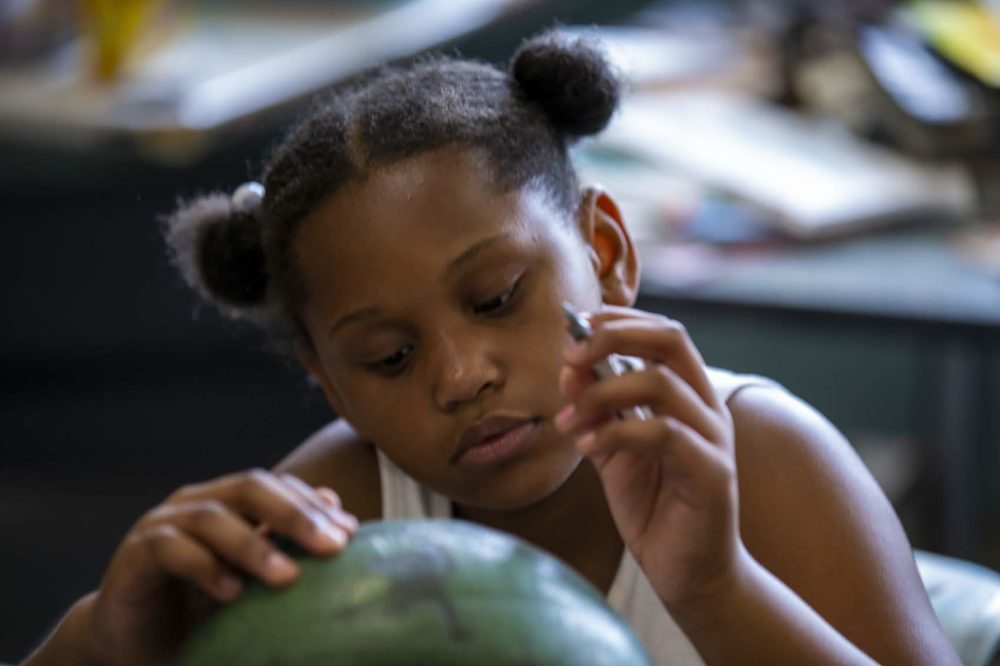 Dendy collected some balls through trades in the park and at basketball drives, one of which was at the Boys and Girls Club in Roxbury — the same one Dendy attended when he was younger. There, he talked to the kids about his project before telling them to draw on the used balls and make them each unique. The club received new balls in exchange for the old ones the kids drew on for Dendy.
While standing in the art room of the Boys and Girls Club in Roxbury, Dendy recalled the place hadn't changed at all since his days at the club. He remembers doing art projects that involved paper and never getting the chance to meet an artist or draw on an object like a basketball.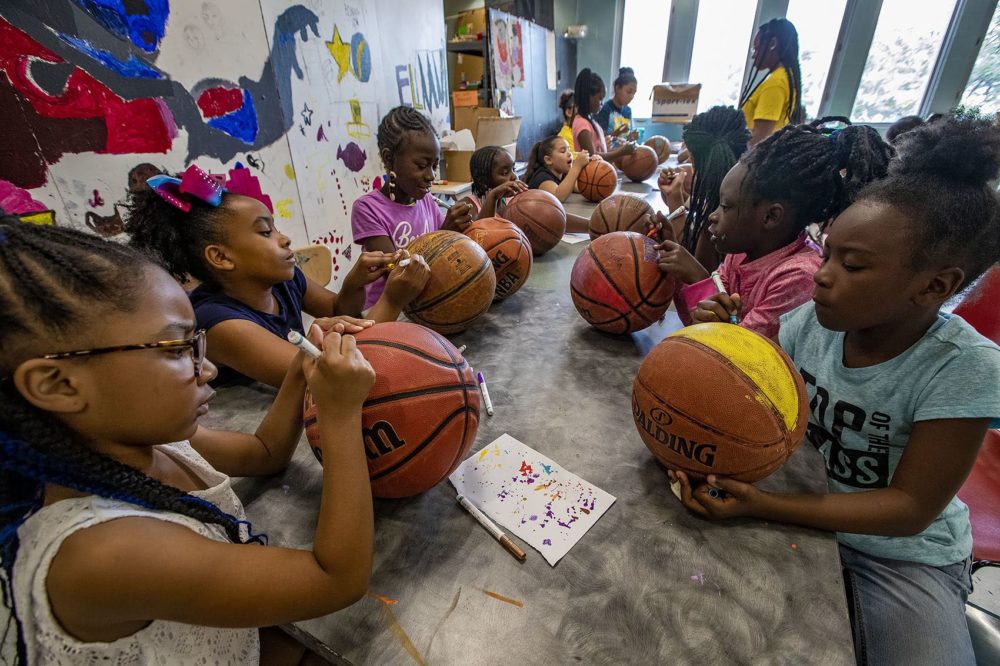 As Dendy talked to a group of kids about his project, Kheirah Hresko, 8, shouted "yes" in excitement when she heard what they were about to do. She later said, "It feels so awesome," to draw on the basketballs and be a part of a larger art project done by a professional artist.
While it would have been easy to use new basketballs for this project, Dendy said he didn't want to use them because they would serve more as a prop than a meaningful object.
"[The used balls are] sort of imbued with this object history that you just can't get from a brand new basketball," Dendy said. "So your kid has a whole basketball, and it's got the history of like, whoever bought the ball for them, wherever they found it, the different games they play, you know, walking home in the rain with your basketball. All these kind of things that are little pieces of people's lives that are kind of imbued into this object that I'm then putting into the public sculpture to try to get more of the actual community experience and kind of life into the sculptural work."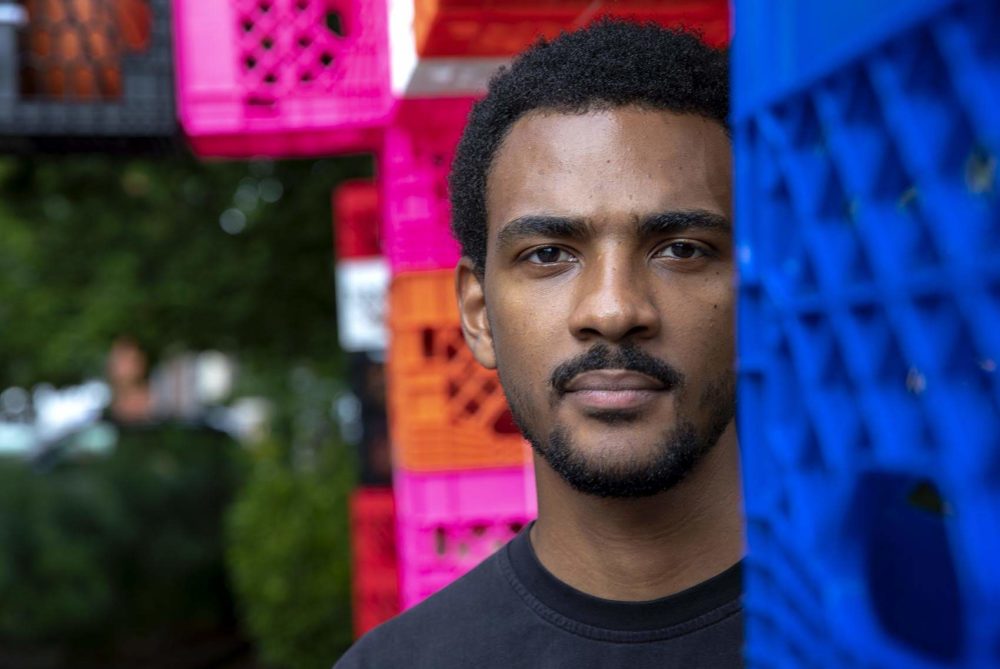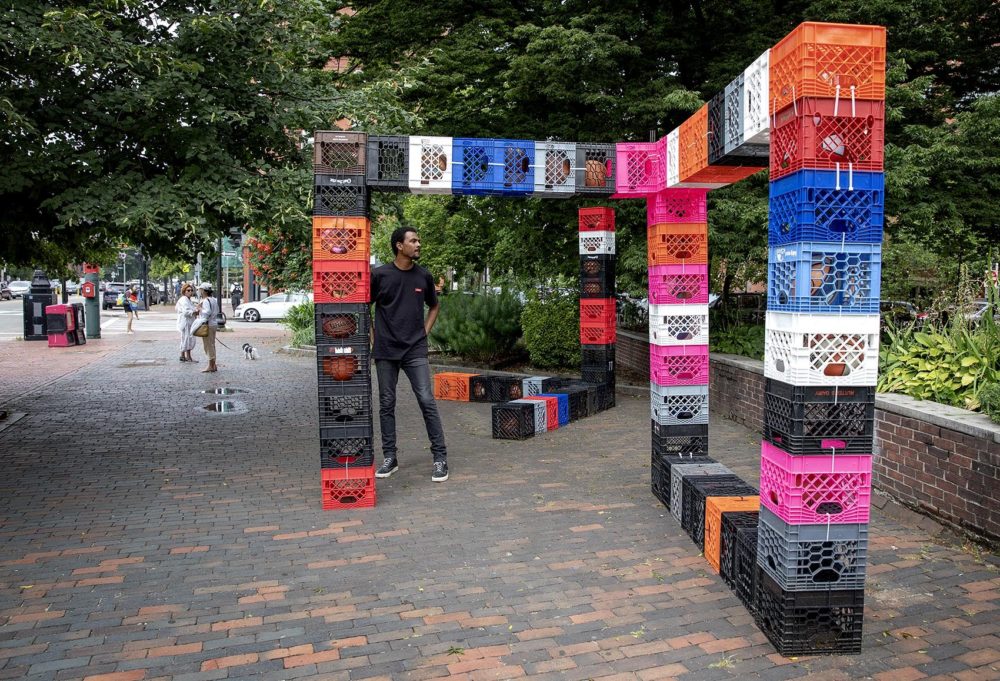 ---
"Gestures of Incompleteness" is now on view at the Boston Center for the Arts in the South End.