4 Takeaways From WBUR's Polling On What Issues Matter Most To Greater Boston
What issues matter most to you in the presidential election?
To help ensure our 2020 coverage reflects the priorities of people in this region, we recently conducted a survey of about 600 registered voters (topline results, crosstabs) in eastern Massachusetts and southern New Hampshire.
You can read Anthony Brooks' feature on the poll's results here. And here are four takeaways:
1. Health Care Is No. 1
The main question on the survey, conducted by the MassINC Polling Group, asked voters to check off — from a pre-selected list — which issues matter to them the most.
Health care was the top issue, picked by 63% of voters overall — and by 70% of self-identified Democrats. So you can see why it's a key issue in the Democratic primary.
Three other issues were cited by majorities of the region's voters: jobs, wages and the economy; immigration; and Social Security and Medicare.
While some issues have large partisan gaps (see below), jobs and immigration were picked by at least 50% of Democrats, Republicans and independents. So they're notably significant across the political spectrum, as you can see in this chart: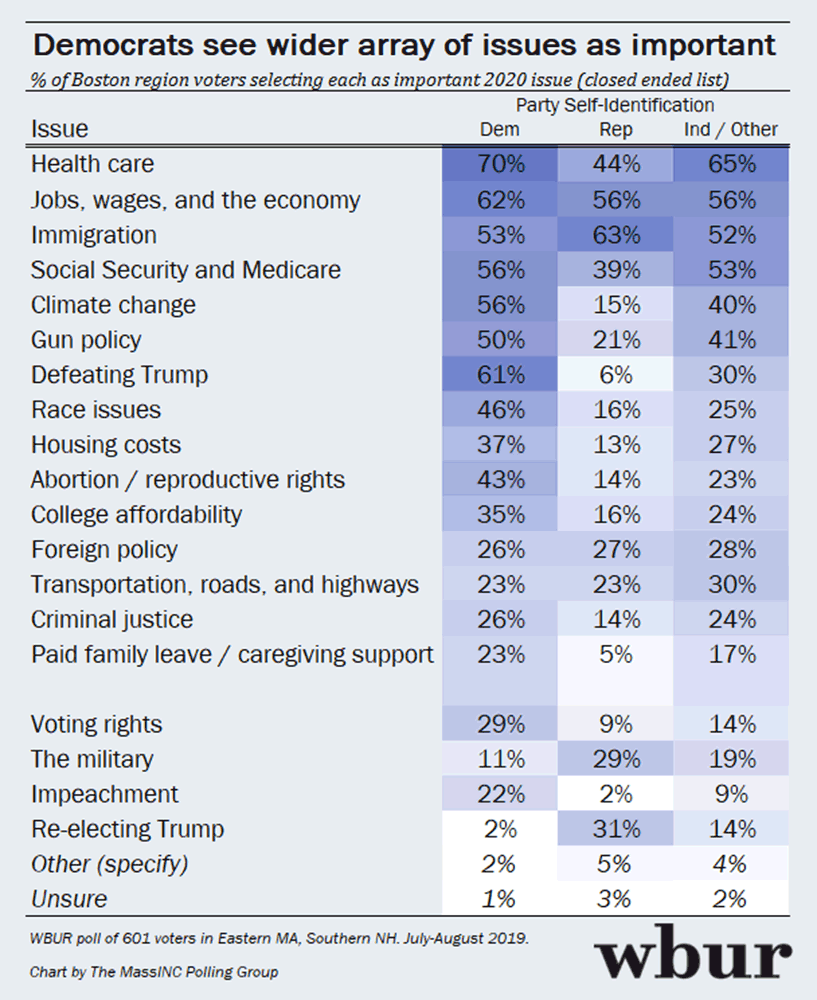 2. What's The Next Tier Of Issues?
Below the top tier are two issues — climate change and gun policy — that were selected by at least 40% of survey respondents.
Here's where you see some big partisan gaps. Both climate change and guns were cited by at least 50% of Democrats and 40% of independents in Greater Boston, but lag far behind among Republicans. Guns were picked as a top issue by 21% of GOP voters; climate change was picked by just 15%.
So self-identified independents in this region — and remember that unenrolled voters make up a majority of voters in Massachusetts — are closer to Democrats on these two issues than to Republicans.
3. Some Notable Differences By Income
Many issues — like college affordability and transportation — matter to voters at all income ranges at about equal levels. But other issues have notable differences.
For instance: 30% of respondents cited housing costs as an issue that matters to them the most, but that — perhaps obviously — masks a wide disparity by income. Among voters who said their family makes under $25,000, 45% said housing is a top issue. That percentage decreases as you move up the income spectrum. It's an issue that matters a lot to just 16% of voters with an income of at least $150,000.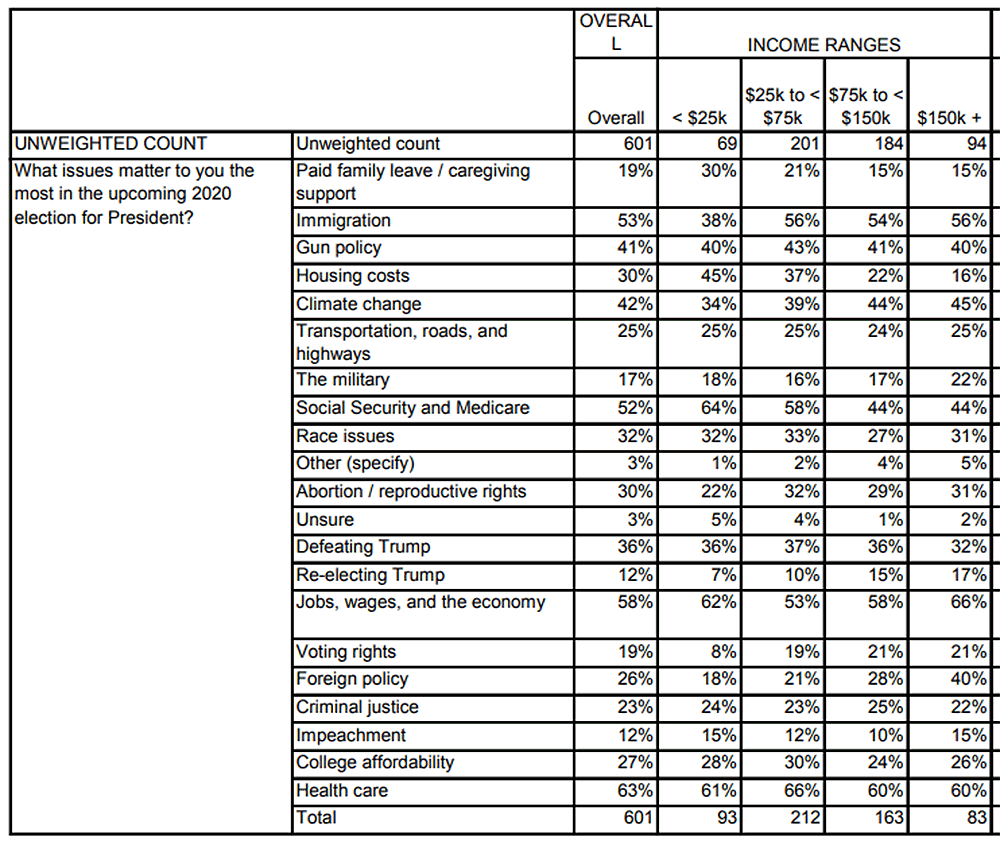 Two other issues that decrease in relative importance as income rises: Social Security and Medicare; and paid family leave and caregiving support.
Foreign policy, on the other hand, goes the other way: It's less important to poorer voters, more important to wealthier ones.
4. What Our Audience Is Particularly Interested In
In addition to the online scientific survey that MassINC conducted, we published our own copy, and asked our audience to chime in as well.
Among our listeners and readers who chose to fill out the survey, climate change is the top issue. Other key issues are health care and guns. Notably, this self-selecting audience is far more interested in voting rights than the region at large.
Have a story idea, question or feedback? Email the politics team: politics@wbur.org.