Yayoi Kusama's 'Love Is Calling' Will Bring An Infinity Of Whimsical Polka-Dotted Tentacles To ICA
The space drips with soft-sculpted inflatable tentacles that dangle from the ceiling and spring from the floor. The tentacle forms change colors, from blue to purple to magenta to red, white, green and yellow, and are covered in black dots. The mirrors on the walls and ceilings provide the distinct sensation that this magical cave of whimsical polka-dotted stalagmites and stalactites extends out into infinity.
Of course, it is just an illusion. But part of the great appeal of "Love Is Calling," Yayoi Kusama's immersive, mirrored installation that will be on view at the ICA beginning Sept. 24, is that for one brief moment, we can enter that illusion, live it, be enchanted, and then conjure up that memory of color and whimsy when it's all long gone. In Kusama's world, we are all deeply interconnected, all points of individual energy in one large, interwoven system.
"Dots are symbols of the world, the cosmos," Kusama told the BBC in explaining one of her favorite motifs of dots. "The earth is a dot, the moon, the sun, the stars, are all made up of dots. You and me, we are dots."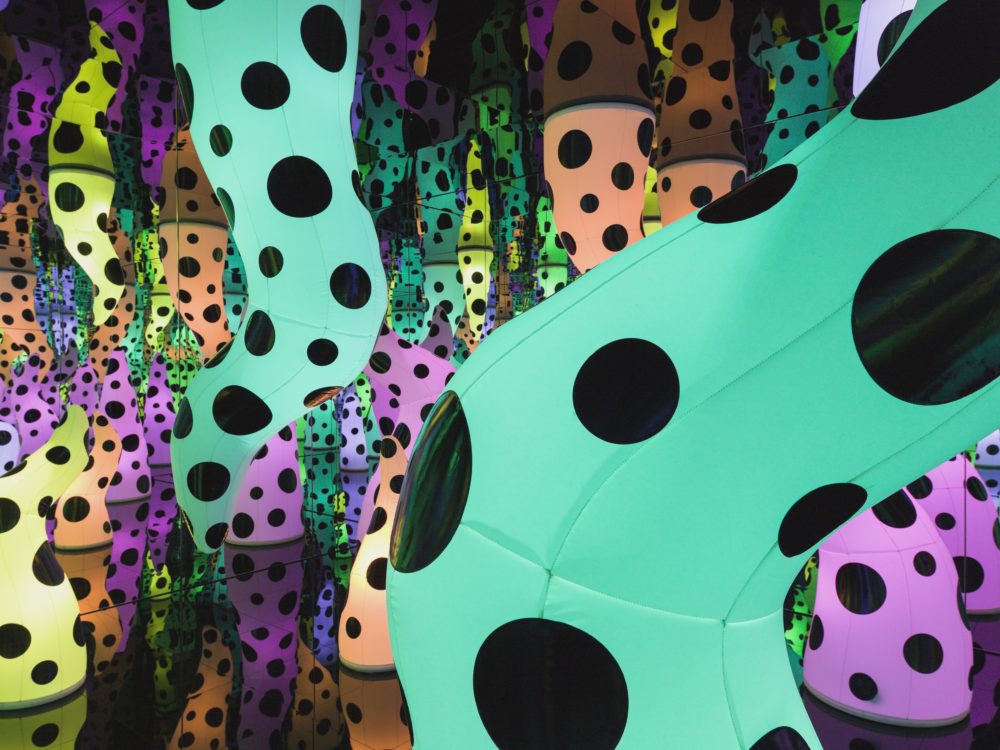 And that is what we ultimately feel when we enter "Love Is Calling," the largest of Kusama's 20 mirrored "Infinity Rooms" at 560 square feet. This one was newly acquired by the ICA Boston and also includes a sound component. As viewers admire the kaleidoscope of colors and forms, they also hear a soundtrack in which the 90-year-old artist recites her poem "Residing in a Castle of Shed Tears" in Japanese. The poem explores weighty themes including life and death, but also acknowledges Kusama's hope of spreading love through her art.
"What we're hoping to do is give a really great experience for those folks who have never experienced an infinity room," says ICA curator Eva Respini. "This magical thing happens when you step inside of it… You feel as if you've been transported into a different world, this notion of the infinite where you're a small being within these larger kaleidoscopic elements that seem to go on forever and ever. It's a pretty wonderful experience."
A painter, performance artist, fashion designer, experimental filmmaker, poet and novelist, Kusama has had a long career fueled by her eccentricity. Raised in Matsumoto, Japan and trained at the Kyoto School of Arts and Crafts in traditional Japanese painting, Kusama found herself attracted to more avant-garde American Abstraction early on. Encouraged by American artists Kenneth Callahan and Georgia O'Keeffe, she moved to New York in 1958 and gained fame among minimalists and conceptual artists of the era for her simple motifs and beatnik happenings featuring naked bodies adorned with bright polka dots. Throughout the '80s and '90s, Kusama's reputation grew as she continued to return to her favorite motifs: polka dots, of course, and biomorphic forms, large-scale woven patterns and endless shimmering lights. In 2016, fashion designer Marc Jacobs wrote an essay for Time magazine naming Kusama one of the 100 most influential people in the world.
"This is a woman who's been around for a very long time, who's done some really radical and revolutionary things in the art world," he wrote. "I admire her unapologetic dedication to her vision, which still allows for plenty of growth and change. When people look back at her work decades from now, they'll see that her idea of creation and infinity has an eternal endurance."
Her work fits within the pop art, minimal and psychedelic conventions without really ever belonging wholly to any one of them.
"She's been making art since the 1950s and she really has paved the way for so many artistic movements of the late 20th century," says Respini. "Minimalism, she was a pioneer of pop art, and also performance and installation art, which are now things we see everywhere… Any kind of movement you can think about in the late 20th century, if you think about her work and all mediums, she was there paving the way."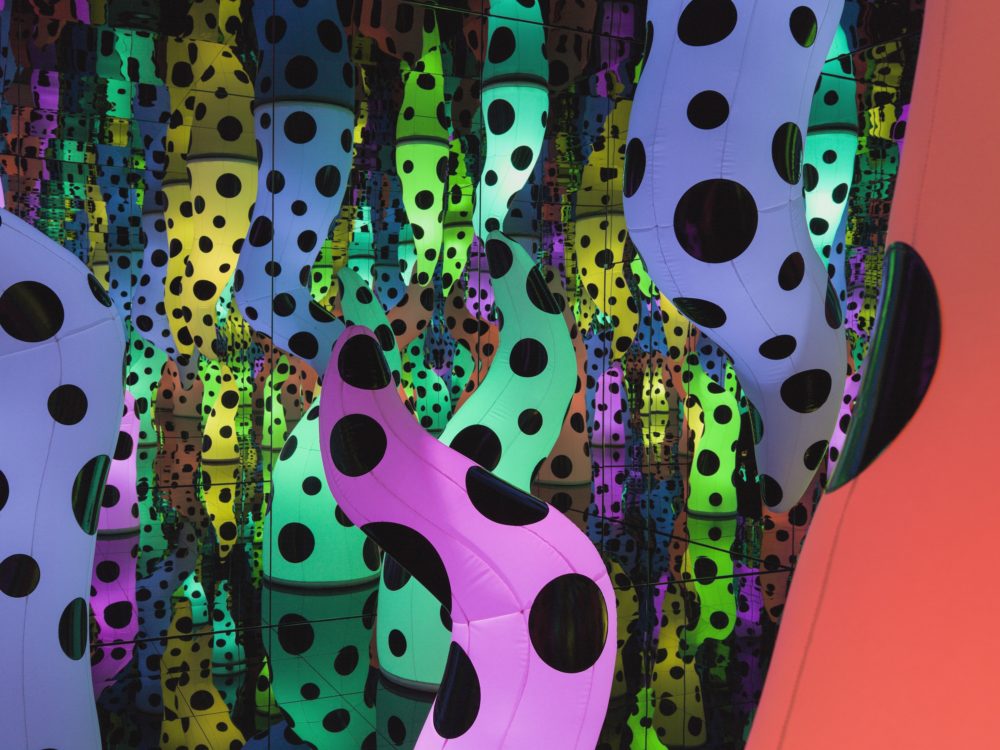 Kusama is entranced by repetition and the notion of infinity. She is caught up in the large questions of life and confronting mortality, filling a void with the obsessive need to create. The polka dots work on both a micro and macro level, alluding not only to the infinite skies and stars, but microscopic cells and exploding atomic particles. Her series of soft phallic sculptures called "Accumulations," attached to walls and furniture, reflected her deep interest in repetition, accumulation and blurring the boundaries between art and architecture.
Running concurrently is the exhibit "Beyond Infinity: Contemporary Art After Kusama," composed of approximately 15 works from the 1950s to today and encompasses sculpture, painting, film, photography and drawings. The exhibit is meant to expand on the breadth and depth of Kusama's influence, including showcasing artists inspired by her work — Louise Bourgeois, Eva Hesse, Nick Cave and Tara Donovan, among others, who reflect the legacy of post-minimalism, performance art and pop art.
"We're making a small presentation drawn from our collection which really shows her influence on contemporary art," says Respini. "Folks who perhaps are only familiar with Kusama through social media and through the Infinity Rooms can start to understand and chart her career as something larger than what is an amazing artistic contribution in the Infinity Rooms."
Kusama's unique vision was undoubtedly influenced by the early trauma of being forced to spy on a father as he had affair, as recounted by PBS. She eventually had a breakdown in the 1970s and left New York City to return to Japan, where she has lived ever since. For more than 40 years, she has voluntarily lived in a psychiatric hospital but works in a studio a block away where she continues to make what she refers to as "art-medicine."
For Kusama, painting is a daily ritual, and art is a form of therapy.
And her art, immersive and fantastical as it is, is a kind of therapy for visitors, too.
---
"Yayoi Kusama: Love Is Calling" and "Beyond Infinity: Contemporary Art after Kusama" are at ICA Boston through Feb. 7, 2021.
Correction: An earlier version of this post incorrectly identified the size of Yayoi Kusama's "Love Is Calling" and misstated the acquisition of this work. It was not commissioned by the ICA. We regret the error.