In 'Who Takes The Weight,' Artist Faheem Majeed Considers Community And The Role Of Institutions
A mountain of discarded carpet is piled high. As recently as June, it had covered the floor of Anderson Auditorium at the School of the Museum of Fine Arts at Tufts. It had, in fact, serviceably carpeted the floor there since the 1980s. In August, though, the old ripped up carpet was reborn — as a sculpture by Chicago-based artist Faheem Majeed. It now rests majestically on a worn wooden platform in the center of the auditorium, held aloft from the lowly floor, in coiled remnants that soar to the ceiling.
To some, the sculpture — one of two installations at Tufts that make up the entirety of the show "Who Takes the Weight" — may seem humble and improvised. After all, it's just old carpeting, heaped together in the same room where it had existed for decades. But for Majeed, who was commissioned by Tufts to create the work, it stands as a metaphor for something much deeper.
The school, like any institution, has seen a lot of changes over the years, he says, including merging with Tufts University in 2016. In a sense, the carpet, laid on a flex-space that serves not only as an auditorium but as a gallery and orientation space, has been a kind of silent witness.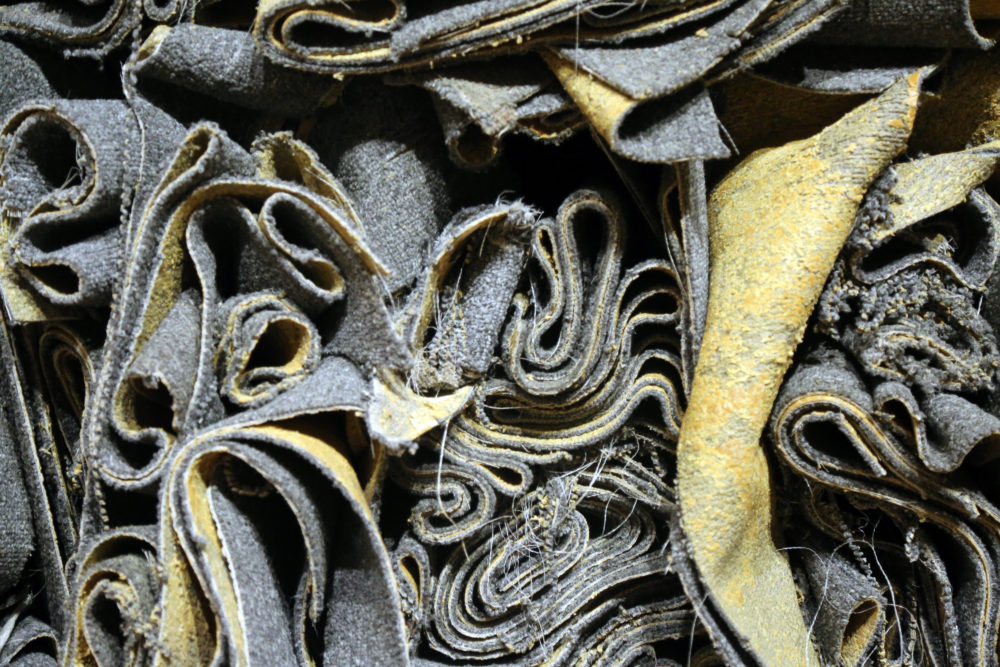 "All this stuff that's happened on this kind of 'figure' in the background, this carpet, it becomes a metaphor for acknowledging the thing in the world, the thing with the set of eyes that absorbs information for use over time," says Majeed. "It's kind of a call out to think about institutions and the role that they play in broader society. The question becomes, what is the role of a space like that at the SMFA and, to a larger extent, Tufts, and what is its role with the communities that surround it? It becomes a question, not so much a commentary."
Majeed, in fact, is consumed with questions around community, institutions and civic engagement. His art has long alluded to buildings and architecture, and beyond that, to the institutions inside those buildings that should ideally work for everyone, regardless of color or economic status. An adjunct faculty member at the University of Illinois at Chicago who also runs the nonprofit Floating Museum in Chicago, dedicated to exploring relationships between art, community, architecture and public institutions, Majeed habitually uses cast-offs and recycled construction materials like particle board, scrap metal, wood and discarded signs and billboards in his practice. He chooses these materials for their association with the kinds of boarded up buildings we often see in neighborhoods in transition.
"These are things that are associated with crime or disinvestment… But actually, the boards are more like a chrysalis in that it means that [buildings] are boarded because there's a value… they're safe-keeping it," he says.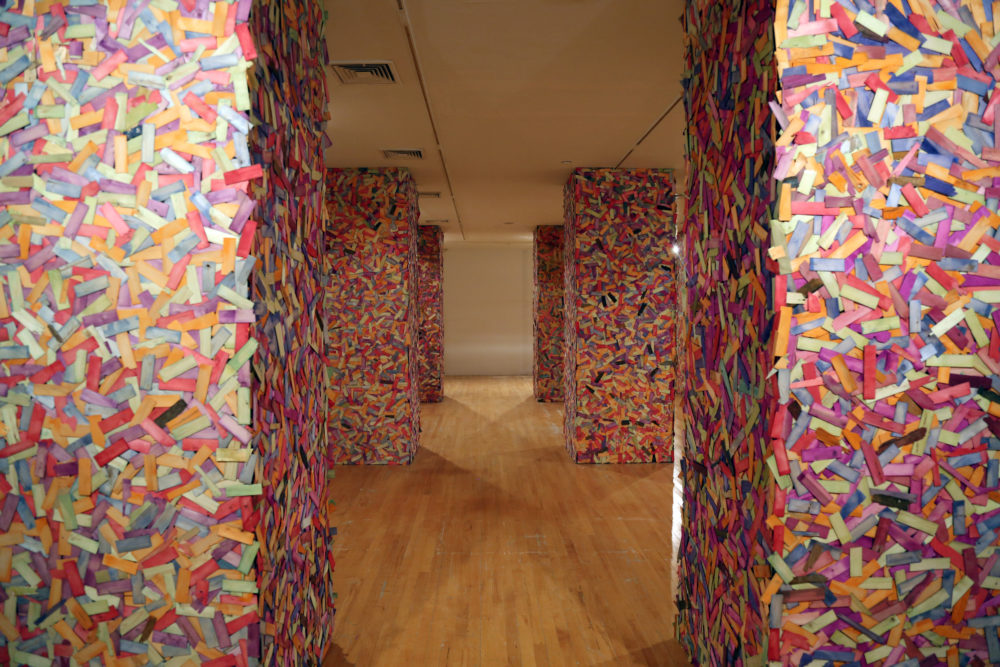 This time around, Majeed pays homage to two community builders: Boston arts educator Elma Lewis, founder of the National Center of Afro-American Artists and the Elma Lewis School of Fine Arts in Roxbury; and Dr. Margaret Taylor-Burroughs, co-founder of the DuSable Museum of African American History in Chicago who also helped found the South Side Community Art Center, where Majeed himself served as executive director and curator between 2005 and 2011.
The carpet sculpture is formally titled "Planting and Maintaining a Perennial Garden: Indebted Mass." A second installation is entitled "Boarded and Backboned" and features nine colorful pillars made to recall the chipped particle board often seen on boarded up windows. The wood chips have been stained with Kool-Aid in a kaleidoscope of Tropical Punch colors, referencing AfriCOBRA, a Chicago-based group of black artists of the 1960s who used the bright drink mix, which they felt best represented a "black aesthetic."
"Indebted Mass" and "Boarded and Backboned" both speak indirectly to the forms we find in cultural institutions, says Abigail Satinsky, curator of the exhibit. They are an opportunity, she says, to "think about cultural figures that build institutions and to meditate on their legacies" as well as consider how well many institutions work for the broader community. Satinsky herself lived and worked in Chicago for more than a decade before returning to her native Boston. While in Chicago, she stumbled upon Majeed's work. Following recent events at the Museum of Fine Arts, in which a group of students of color reported being harassed and taunted with racist comments while visiting the museum, it seemed natural to reach out to an artist who has spent a lot of time thinking about community, institutions and how they do and don't serve the broad sweep of their constituents.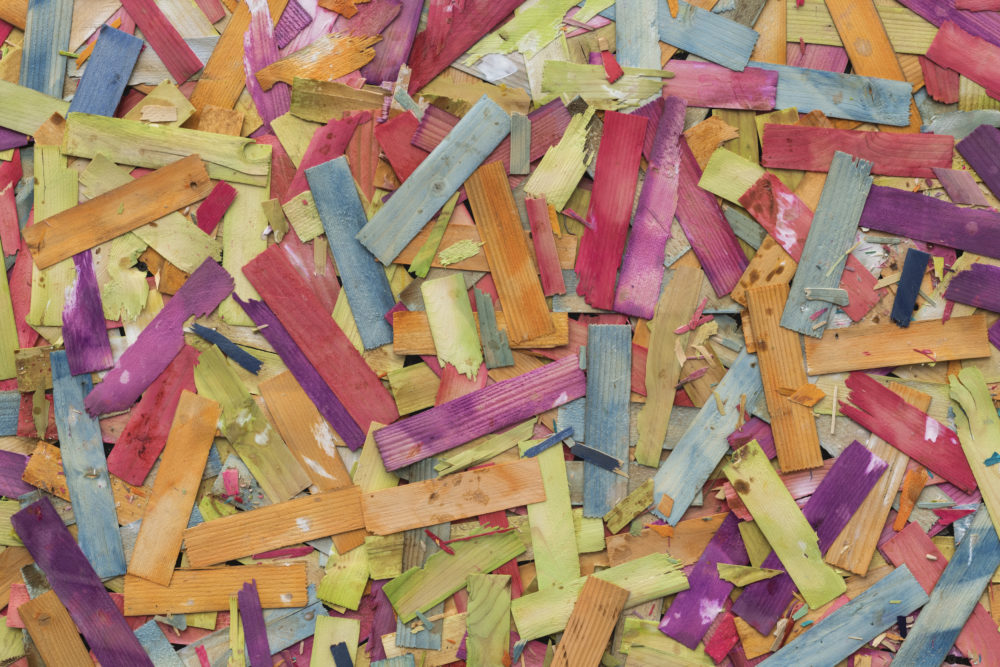 "He thinks a lot about building life both metaphorically and also practically," says Satinksy. "He thinks about the social life of materials and how materials get used in different kinds of spaces… He also thinks about institution building and what kinds of institutions are built where, and how we assign cultural value… What do things like cultural equity look like in those institutions? What's overlooked, what's under-resourced?"
The title of the show is a reference to the book "Who Took the Weight? Black Voices from Norfolk Prison," a 1972 anthology of poems, essays and stories written by inmates enrolled in a drama and theater program run by Elma Lewis.
"In her essay for the book, she talks about who takes the weight," says Majeed. "And I think she's talking more to the invisible 'lifters,' people who kind of pull things together."
The title of the exhibit poses a question, reflecting Majeed's way of working making inquiries without commentary. It's up to the rest of us, it seems, to find the answers.
---
"Faheem Majeed: Who Takes the Weight" is on view at Tufts through Oct. 26. An opening reception and roundtable discussion of Majeed's work takes place Sept. 12 from 6 to 8 p.m.