At The Distillery Gallery, Artist Eli Brown Explores Biology And Gender In 'Museum Of Queer Ecologies'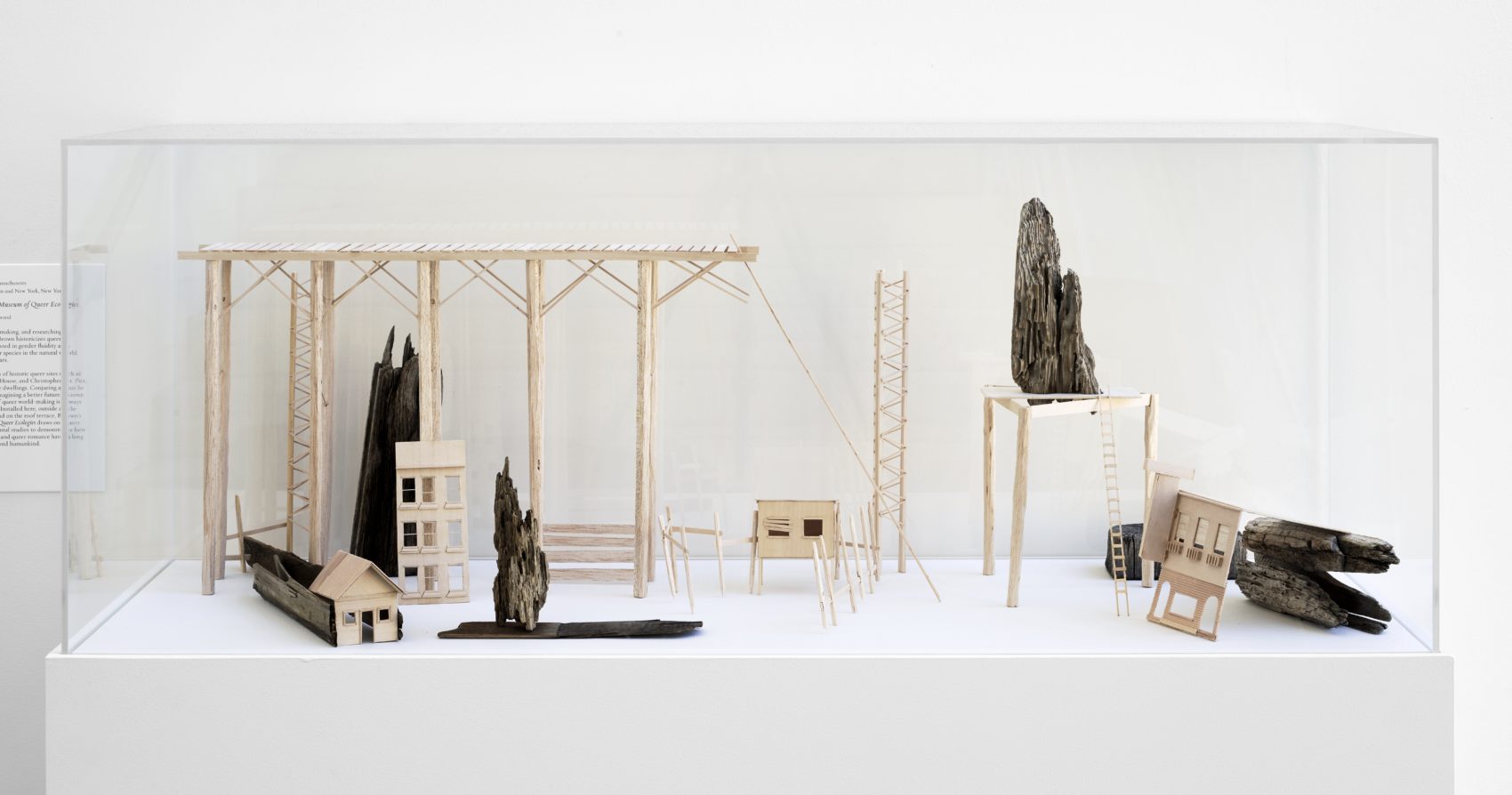 This article is more than 3 years old.
It begins as one tentative voice.
"At the end, we fungi, we spores, we infections, spread ourselves thin," it says. "We were stretched to what we thought would be our breaking point … again and again, we stretched ourselves ... ."
The voice merges into another and another, which picks up the thread and goes on. Quickly, a single voice multiplies into a chorus.
"Reproducing ourselves, dying, releasing, changing, we were all we had … we were only doing what we knew to do."
This audio piece is called "We Spores." It is an anthropomorphic view of what fungi might say if they could talk and is, according to artist Eli Brown, "a sort of love poem to fungi," which, it turns out, are closely related to humans, genetically speaking. This might also explain why fungal thoughts seem to aptly mirror the human experience, as we continue to reproduce and colonize (and perhaps kill) our host planet.
In the "Museum of Queer Ecologies," on view at The Distillery Gallery Sept. 27 through Oct. 25, Brown takes an unconventional view of biology and ecology, gender and evolution through his own idiosyncratic, often humorous lens. Brown is a transgender artist with a background in sustainable agriculture. (Before attending the School of the Museum of Fine Arts at Tufts for his MFA, he attended UC Santa Cruz where he got a certificate in organic farming.) His work is informed by those two facts, often incorporating organic matter and biological themes that also reflect his transgender experience.
The discipline of biology, Brown says, is founded "on a lot of concepts of supremacy and how bodies are supposed to look, and which bodies are important, which bodies aren't important."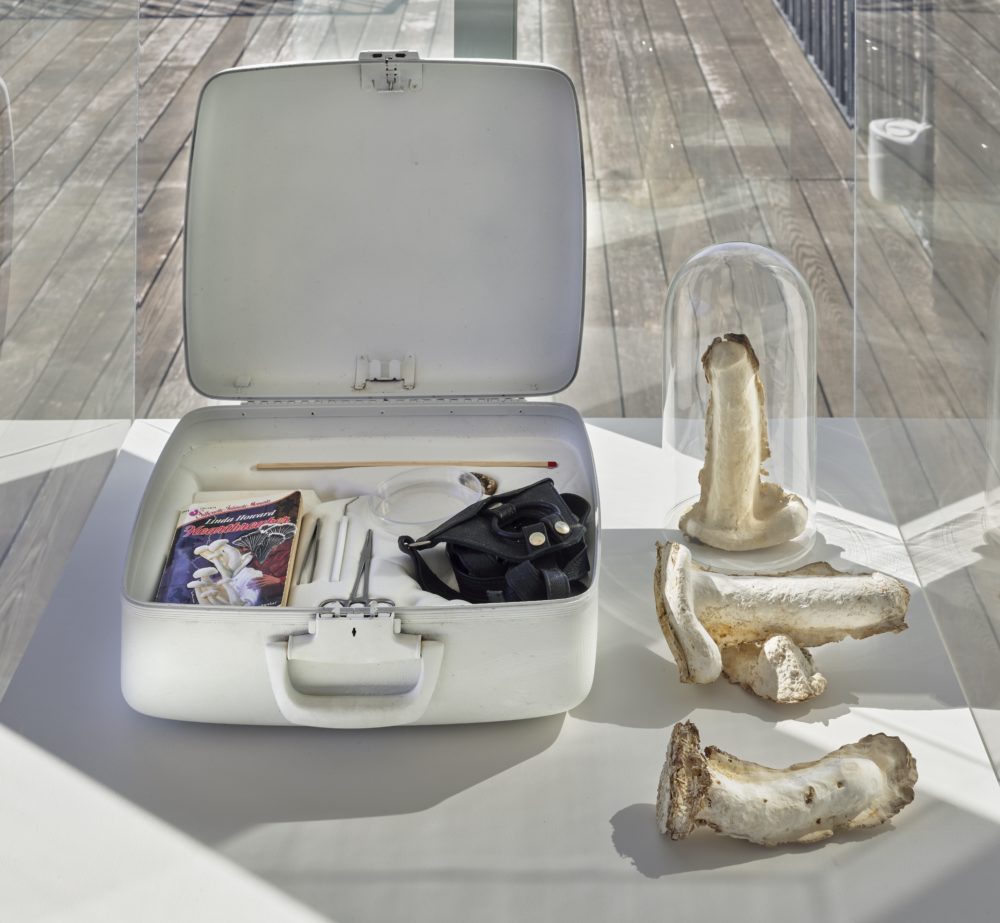 Brown, however, wants to break through what's considered normative to ferret out what the natural world may have to tell us about such subjects as reproduction and gender.
"What would it be like if we learned more and depended more on organisms like fungi, who don't necessarily have a clear reproductive structure?" he asks. "That openness and adaptability have allowed them to survive all these years." (Fungal species, for the record, can reproduce sexually and asexually and some species can happily mate with themselves. Species like the split-gill mushroom include more than 23,000 genders.)
It turns out that the unlikely mushroom may provide an interesting model for understanding the notion of gender fluidity in humans.
In "Future Species Survival Kit," Brown employs a bit of dark humor to allude to a popular subject in contemporary art right now — climate change. Brown has devised a sort of post-apocalyptic survival kit which includes such handy devices as a candle and a match. It also includes a harness, a Petri dish, pincers and finally a phallic implement (otherwise known as a dildo) constructed out of the vegetative part of fungus, mycelium — the root structure mushrooms use to grow, which is now commonly used in biodegradable packaging.
"I don't know what object I could use that would be funnier than a dildo," says Brown. "Humor was the only strategy I could think of to lighten the load a little while at the same time trying to talk about our relationships across species. Maybe we can learn to respect the species that have been here longer than we have, like fungi and bacteria, and think about our evolution a little differently."
In "Toxic Places," Brown's interest in queer and transgender community moves to the fore. He presents disembodied architectural models of important landmarks in LGBTQ history. The sites include the Stonewall Inn in Greenwich Village, site of the Stonewall Riots of 1969, as well as STAR House (Street Transvestite Action Revolutionaries), an activist organization founded in Manhattan's Lower East Side in 1970, and the Christopher Street Pier in New York, a notorious hang out for LGBTQ youth. The constructions are only facades or partial structures and are combined with driftwood, lending the piece a sense of loss and abandonment. Brown says the installation represents his desire to "know my history…really wanting to know my elders and generations who paved the way for me to exist. I don't have those people in my life and there's a variety of reasons for that, but this was one way for me to create what feels a little bit like a ghost town…places that we know and then the places that we don't know about."
His "Toxic Places" is therefore both a tribute and a lamentation.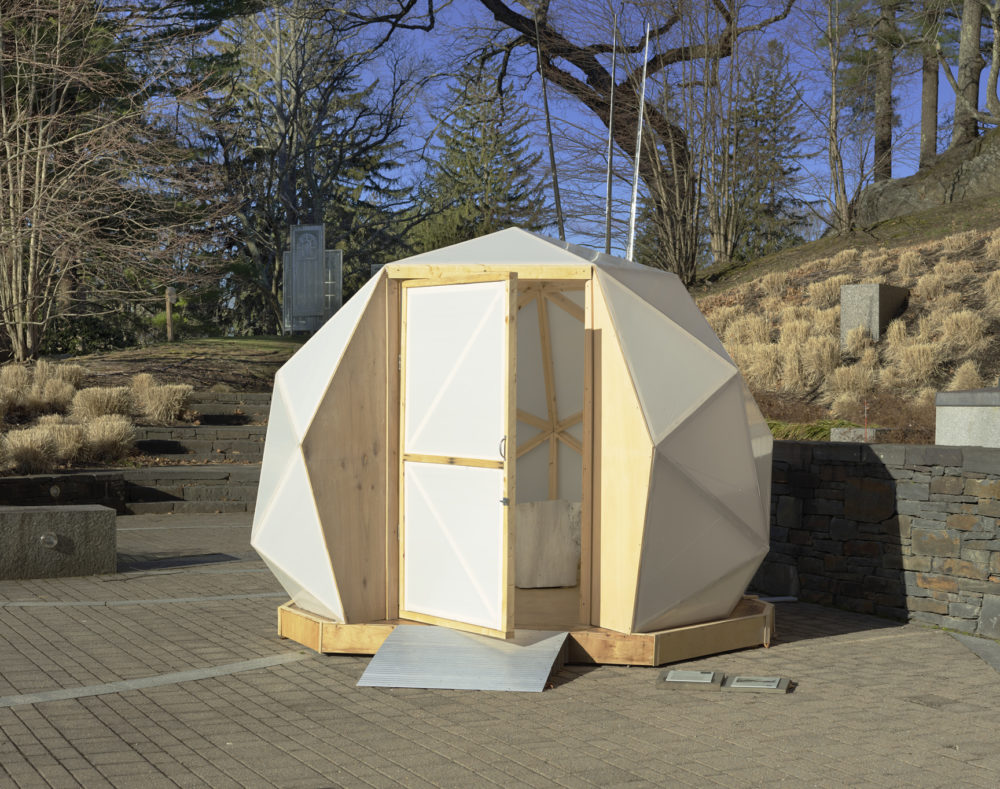 Brown continues with his theme of LGBTQ community in "Greenhouse." The work is a recorded conversation among queer and trans Bostonians from different generations that plays within a geodesic dome. While the recording was made specifically for this piece, it is based on conversations that came out of Brown's community organizing activities with several LGBTQ organizations, including the LGBT Aging Project at Fenway Health and the Boston Alliance of Gay, Lesbian, Bisexual and Transgender Youth (BAGLY). As part of that, he's held intergenerational roundtable discussions aimed at bringing older and younger LGBTQ folk together. In "Greenhouse," participants discuss the evolution of their own gender identity and sexuality.
"I'm less interested in talking about gender in and of itself and more interested in how do we keep each other alive, what can we do for each other, how can we support each other?" he says of the piece. "Can we teach each other skills and learn from each other?"
Brown's "Museum" is multimedia and interdisciplinary, including not only installation and audio, but drawings and sculpture. Whatever discipline he chooses, Brown's theme, informed by his farming experience, revolves around holding reverence for what nature can teach us, but in his own very quirky way.
"I think I have a certain understanding of systems of growing and it really comes back to the biology and wanting to be able to support living things with whatever's around," he says.
Even if what's around, post-apocalypse, is just a mycelium phallus.
---
"Museum of Queer Ecologies" is at The Distillery Gallery in South Boston from Sept. 27 to Oct. 25. The opening reception for the exhibit is Friday, Sept. 27, 7 to 10 p.m.
Correction: An earlier version of this post misquoted Eli Brown's audio piece "We Spores." The line is "we were only doing what we knew to do" not "we were only doing what we needed to do." We regret the error.