Rosencrantz & Guildenstern Might Be Dead, But The Huntington Gives Them New Life
If everyone is the hero of his or her own story, then what are we to make of a pair of nondescript minor characters in "Hamlet" named Rosencrantz and Guildenstern? Not much, to judge from the Shakespeare play. They are a plot device to heighten the intrigue of Hamlet's attempts to kill Claudius, his father's slayer, and vice versa.
But playwright Tom Stoppard knew what to make of them in 1966. They would love to be the heroes of their own story, but they're caught in another narrative in which they are so unformed that one of them can't tell whether he's Rosencrantz or Guildenstern.
And in the Huntington Theatre Company's extremely entertaining production of "Rosencrantz & Guildenstern Are Dead" (through Oct. 20), Stoppard's doomed duo recall both the joyful wordplay and farcical philosophizing of Stoppard and the vaudeville comedic pairings from almost a century ago. It's not only "Hamlet" meets "Waiting for Godot" but "Abbott and Costello Meet Wittgenstein."
For those who know "Hamlet," the story is simple — if anything by Stoppard can be called simple. Our two heroic nonentities bemoan a fate that leaves them on the sidelines wondering less what their place is in Shakespeare than what their place is in the universe. They have no power to shape their lives, just to debate their fate in a world indifferent to that fate. Meanwhile, snippets from "Hamlet" are acted out in the background, sometimes in madcap fashion, highlighting the duo's ineffectual contributions to the proceedings.
That might sound ponderous, but much of the audience was in stitches throughout (though I witnessed some defections after Act II of the three-act, two hour and 40 minute play). Stoppard does love the sound of his own jokes — but, hey, I do too. (Most of them play better onstage than on page.)
Which brings us to the Huntington production. Artistic director Peter DuBois has a ball with Stoppard's intellectual humor, though his staging leans more to Abbott and Costello than Wittgenstein. Or Laurel and Hardy, what with Alex Hurt's delightful Rosencrantz responding in laconic fashion to all of Jeremy Webb's bloated philosophizing as a less charismatic Guildenstern.
If these references date me, and Stoppard, think of them as the sons in HBO's "Succession," watching the alpha dogs go to town while they wait hopefully, craving crumbs of recognition.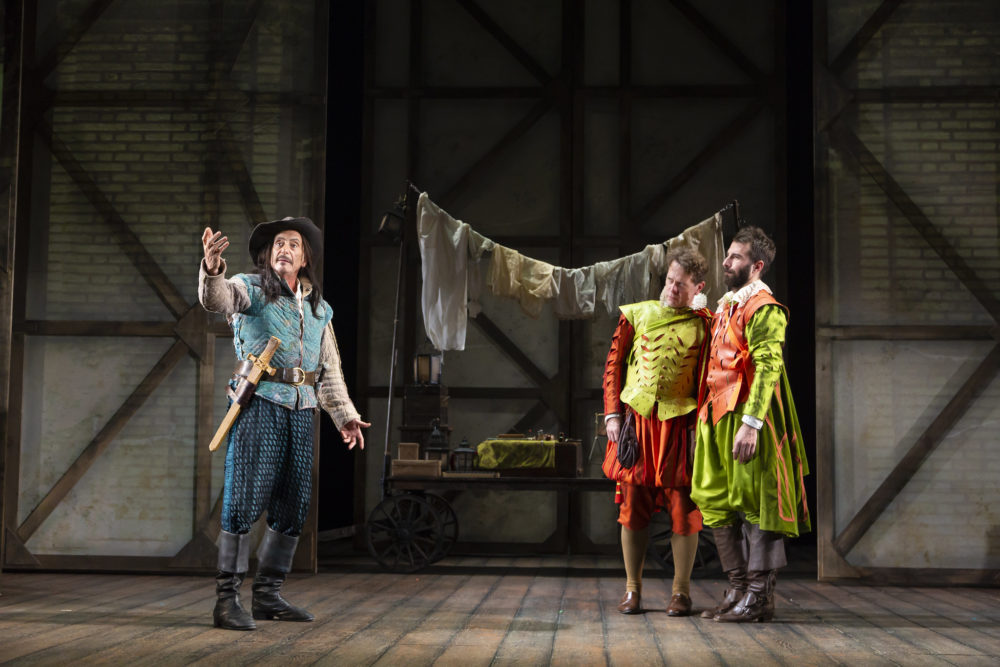 Hurt and Webb, though, meet their match in Will LeBow's triumphant return to Boston stages as the Player, who is on the scene with his ragged troupe to mount "The Murder of Gonzago," the play within a play in "Hamlet" that lets Claudius know folks are on to him as Hamlet's father's murderer. The Player has a more central role in Stoppard, sparring with Rosencrantz and Guildenstern over things both cosmic and practical. "Don't you see?!" he says, "we're actors. We're the opposite of people … Uncertainty is the normal state. You're nobody special."
Here and in other scenes, LeBow, one of many local actors in the show, captures the essence of Stoppard like few other actors can — the raucous vaudevillian comedy and the serious philosopher. He has them in perfect balance.
There's irony aplenty in LeBow's special way with Stoppard. This is only the second time he's performed in one of his plays, the other being "The Real Inspector Hound" off-Broadway. For the better part of 30 years he trod the boards for the American Repertory Theater whose leaders, Robert Brustein and Robert Woodruff, had no use for Stoppard. (After Diane Paulus took over the A.R.T. in 2008, LeBow no longer performed there. He characterized her as pretty much the theatrical anti-Christ when she changed the aesthetic from performing classical and contemporary theater in an avant-garde manner to one that tried to expand theatrical boundaries, often stressing plays that reflected contemporary issues.)
LeBow has since semi-retired, though he returns on occasion, often at the Huntington under the late Nicholas Martin and on this occasion DuBois, who also deserves credit for putting the play on the schedule. Stoppard used to be a mainstay for the Huntington under its founding Producing Director Peter Altman, who was in the audience on Wednesday's opening night. Stoppard is revered in theatrical circles — the Guardian named him and Caryl Churchill England's greatest living playwrights. In a sense, though, he's out of fashion in today's theatrical zeitgeist. Where he preaches moral and narrative uncertainty, there's more appetite these days for certainty in both cases. His plays are often "Dueling Banjos" debates between what he thinks and what others think.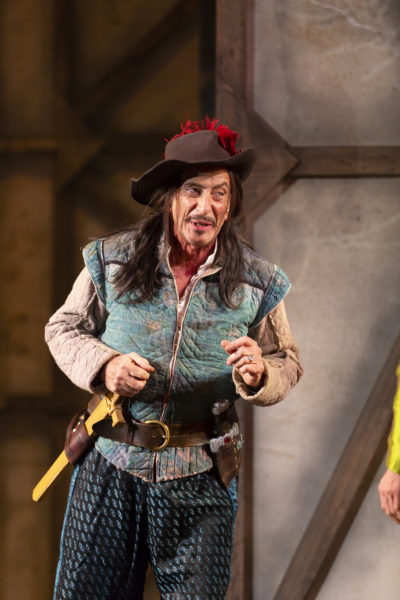 On a logical level, it's easy to wonder why Stoppard's Rosencrantz and Guildenstern don't just assert themselves more. Leave the court. Don't deliver the letter to the King of England, a letter that spells their doom. But Stoppard is preaching a different gospel, in which we're not masters of our fates, in which the absolutism of an ordered universe is undercut by a more ill-defined, determinist absurdism in which you can't depend on the law of averages, or any other law.
And looming all over the proceedings are matters of life, death and art. In one of my favorite moments, LeBow's Player recounts how he staged a real hanging in the midst of a production — the doomed man had been sentenced to death anyway. "He just wasn't convincing," laments LeBow with perfect pitch, another example of how he gets Stoppard's tragicomic view of the universe like few others.
It's great to see Stoppard back on the Huntington stage and to see DuBois maintain the quality of the company's previous productions. Here's hoping he keeps the Stoppard coming — and gets LeBow back on stage for all of them.
---
"Rosencrantz & Guildenstern Are Dead" continues at the Huntington Theatre Company mainstage through Oct. 20.
---
Editor's Note: For clarity, we amended the language around LeBow's time at the A.R.T.
This article was originally published on September 27, 2019.