Anti-Biopic 'Triptych' Shows Us Robert Mapplethorpe's Provoking Work In A New Light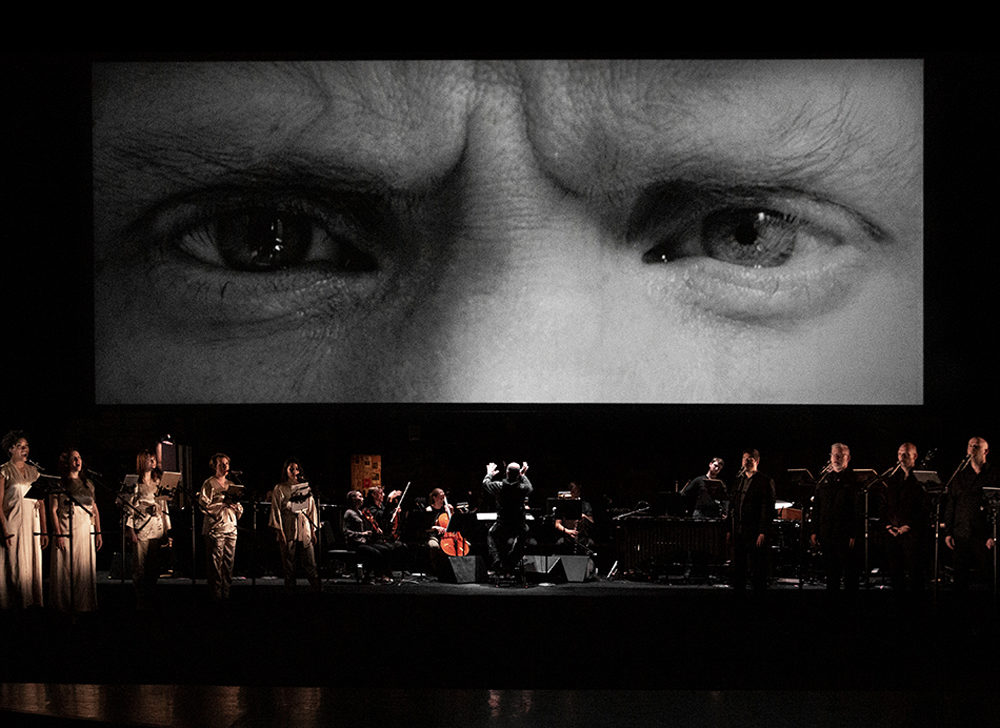 This article is more than 2 years old.
When Bryce Dessner was 14, controversy struck his hometown when authorities shut down an exhibition at the Cincinnati Contemporary Arts Center and threw its curator in jail for a week on charges of obscenity. The show in question was a retrospective of Robert Mapplethorpe, the artist known for transgressive photographs of nudes and New York's underground BDSM scene. It didn't sit well with the conservative Midwestern city, which threw itself into the center of the culture wars with the trial that followed.
"It was a lightning rod moment for me as a teenager, and when I decided to become an artist it always stuck with me," says Dessner, who was intrigued by these images that authorities told him he wasn't allowed to see.
Dessner went on to become the guitarist for rock band The National, as well as a sought after classical composer. More than a quarter century later, he revisited the trial and Mapplethorpe's archive as an artist in his own right, composing an oratorio set to the backdrop of the photographer's work blown up to a scale on which they were never meant to be seen. The result, "Triptych (Eyes of One on Another)," is an anti-biopic, convention-bending operatic experience produced by ArKtype and presented by ArtsEmerson and the Celebrity Series of Boston.
Soloists Alicia Hall Moran and Isaiah Robinson join Grammy-nominated vocal ensemble Roomful of Teeth on a vocal and emotional roller coaster through the Mapplethorpe archive. It's a minimalist theatrical reflection on Mapplethorpe's work and its place in our culture. A lone actor watches from the stage, reminding the audience that they are viewing these photographs together — many eyes and experiences interpreting each piece differently.
The central issues of the culture wars have bubbled up throughout the U.S. in recent years, and so have works about Mapplethorpe ("Triptych" comes after a 2016 HBO documentary on the artist, and a 2018 biopic). The conversation has changed, but many of the questions his work provoked still resonate today: issues of consent, sexuality, liberation and control. One of the most resounding inquiries in "Triptych" comes from poet Essex Hemphill, a contemporary of Mapplethorpe's who criticized the artist for his exploitative depictions of the black male body.
Librettist korde arrington tuttle pushed Hemphill's words to the forefront of the piece, but first, he spent time in the archives in a meditative state, trying to shed his preconceived perceptions of the artist and come to the body of work with fresh eyes. He says that his vision of Robert Mapplethorpe before coming to the show was one through the lens of sensationalism and controversy. After spending countless hours with the archive, his view shifted and softened.
"There was a tenderness that I encountered," says tuttle. "Especially identifying as black and queer, it seemed to me that Robert allowed all things to coexist. It was curators, the media, the government who whipped up the storm of controversy that maybe was playing into his hand because mischief is very much part of his legacy."
The show engages with the trial, but it isn't about the trial. tuttle says when he joined the team, his collaborators weren't sure what they wanted, but they were sure what they didn't want. It was not to be biographical. It was not about Mapplethorpe.
But the tenderness in those photographs sparked something in tuttle, and made him think about control, power and the body. He considered the relationship between fear and oppression, love and liberation, and wanted to explore the trust and radical consent necessary in BDSM that he says emanate from those photographs.
"There's an intimate dance that happens when you are placing your body or pushing your body to constraints that ask you to rely on someone," says tuttle. "Here, we can zoom out a little further and think also about what it means to have someone bare witness to that moment and capture that moment."
The exhibition at the center of the controversy in Cincinnati contained 175 images grouped into three "portfolios:" homosexual S&M ("X"), flower still lifes ("Y"), and nude portraits of African-American men ("Z"). Triptych is similarly broken up, opening with "X," followed by "Y" in which the flower still lifes are matched with words from the trial, and finally, the piece ends on Z, opening with an unpublished letter from Hemphill to Mapplethorpe in which he criticizes Mapplethorpe for the sexual objectification of black men in his images, particularly those which omit the subject's (or model's?) face.
Dessner said that perhaps more than ever before, he let the libretto breathe life into his music to create a more honest experience that invites people from various backgrounds to engage with this work on their own terms.
"Working with Korde it was really important to bring different viewpoints to the piece," says Dessner. "He absorbed so much of how Robert saw things, and found a way to connect Essex and Robert into the same piece."
The show ends on a Hemphill poem, "American Wedding." The first line, "In America, I put my ring on your cock where it belongs" is repeated, the music swells brightly like the first sunrise after a days long storm.
"I had been thinking about the poem and had it on my desk the entire way, and eventually I just heard it," says Dessner. "I was reading the poem and I imagined it could be sung in that way. It's really bold, it has this kind of mantra-like repetition about it."
Director Kaneza Schaal says that each of the artists working on this piece had different interests and repulsions regarding Mapplethorpe's archive. As a director, it was her job to pull all of those visions together in a way that wouldn't fall apart. In the end, she thinks they created something that allows audiences to engage with Mapplethorpe's archive in a way that's provocative and powerful.
Dessner says that working with others draws him to music as an artform, and he thrives on the education that comes with creating in partnership.
"I find great beauty and inspiration when I can create something that feels bigger than me," says Dessner. "To be able to absorb and exist with other artforms, personalities, egos, and ideas, and when I hear the music, I know it's something bigger than me."