What are PFAS chemicals, and should I be freaking out about them?
The chemicals called "PFAS" have been in the news a lot lately. So, what are these chemicals, anyway? And should we be worried about them?
Here's what you need to know:
What are PFAS?
There are thousands of chemicals in the PFAS family, and they all have two things in common:
They're all man-made.
They contain chains of carbon and fluorine.
The bond between carbon and fluorine atoms is exceptionally strong. That means that PFAS chemicals don't degrade easily; they stick around in the human body and the environment for a long time, and they are very stable in water. That's why some people call them "forever chemicals."
Where do they come from?
PFAS chemicals were invented in the 1930s. They repel oil, water and grease, which makes them useful for many consumer products. Companies use these chemicals in many common items, like paper food packaging, stain-proof rugs, waterproof clothing, some types of dental floss and nonstick cookware.
The two PFAS chemicals you're most likely to hear about are perfluorooctanoic acid (PFOA) and perfluorooctane sulfonate (PFOS). Neither of them are made in the United States any longer — manufacturers started voluntarily phasing them out in the early 2000s. But because they were manufactured here for decades, they remain the most widespread in the environment, most-studied and best understood. Manufacturers from other countries still produce PFOS and PFOA, and can ship products made with them into the U.S.
U.S. manufacturers have replaced PFOA and PFOS with other members of the PFAS family. The effects of these next-generation PFAS chemicals are not as well understood.
The bottom line is there are still PFAS chemicals in the everyday products we buy, and also lots of them sticking around in our water.
How do these chemicals get into our bodies?
Because these chemicals have been used in consumer products for many decades, most people have been exposed to them. Studies estimate that 98% of Americans have detectable levels of PFAS in their blood.
The chemicals can enter our bodies in several ways, including: Eating food in PFAS-laden containers, eating fish from contaminated rivers and lakes, and drinking contaminated water.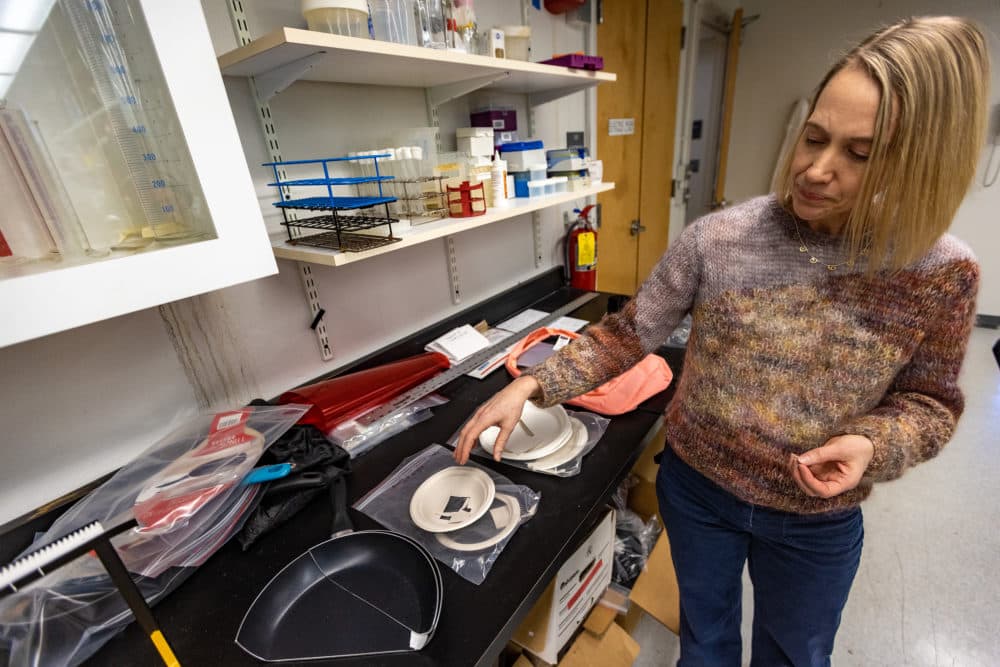 Is there any way to get these things out of our bodies?
Your body eventually gets rid of them through blood loss, breast feeding, urine and feces. Other than that, nope.
What is the effect of PFAS chemicals on health? And how do we know?
A 2022 report from the National Academies offered the first comprehensive summary of the links between PFAS levels in the blood and specific health concerns. The report said there is "sufficient evidence" of association between PFAS exposure and kidney cancer in adults, decreased immune response in adults and children, high cholesterol in adults and children, and decreased infant and fetal growth. The report recommended blood tests and medical monitoring for people likely to have high exposure to PFAS.
The effects of low-level exposure are less understood, says Laurel Schaider, a research scientist with the Silent Spring Institute, who is currently studying PFAS exposure in the towns of Hyannis and Ayer. And scientists are less certain about the health effects of newer PFAS compounds that replaced PFOS and PFOA.
Despite the remaining uncertainty, scientists have found that PFAS chemicals affect "every major organ in the human body," says Elsie Sunderland, a PFAS researcher at the Harvard T.H. Chan School of Public Health. "So that is scary for me."
But, she says, since PFOS was phased out of production around the year 2000, blood levels have dropped dramatically. "If you stop producing it, yes, you can still find it," she says. "But we also saw a very fast and dramatic reduction in both environmental samples and people's blood."
How do these chemicals get into drinking water?
PFAS chemicals were widely used in firefighting foams on military bases, airports and firefighting training facilities. They are also found in landfills and compost when products containing PFAS break down, in fertilizer made from human waste or sewage, in wastewater and in some manufacturing locations. All these sources can contaminate nearby drinking water supplies.
Estimates about the extent of contaminated drinking water vary, based on testing methods and sensitivity. The Environmental Working Group, a consumer-education nonprofit, reports that of June 2022, 2,858 locations in 50 states and two territories are known to be contaminated. The group maintains an interactive map of PFAS contamination in the U.S.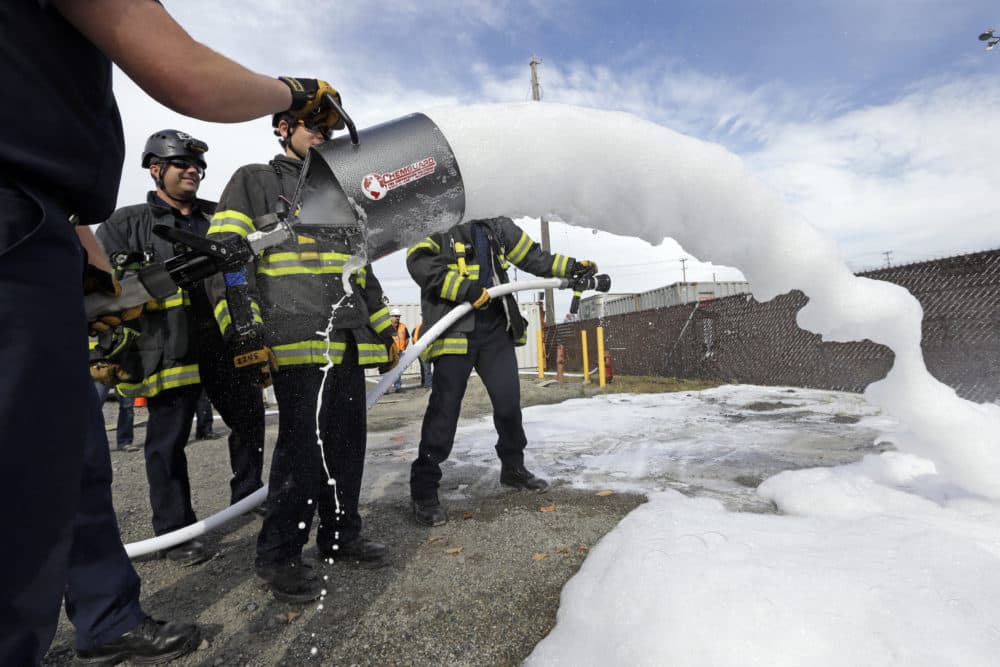 How do I know if my drinking water is contaminated? What do I do if it is?
Massachusetts has required PFAS testing of drinking water since 2020. As of January, 2023, most of the public water systems in Massachusetts had been tested for six PFAS compounds, and 170 water systems had at least one source testing over the legal limit. Almost all have found ways to deal with PFAS in drinking water, either by adding filters, finding a new source or blending contaminated water with another source.
You can search for test results in Massachusetts communities by going to this website and typing in "PFAS6" under "chemical name. The Sierra Club of Massachusetts also created maps of contamination based on state data.
Outside Massachusetts, a good place to start is the Environmental Working Group's Tap Water Database. Enter your ZIP code and see if there are any contaminants in your home water (you may want to double check with your supplier if any numbers are concerning).
If you want to decrease the PFAS chemicals in your water, Phil Brown, a PFAS researcher at Northeastern, suggests installing a home water filter that uses activated carbon or a reverse osmosis system. But he and other experts emphasize that it's unfair to place the burden on individuals.
"Having policy change or regulations that say you can't have PFAS in your drinking water would be much more effective than making people have to spend their money to put a filtration system under their sink," says Linda Birnbaum.
But wait, I get my drinking water from a private well! What about me?
Massachusetts does not regulate drinking water from private wells.
However, they do offer some guidance on PFAS in private wells and a website where you can search for certified testing facilities.
The advocacy group Resources for Communities and People also offers some helpful information on private well water in Massachusetts.
Testing a well for PFAS usually costs $300-$500, depending on the compounds being tested for. A household filter to remove PFAS from water costs upwards of $5,000.
What else can I do to limit my exposure to PFAS chemicals?
For a comprehensive look at reducing all the ways our bodies are exposed to PFAS, check out our tips here. Some companies are starting to phase PFAS chemicals out of some of their products, so you can look for items that are PFAS-free, though it's hard to know what chemical is replacing it. The Green Science Policy Institute's list of PFAS-free products is a good resource. The Silent Spring Institute offers a free mobile app called Detox Me, which includes a buying guide.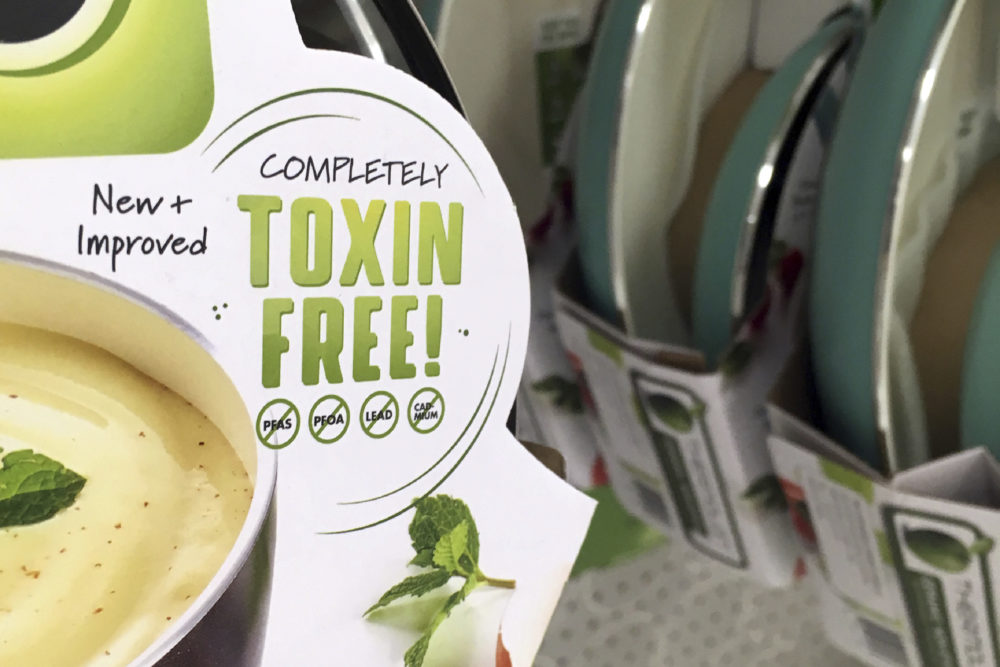 What is the federal standard for PFAS in drinking water?
On March 14, 2023, the EPA released proposed regulations for six PFAS chemicals in drinking water.
The regulations would limit PFOA and PFOS to four parts per trillion in drinking water, close to the lowest level at which the chemicals can be detected.
The EPA proposed regulating four other PFAS chemicals — PFHxS, PFBS, PFNA, and GenX — as a cumulative mixture to keep them below a level considered dangerous to human health.
EPA Administrator Michael Regan says the new regulations should be finalized by the end of 2023.
There is also a question about whether the EPA may list PFOS and PFOA as hazardous substances under the Superfund law, which would help communities clean up contamination and recover costs.
What's the Massachusetts standard?
Massachusetts released regulations for PFAS limits in drinking water in September, 2020. The rule establishes a limit of 20 parts per trillion for the sum of six PFAS compounds, including PFOS and PFOA. Managers of all public water systems in the state are required to test for these six compounds and take action when they detect PFAS levels above the limit.
In 2023, the state will re-examine these standards, and make sure they align with proposed federal rules.
You can find an overview of the state's PFAS testing plan here, and you can search for specific water testing records here.
What else is Massachusetts doing to manage PFAS?
In 2020, the Massachusetts legislature also created the PFAS Interagency Task Force to investigate water and ground contamination across the Commonwealth. The Task Force's 2022 final report offers a clear and comprehensive overview of the PFAS-in-Massachusetts landscape, for those who want a deep dive.
In 2023, PFAS Task Force leaders Sen. Julian Cyr and Rep. Kate Hogan introduced a PFAS omnibus bill based on the Task Force's recommendations. The wide-ranging bill seeks to establish a trust fund to help communities pay for PFAS cleanup, and would ban food packaging and consumer products with intentionally added PFAS from Massachusetts by 2030.
In May, 2022, Attorney General Maura Healey sued 13 manufacturers of PFAS chemicals used in firefighting foam for causing millions of dollars in damages to communities across Massachusetts. As of February 2023 that suit is still pending.
Is there any way to really, truly, get rid of these things?
Some hopeful news emerged from Northwestern University in August 2022, when a team of scientists reported a simple way to destroy some PFAS molecules. It's still unclear if the method can be scaled up to combat worldwide PFAS pollution.
For now, the go-to method for destroying PFAS is burning them at very high temperatures.
However, there is concern that incomplete incineration can release the chemicals back into the environment. The Department of Defense stopped incinerating material containing PFAS in 2022.
This article was originally published on November 08, 2019.