On 50th National Day Of Mourning, Indigenous People In Plymouth Say They're Still Fighting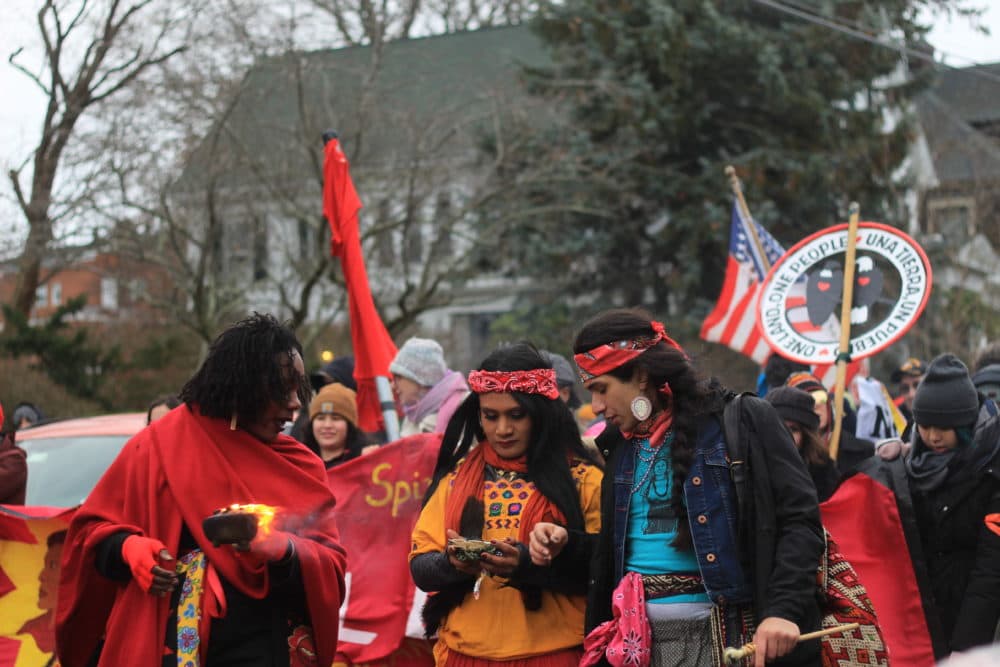 This article is more than 1 year old.
Hundreds of people gathered in the rain and wind in Plymouth on Thursday to observe the 50th National Day of Mourning. The annual tradition began in order to give Native Americans an opportunity to speak on a holiday they say often negates their experiences.
This year, the message was one of continuation: Native Americans are still being lied to, they say, and their lands are still being violated. People from tribes in New York, Louisiana, Canada and Mexico spoke out against pipelines, dams and hydropower stations.
"I have witnessed islands disappear, lands disappear. I have witnessed our lands get really, really dirty," said Carlton Richards of the Cross Lake First Nation in Canada.
Richards said the pursuit of alternative energies threatens his peoples' way of life.
"Our children cannot swim in our waters," he said. "We cannot drink from our waters."
Speakers also addressed several political and policy issues, including immigration.
Mahtowin Munro, of the United American Indians of New England, said those issues cannot be discussed without considering the indigenous perspective.
"Everyone must remember that no one is illegal on stolen land," Munro said. "And we join migrant communities, saying, 'We didn't cross the border, the border crossed us.'"
Munro noted that next year, Plymouth will celebrate 400 years since the Pilgrims landed. She said the city invited Native Americans to be a part of the celebration, which she declined.
"We don't need a Pilgrim platform," she said. "We are more than capable of telling our own stories."
Munro said every year, attendance for the National Day of Mourning has grown.