1st Storm Of The Season Blankets Boston, Shutting Schools And Leaving Roads Slushy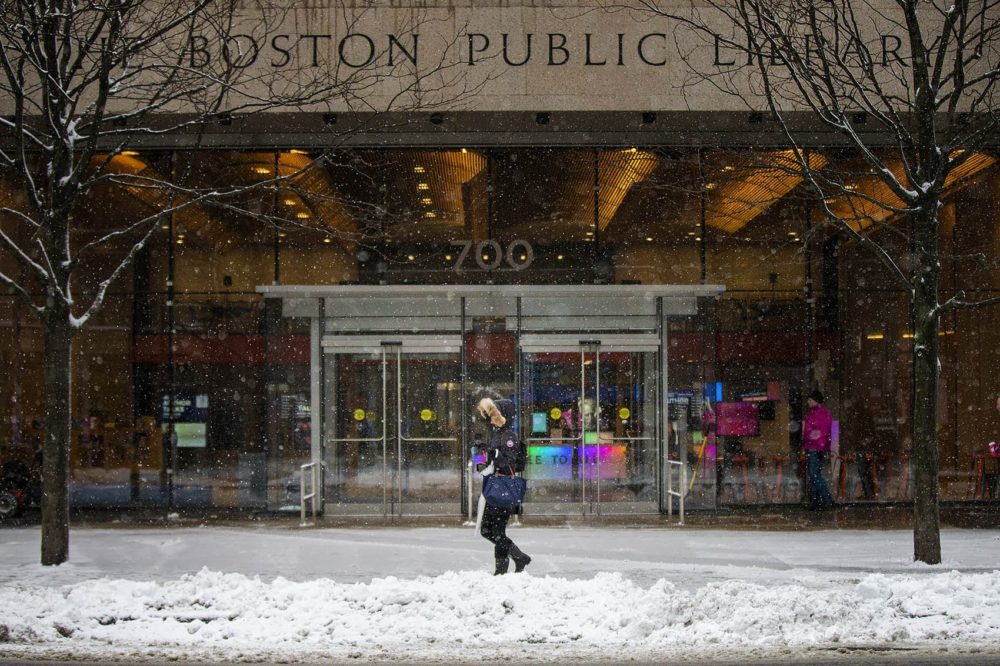 This article is more than 1 year old.
A winter storm continued to coat Boston on Tuesday morning after two nights of snowfall, closing schools and leaving roads slippery.
Story continues below
Current conditions in Boston
Boston saw nearly 6 inches of accumulation by 9:30 a.m., according to the National Weather Service, while some towns in western Massachusetts had already surpassed 2 feet by the same time. (Check snowfall totals for your area here.)
The first major storm of the season brought banded snow, meaning that some areas got lighter snow and had high visibility, while others were seeing up to 2 inches fall per hour, WBUR's meteorologist Dave Epstein explained.
The state transportation department said more than 2,500 crews were out clearing and treating roads early Tuesday, but commuters were still urged to take it easy if they had to drive.
"This is the first real significant snowfall we've had in quite some time," Highway Administrator Jonathan Gulliver said. "It's going to take a while to get those driving legs back, so if you're going to be out there in the weather, make sure that you give yourself a lot of extra space between you and the other cars on the road."
The HOV lane on Interstate-93 in Boston was shut down during Tuesday morning's commute, but no other notable road closures were in place.
The MBTA said Tuesday morning that it planned for all train lines and the commuter rail to run regular service, aside from some T buses running on snow routes during storms.
Orange Line service was briefly suspended between Haymarket and Tufts, however, due to a "power problem" at State Street, the T said. Several commuter rail lines ran late, with delays ranging from 5 or 10 minutes to 45 minutes, according to MBTA tweets.
The Boston Globe reported that a commuter ferry traveling from Hingham to Rowes Wharf hit rough waters and toppled some passengers on board. Boston.com also reported that an MBTA bus slid into the steps of a home in Chelsea on Monday night due to slippery conditions.
The Steamship Authority had to cancel some trips from Nantucket to Hyannis due to weather conditions.
MBTA General Manager Steve Poftak said Monday night that the challenge would be keeping "platforms, stairways, walkways and parking lots clear."
"We will have teams deployed in the field working on this, but of course given that customers will be entering as well, that is going to be one of the key challenges for us," Poftak said.
Boston Public Schools were shut down Tuesday, as were a number of other surrounding districts.
Gov. Charlie Baker also announced a 10 a.m. delayed start time for all non-emergency state executive branch employees ahead of the storm.
With reporting from WBUR's Newscast Unit
This article was originally published on December 03, 2019.