Follow Along: What Some N.H. Voters Have To Say On Primary Day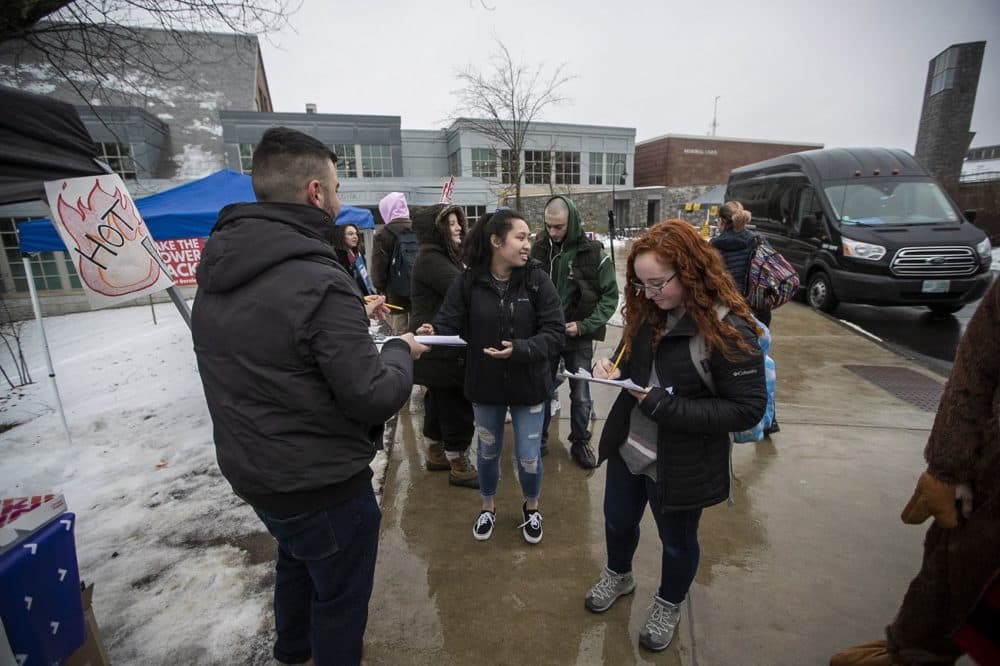 Follow along with our reporters, as well as reporters from New Hampshire Public Radio and NPR, as they speak to Granite State residents about who they're voting for today in the first-in-the-nation primary.
Here are some of their dispatches (and for more, follow our story on Instagram, too):
Kingston resident Susan Gervasi said she supports Trump, and efforts by the Democrats to impeach him have stiffened her resolve.
"If if I had any doubts about voting for him in 2020, any doubts would be erased with all they've put him through," Gervasi said. "They don't have a vision. Their vision is get rid of Trump. Get rid of Trump. That's not a vision."
Ann McQuaid of Manchester told WBUR she voted for former Vice President Joe Biden because of his "great record" and his eight years of foreign policy experience servinf under former President Barack Obama.
"I like what Barack Obama did for this country," she said.
She believes he's facing tough competition from Vermont Sen. Bernie Sanders and former South Bend Indiana Mayor Pete Buttgiieg in New Hampshire, but she's resolved to vote for whomever the Democratic party nominates.
While most new Hampshire residents have considered which of the major candidates to support, Manchester resident Mark Stuart Greenstein told WBUR he went with the person he knows best.
"I voted for Mark Stewart Greenstein," he said. "It's easy to get on the ballot. That's why there's 33 of us."
Amber Gilmore, 45, of Wakefield, N.H., told WBUR she voted for former mayor of South Bend, Ind., Pete Buttigieg, adding she sees similarities in Buttigieg's campaign to that of former first lady Michelle Obama's famed message, "When they go low, we go high." "The fact that he's running a campaign of respect will win him votes across the board," Gilmore said.
In Durham, N.H., Benjamin Kelley, a political science student who voted for Andrew Yang, told WBUR: "Some of the things that Warren has said has troubled me, about her background, about where she comes from or what her DNA is. And while I understand you can misspeak at times, to misspeak so many times in a row kind of bothers me, so that pretty much turned me off of Warren."
Hampton resident Melissa Robinson voted today for Massachusetts Sen. Elizabeth Warren, citing her concerns about immigration turmoil at the U.S. southern border. "I've got two little kids," Robinson told WBUR. "And the thought of little kids separated from their parents and in cages just breaks my heart. And so to me that's the most important issue."
By noon, all precincts in the Granite State were open. WBUR spoke with Art Eddy, a New Hampshire resident who said he voted for Minnesota Sen. Amy Klobuchar. "The most important thing for me this year is I think she could go toe-to-toe with Trump and do a good job," he said.
At the polls in Manchester, N.H., Zachary Fuller told WBUR he voted for Bernie Sanders, saying he believes the Vermont senator is "probably the best candidate to take on Donald Trump in the general [election]." but if Sanders does not win the Democratic Party's nomination, he would "absolutely" vote for another Democratic candidate.
"Regardless of who gets nominated it's important to make sure that we get Donald Trump out of there," Fuller said. "You're probably asking that because there's this narrative within the media that a lot of Bernie supporters in 2016 did not vote for Hillary Clinton. Statistics show that's incorrect — so that's not quite correct. ... A lot of the other candidates do have issues that I certainly agree, but I just think Bernie is better, and I think a lot of people are like that."
This post will be updated.
WBUR, hosted by Bob Oakes, and NPR will provide live, special coverage of New Hampshire returns starting at 7 p.m. Here's how to listen.