Mass. AG Healey Sues Juul Over Youth Vaping Epidemic
Play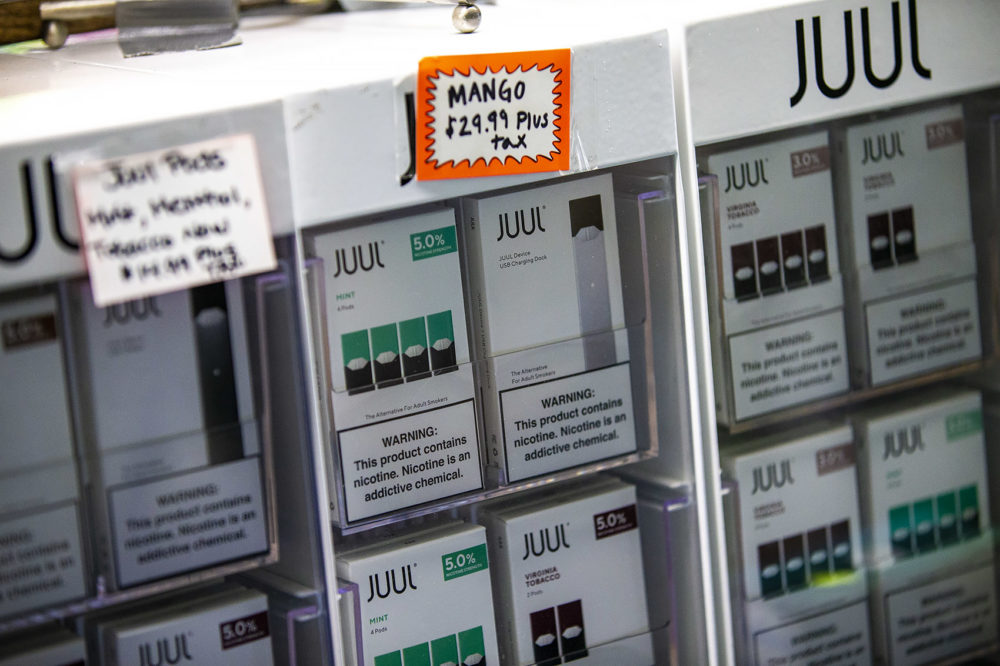 This article is more than 2 years old.
Massachusetts Attorney General Maura Healey is suing Juul, alleging the e-cigarette maker has created a youth vaping epidemic by intentionally marketing and selling its e-cigarettes to young people.
The lawsuit, filed in Suffolk Superior Court on Wednesday, contends the company illegally advertised and sold nicotine products to underage youth, causing addiction among young people. The lawsuit calls for Juul to pay for the costs associated with combating vaping among young people. It also seeks damages and penalties for Juul's conduct.
"This is a public health crisis in Massachusetts and across the country. And today we're suing the company that started it all," Healey said during a press conference Wednesday.
"Juul bares responsibility for the millions of young people nationwide who are addicted to e-cigarettes," Healey added.
In Massachusetts, over half of high school students report using e-cigarettes, according to Healey. And 1-in-3 high school students in the state say they have vaped in the last month, Healey said.
"While we have not yet reviewed the complaint, we remain focused on resetting the vapor category in the U.S. and earning the trust of society by working cooperatively with attorneys general, regulators, public health officials, and other stakeholders to combat underage use and transition adult smokers from combustible cigarettes," Juul spokesperson Austin Finan said in a statement following Healey's announcement, adding, "Our customer base is the world's 1 billion adult smokers and we do not intend to attract underage users."
Some young people say Juul is enticing and easily accessible to them.
"It was the new trend. It was almost like owning an iPhone," said Northeastern University sophomore Emma Tigerman, who has struggled with an addiction to Juul for the past four years. "There were dealers that were illegally distributing within my school even, and also through smoke shops."
Tigerman said she's glad to see legal action against Juul and hopes her peers and younger kids learn that "the first hit is never worth it."
Public health advocates also applauded Healey's lawsuit.
Matthew Myers, the president of the Campaign for Tobacco-Free Kids, said the lawsuit sends the message to the entire e-cigarette industry that they will be held accountable.
"[Juul] figured out how to deliver nicotine more intensely, more rapidly, more deceptively to our young people than any company has ever done in history," Myers said. "The exposure of this wrongdoing will have consequences to benefit Massachusetts and every kid in this country."
Dr. Michael Siegel, a researcher and professor at Boston University's School of Public Health, has been an advocate for adult-use vaping products as a way to stop smoking cigarettes, but says the allegations in Healey's lawsuit are disturbing.
"That kind of sets a very different picture than this just being something that kind of just became popular among youth without the company knowing about it or playing any role. So I think that these allegations are very disturbing," Siegel said.
Healey began investigating Juul in 2018 to determine whether the electronic cigarette maker was intentionally marketing to minors, and if it tracks underage use of its products.
Juul has been under fire as teen vaping has increased dramatically across the country. The U.S. Food and Drug Administration has called teen vaping an epidemic. Juul has also faced several lawsuits from school districts, public health organizations and other states.
Richard Daynard, the president of the Public Health Advocacy Institute at Northeastern University, said all the litigation will probably make Juul less effective "at hooking kids in the future."
"I think Juul may have been forced out of that business," said Daynard, whose institute also has a lawsuit against the e-cigarette company.
In September, federal health regulators announced a proposal to remove flavored e-cigarettes from the market. But hopes for federal action were dashed as the plan stalled amid industry pushback.
Meanwhile, Juul announced it would suspend sales of most of its flavored products — which many believe entice young people to start vaping. The October announcement came as Juul settled a lawsuit in California and agreed to limit its marketing to kids and teens there.
Without federal action, some cities and states have moved to impose bans or sales restrictions on e-cigarettes. Some of these efforts were bolstered after a wave of mysterious lung illnesses and some deaths were tied to vaping. Massachusetts Gov. Charlie Baker temporarily banned vaping products and later signed a law that bans the sale of all flavored tobacco, including vape products.
Healey has already sued eight online e-cigarette sellers that her office says are violating the state's ban on flavored tobacco products.
This article was originally published on February 12, 2020.