SpeakEasy Stage's 'Children' Should Be Seen — And Definitely Heard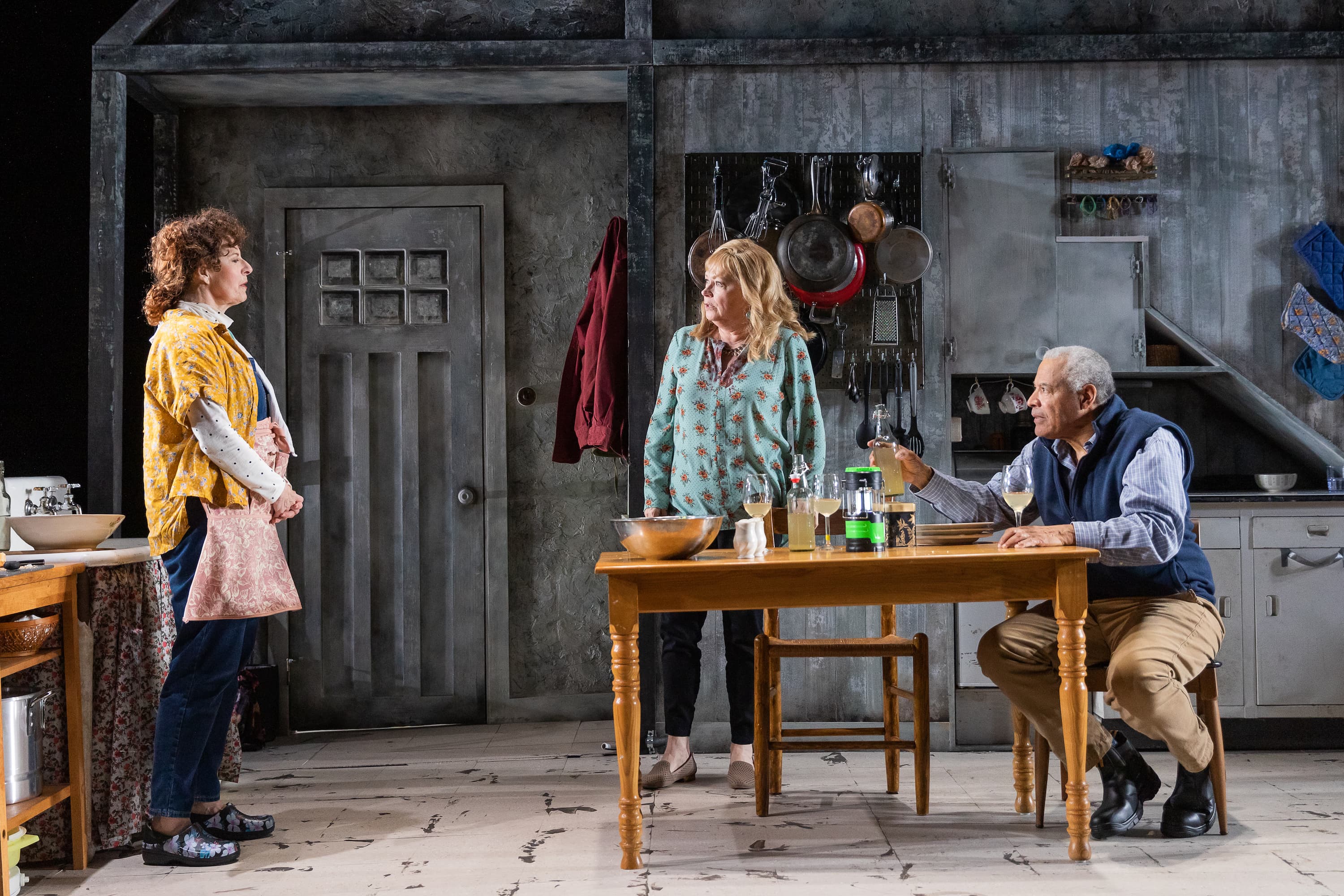 This article is more than 2 years old.
If you love modern theater Lucy Kirkwood's "The Children" has everything for you, including the kitchen sink. It has the eerie, metaphorical stillness of great Anglo-Irish dramatists from Caryl Churchill to Conor McPherson; the ethical-philosophical bent of Arthur Miller in which secrets are slowly revealed; and the social justice warrior concerns shared by most young contemporary playwrights (without the didacticism or jargon that often goes along with those concerns).
That she ties all these strands together in this 2016 play is not only a testament to her deft writing, but to the excellent SpeakEasy Stage Company production (at the Calderwood Pavilion through March 28) that features a bevy of Elliot Norton Award winners — two of Boston's best actors, Paula Plum and Karen MacDonald; a director whose work has become must-see theater, Bryn Boice; and the star of 2018's terrific "Between Riverside and Crazy," Tyrees Allen, also at SpeakEasy.
The play begins with the ominous shadow of MacDonald's character, Rose. She's been bloodied by Plum's character, Hazel, who's residing in a modest cottage on England's seashore. Rose's nose is bleeding, but rather than tend to it she asks Hazel, "How are the children?"
Given the title of the play, it doesn't take a rocket scientist — there'll be a funny Rose riff on that in a bit — to figure out that the question will have resonance by the end of the one-act play. The reason for the bloody nose is that the two haven't seen each other in decades, though they used to work together, and Hazel thought that Rose was dead. So she had reacted as if she had seen a ghost when Hazel surprised her.

From this point on, all the information — and surprises — seep out gradually, with the actors underscoring the mystery with a roll of the eyes here and a frightened glance to the side there.
I'll try not to throw any spoilers into the mix, but the program notes imply that Rose, Hazel and Hazel's husband Robin are retired scientists. Hazel and Robin had decided post-retirement to stay in the area and become dairy farmers while Rose had gone off 38 years earlier to America, accounting for MacDonald's hybrid accent. Before long it's obvious that they had all worked at a plant near Hazel and Robin where there had been a recent, terrible accident.
Having acted together seven times or more, the chemistry between Paula Plum and Karen MacDonald is beyond words, alternatively heartwarming and heartbreaking.
But why is Rose here now? Why does Hazel look so uncomfortable? Why does Robin seem so cheerful? What is the relationship between their unspoken angst and their previous work at the plant? And what's with the offstage children?
We don't quite know the history of Rose and Hazel, but we do know the history of MacDonald and Plum. They were two stalwarts of Robert Brustein's American Repertory Theatre and, having acted together seven times or more, the chemistry between them is beyond words, alternatively heartwarming and heartbreaking. Which doesn't mean their characters in "The Children" are BFFs.
Rose is the effusive one and MacDonald captures her high spirits, which is all too much for Hazel, who is not happy to see her. Plum is perfect at muttering her displeasure, not quite under her breath, in a delightful Yorkshire accent.

Rose: Someone told me once, at a party, that out of every type of scientist, physicists are the most likely to believe in God.
Hazel: Must have been a thrilling party.

And when Rose hugs Hazel, Plum looks like she's just been embraced by someone with coronavirus.

The two are so captivating together that Robin can seem like the odd man out in this production and it's not clear whether that's the way Kirkwood wrote the character or that it's due to choices made by Allen and Boice. In any event, I would have voted for him to relax that stiff upper lip a bit more.
But Boice knows what she's doing, as does her design team. I wondered throughout why they weren't doing more with lighting throughout the play. I wasn't wondering by the end of it. Kirkwood and Boice both sense when to hold back and when to push forward. When to delight in the human comedy and when to make it obvious that the stakes are too high for easy and instant gratification.
And what of the children? And what do the three characters — and audience members of a certain age — owe to future generations? You think you might know the answers, but you won't see the questions posed much better than in "The Children."
---
"The Children" continues at the Boston Center for the Arts' Calderwood Pavilion through March 28.