What To Do While You're At Home During The Coronavirus Outbreak
This article is more than 3 years old.
We turned to social media this week to ask our readers for some help. What are you doing now that almost everyone is home, but you can't go anywhere? How are you staying connected to your loved ones when you can't actually physically connect with them? How are you juggling your job with maybe trying to homeschool your kids?
We got a lot of great answers, which you can read below. And we also have a few of our own.
Do you have more suggestions? You can leave us a comment at the bottom.
Exercise
Yes, you CAN go outside! Just keep at least six feet away from other people.
You can head online for virtual fitness classes and instruction. Here's what some of our Instagram followers recommended: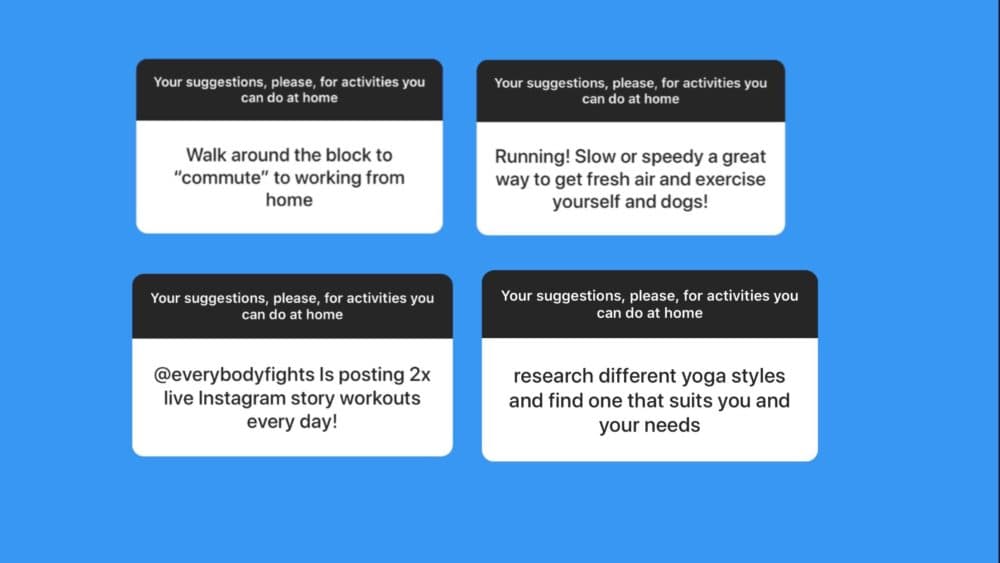 Try geocaching: It's basically a treasure hunt. You can use your phone or GPS device to play.
Kids
Cosmic Kids Yoga: We got so many recommendations for this one.
Work on some family history without meeting in person:
Children's author and illustrator Mo Willems (Elephant and Piggie series, Don't Let the Pigeon Drive the Bus) is hosting "Lunch Doodles." Every day at 1 p.m., via the Kennedy Center, he streams live, encouraging kids to doodle and draw.
Other kidlit authors are doing read-a-longs and other online interactions.
The New England Aquarium may be closed, but they are doing live presentations every day at 11 a.m.
Podcasts for kids: We recommend our very own Circle Round, Wow in the World from NPR and But Why? from Vermont Public Radio.
This homeschooling mom, writing for our opinions desk Cognoscenti, says parents can take the pressure off themselves to be the teacher. What should you do? Prioritize play and unstructured time, she says.
Arts & Entertainment
From our arts desk, The ARTery: Get really, really into one artist. Here are five shows to binge watch.
Museums might be closed, but you can still enjoy the artwork at the Isabella Stewart Gardner Museum and the Museum of Fine Arts, virtually.
Don't let social distancing stop you from playing board games. You have online options: Board Game Arena and Tabletop Simulator on Steam.
And now, you can watch Netflix with your friends with Netflix Party.
More recommendations from our Instagram followers: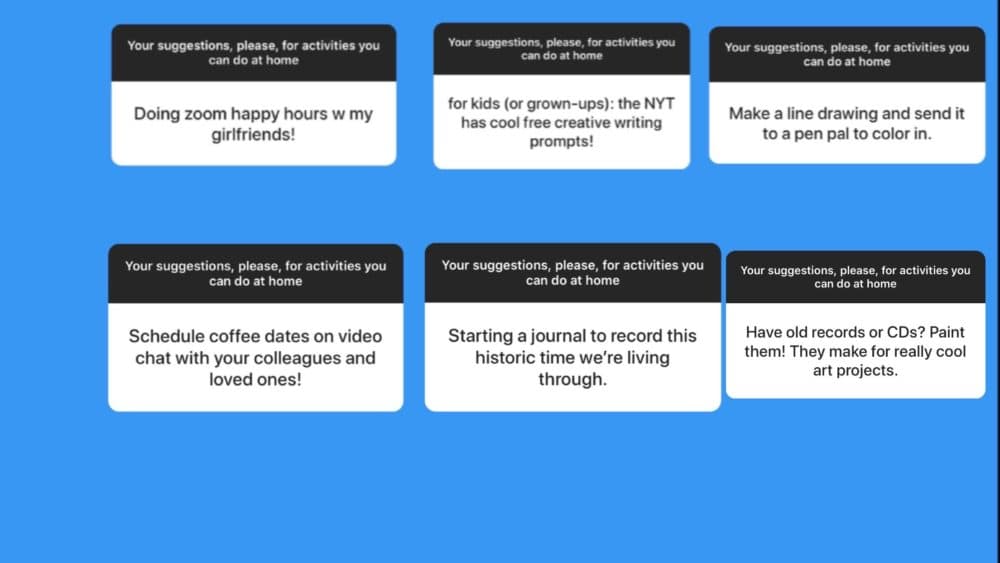 Check out your local library to see what online books, movies, music and more they have available. And be sure to browse our back catalogue of podcasts.
How To Help
Helping others can make your own worries and anxieties a little better. We've put together a list of local places that could use the help.