Worcester's DCU Center Will Become 250-Bed Field Hospital For Stable COVID-19 Patients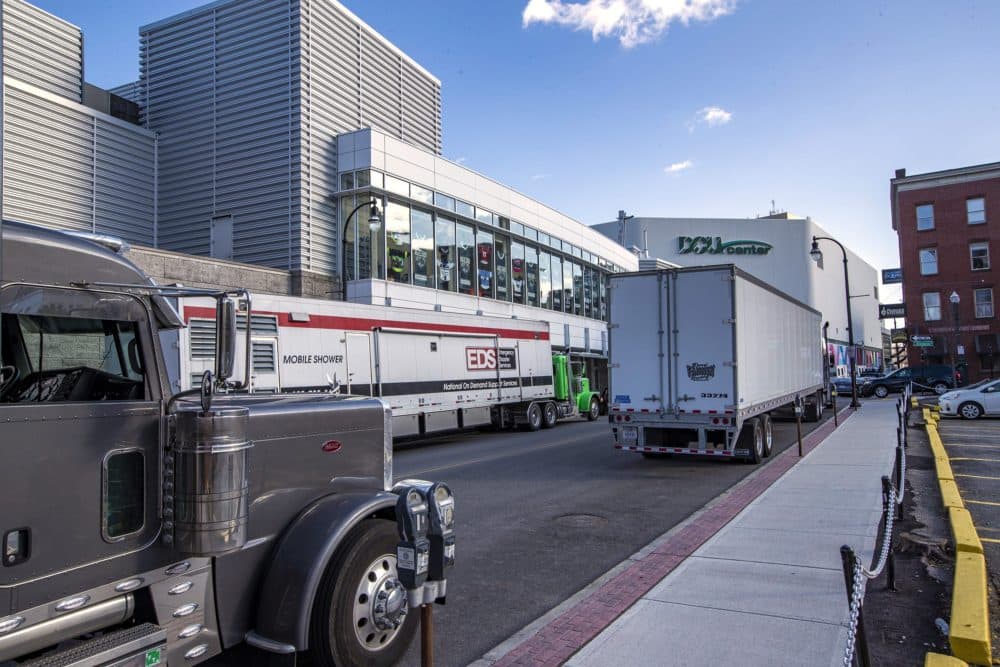 This article is more than 2 years old.
The last time Dr. Eric Dickson was at the DCU Center in Worcester, he said it was for a Michael Bublé concert. Now, he's part of the effort to prepare the facility for that "surge" in coronavirus cases that state officials believe is coming between April 7 and April 17.
The DCU Center will become a 250-bed field hospital for COVID-19 patients who are stable but still in need of care and monitoring, Gov. Charlie Baker said Tuesday. That transformation began in earnest Wednesday when semitrailers containing medical equipment arrived in the city.
Baker also toured the facility Wednesday and held a press conference there.
"We are going to have a very large [number] of sick patients coming into hospitals, and we will need a place for less-sick patients to go," said Dickson, CEO of UMass Memorial Medical Center, which will oversee operations at the repurposed arena.
The new field hospital will take patients from hospitals around the region in central Massachusetts. If a patient's condition suddenly deteriorates, then clinicians can transfer the patient to Saint Vincent Hospital across the street or another nearby hospital, Dickson said.
The field hospital will be staffed partially by clinicians from the hospital, but Dickson said he's hiring as many qualified health care professionals as he can get.
"If there are any nurses who want to pick up extra shifts, we'll take as many applications as we can get because we really need the help. Especially those who have Army field hospital experience, we could really use you," he said. "Just go to our website and you'll find a link to apply."
Baker said the DCU Center is the first site of three in the state to receive federal approval for a field hospital. The search for the other two locations is ongoing.
"This facility is another important building block in our efforts to expand existing health care capacity," Baker said.
This article was originally published on March 31, 2020.