COVID-19 Hits Elder Care Facilities In Mass. The Hardest, With More Than 1,300 Now Dead
Play
This article is more than 3 years old.
COVID-19 has killed 2,360 people in Massachusetts to date, and the hardest-hit group has been seniors living in nursing homes and other long-term care facilities.
According to state data, more than a third of these facilities have at least one person who's tested positive, and the list grows by the day.
WBUR reporter Miriam Wasser spoke to Morning Edition's Bob Oakes about the situation.
Oakes: I understand the state has released new data about the coronavirus in nursing homes and other long-term care facilities this week — what's the latest?
Wasser: Originally, state officials weren't giving out information about individual facilities, but earlier this week, they started providing a lot more detail in the daily dashboard. For instance, they started listing specific facilities that have an outbreak, and they've also reported the total number of residents and staff who have tested positive for the virus.
The state's reporting 1,316 people at long-term care facilities have died from COVID-19, which means that more than half of all fatalities in the state from the virus are at these facilities.
According to the data that came out Thursday night, there are now over 8,400 positive cases in these facilities, which is about 18% of all cases statewide. Now to be fair, a greater percentage of people at long-term care facilities have been tested than in the general population.
Still, 18% of all cases, that's a lot. What do we know about deaths at long-term care facilities?
The state's reporting 1,316 people at long-term care facilities have died from COVID-19, which means that more than half of all fatalities in the state from the virus are at these facilities.
Just one more figure I want to throw out there is that fact that about 86% of all confirmed deaths from COVID-19 in Massachusetts have been people 70 and older. I think this data point really underscores how the older adults have been disproportionately affected by the pandemic.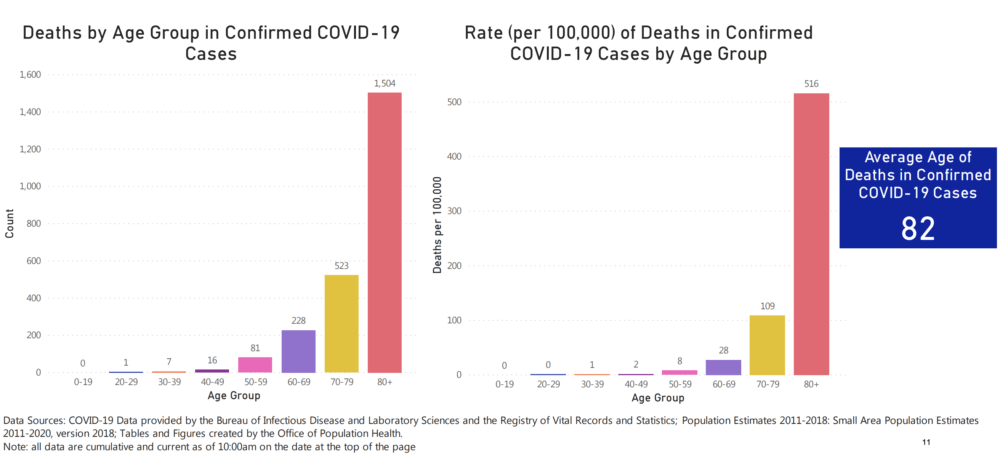 I have to ask, is it just certain nursing homes that are being hit? Perhaps ones that were in trouble with state regulators anyway?
As far as we know, the virus is affecting facilities of all shapes and sizes — big ones like St. Patrick's Manor in Framingham, little ones like the Pine Knoll Nursing Center in Lexington; public ones like the Soldiers' Home in Holyoke and private ones like Belmont Manor in Belmont.
On Wednesday, Gov. Baker pointed this out when he noted that Belmont Manor, a well-regarded private nursing home, has been one of the hardest hit facilities.
"I know a fair number of people who operate in that industry, and some of the folks who suffered some of the most dismaying, disturbing and destructive outbreaks are terrific operators ... Belmont Manor is a good example of that. That's a five star nursing home," Baker said. "And even in the assisted living space, some of the folks who battled their way through some of the worst examples of COVID-10 penetration represent organizations that [are] considered by most to be among the very best players in their space."

In one of your recent stories, someone referred to nursing homes as "petri dishes" because people live in close quarters and frequently touch so many of the same surfaces — handrails, doorknobs. What are nursing homes and other long-term care facilities doing to control the spread of the virus?
Because older adults tend to be disproportionately affected by a lot of disease, long-term care facilities across the state began ramping up their infection control programs back in March. Many facilities started screening or limiting visitors, and expanding their daily cleaning protocols. Some even quarantined their residents.
Obviously, those measures weren't enough in a lot of places.
And now that the virus has spread so widely, the big focus is separating people who have it from those who don't. One thing a lot of facilities are doing is designating "COVID-positive" and "COVID-negative" areas. Other places are sending some of their residents to nearby nursing homes or hospitals.
But moving people to designated wards requires knowing exactly who has the virus, right? And as we know, there's still a shortage of tests in the state.
Yes, exactly. Most of the testing that's been done at these facilities has been from the National Guard's mobile testing units. To date, they've visited 247 places — some of them more than once — and conducted almost 14,000 tests. That sounds like a lot, but we're still just not yet at a point where everyone at every facility can be tested.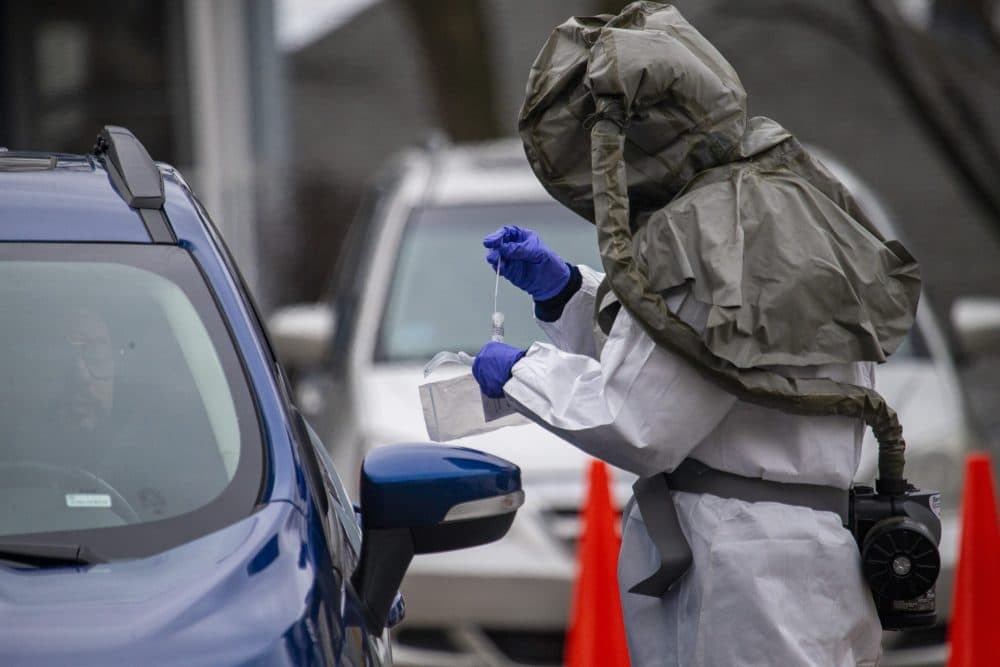 We heard about a problem this week with a testing program the state started. The state sent thousands of home test kits to nursing homes so that staff there could test residents, but that program's on hold now — what happened?
So in an effort to get more testing done, the state sent out about 14,000 of what they called "self swab" kits. Only 4,000 came back, and some of those weren't done correctly, and therefore weren't reliable.
We're not sure exactly what went wrong, but it probably has to do with the fact that administering these tests isn't as simple as it sounds. That's something Health and Human Services Secretary Marylou Sudders mentioned at a press conference this week.
"I don't know if anybody in this room has been tested for COVID-19, it's a very long swab — and it's more than just swabbing. I don't want to be particularly graphic on tv, but it's more than just like doing a quick, like, Q-Tip swab. It actually does require some level of skill," she said.
Sudders said the state is pressing pause on the program until officials figure out how to make better use of the test. And in the meantime, the national guard will continue testing people.
In terms of long-term care facilities, what are you watching going forward?
Well, the first thing is the data. As I mentioned before the state started publishing more data about these facilities this week, but the information they've been providing is still far from complete, and at times even inaccurate — the dashboard had some facilities listed in the wrong region of the state, and left some out completely.
Also in terms of data, the federal Centers for Medicare and Medicaid recently mandated new pandemic reporting requirements for nursing homes, so hopefully we will get a much better sense of what happened when and where in the near future.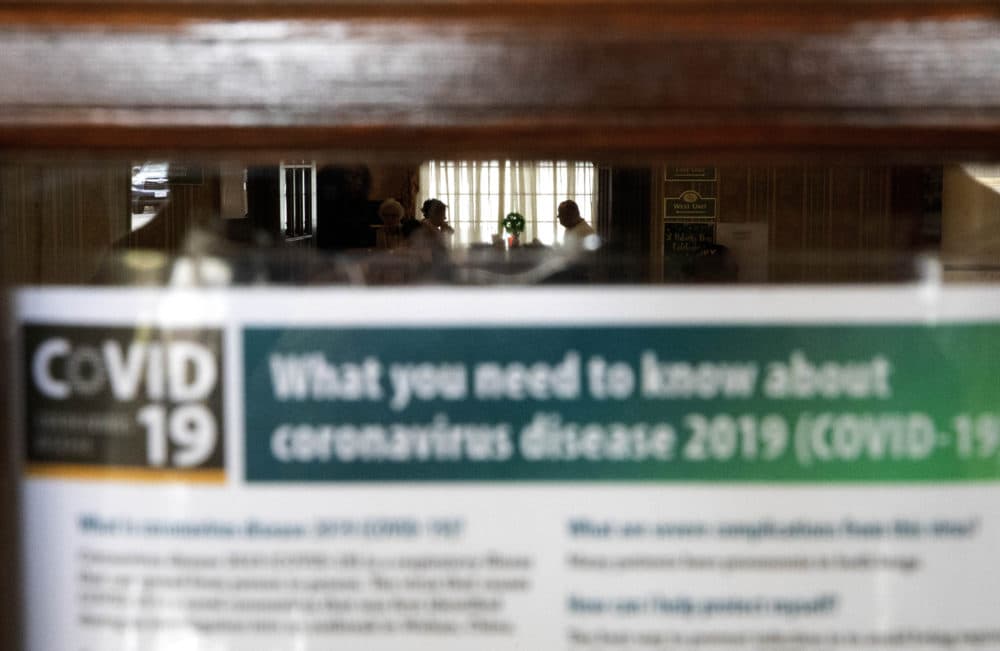 I imagine that this could have some long-term repercussions for the elder care industry in the state. Staff-to-patient ratio and staff pay, for example. Are you hearing anything about this?
What's clear is that this pandemic is really shining a light on some long-standing problems in the elder care industry, which includes staff-to-patient ratios and how employees are treated.
Consider the Holyoke Soldiers' Home, where 57 veterans have died from the virus so far, and another 90 residents and 81 employees have tested positive. There are three separate investigations into what went wrong, but from what employees tell me, a lot of the problems predate the pandemic.
One example is the fact that the facility has been chronically understaffed for years. This, of course, affects the level of care they're able to provide for residents. In general, a lot of the front-line workers in the elder care industry — from certified nursing assistants to home health aides — tend to be some of the lowest paid workers in the country.
In the case of the Soldiers' Home, they felt they were being asked to take huge risks without regard for their health and safety. I reported on the story of one CNA who was reprimanded for wearing protective gear while at work.
Overall, I think it's probably too soon to predict what changes might come about, but people are definitely calling for reform in the elder care industry in Massachusetts and across the country.
This article was originally published on April 24, 2020.