Researchers Built Various Models To Predict Pandemic Shifts. Right Now, They Show 'A Tremendous Amount Of Uncertainty'
There hasn't been anything like the COVID-19 pandemic before. That's a problem for researchers.
The disease is only a few months old, so there's scant data available for mathematical forecasts of the pandemic, according to Caroline Buckee, an epidemiologist at Harvard University. Until more data become available, it's difficult for scientists to understand how policies might affect the outbreak's severity.
"The reality is that we all want answers. How many hospital beds do I need? When can we start rolling back physical distancing interventions?" she said. "And people put out models, but they can be misapplied if they're read too literally. That's a tension between the reality of the uncertainty in the science and the public's need to have some sense of what's going to happen."
There are two main types of COVID-19 models, according to Buckee. Statistical models take the observed number of confirmed cases, deaths, hospitalizations or other data, and then fit a mathematical curve to that data. One example of this is the coronavirus model from the Institute for Health Metrics and Evaluation at the University of Washington.
The researchers who compiled the IHME model looked at how the epidemic unfolded in Hubei, China and then applied the same trajectory to other places, said Buckee. Statistical models like this are useful in the short term but aren't as good at predicting when the peak of the pandemic will pass or when it might be safe to change policies like lifting restrictions on travel or work, she said.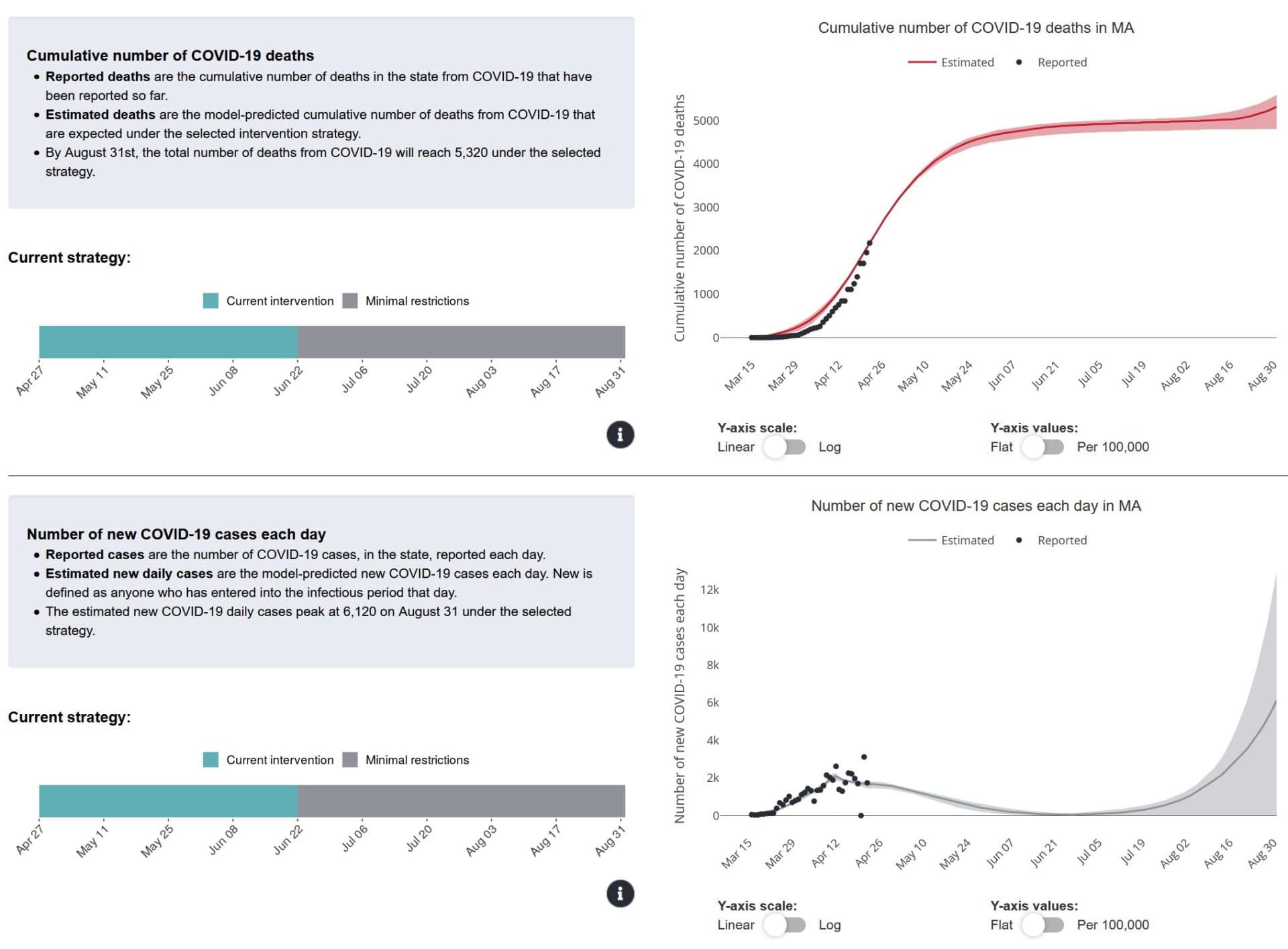 The other type of model, which epidemiologists call a mechanistic model, is able to forecast different scenarios. Buckee said these models try to factor in how people might behave and how the disease might spread during an epidemic, but, like statistical models, they also suffer from a lack of reliable data from the coronavirus pandemic.
"You can use these to ask, 'What if we do social distancing for a month? Then what happens?' " she said.
Examples of these include the Massachusetts General Hospital's COVID-19 Simulator and another model from Columbia University. Even without a lot of data mechanistic models can give a general sense of how the pandemic might respond to certain interventions, according to Buckee.
For instance, Jagpreet Chhatwal, a data scientist at Harvard Medical School and the lead researcher on the COVID-19 Simulator, said his model could be used to forecast the impact of keeping physical distancing measures in place for another two to 32 weeks.
According to the model, lifting any restrictions [in Massachusetts or the country] before the end of June will be too early.

Jagpreet Chhatwal
"According to the model, lifting any restrictions [in Massachusetts or the country] before the end of June will be too early," Chhatwal said. "And if we open the economy or businesses again and we are not ready to have a full system in place for contact tracing, a lot of damage can be done again."
Looking At The Models — And Understanding Their Limitations
At the moment, the COVID-19 simulator suggests peak coronavirus hospitalizations will occur in early May for Massachusetts, and the state will need close to 4,000 beds and 1,500 ICU beds.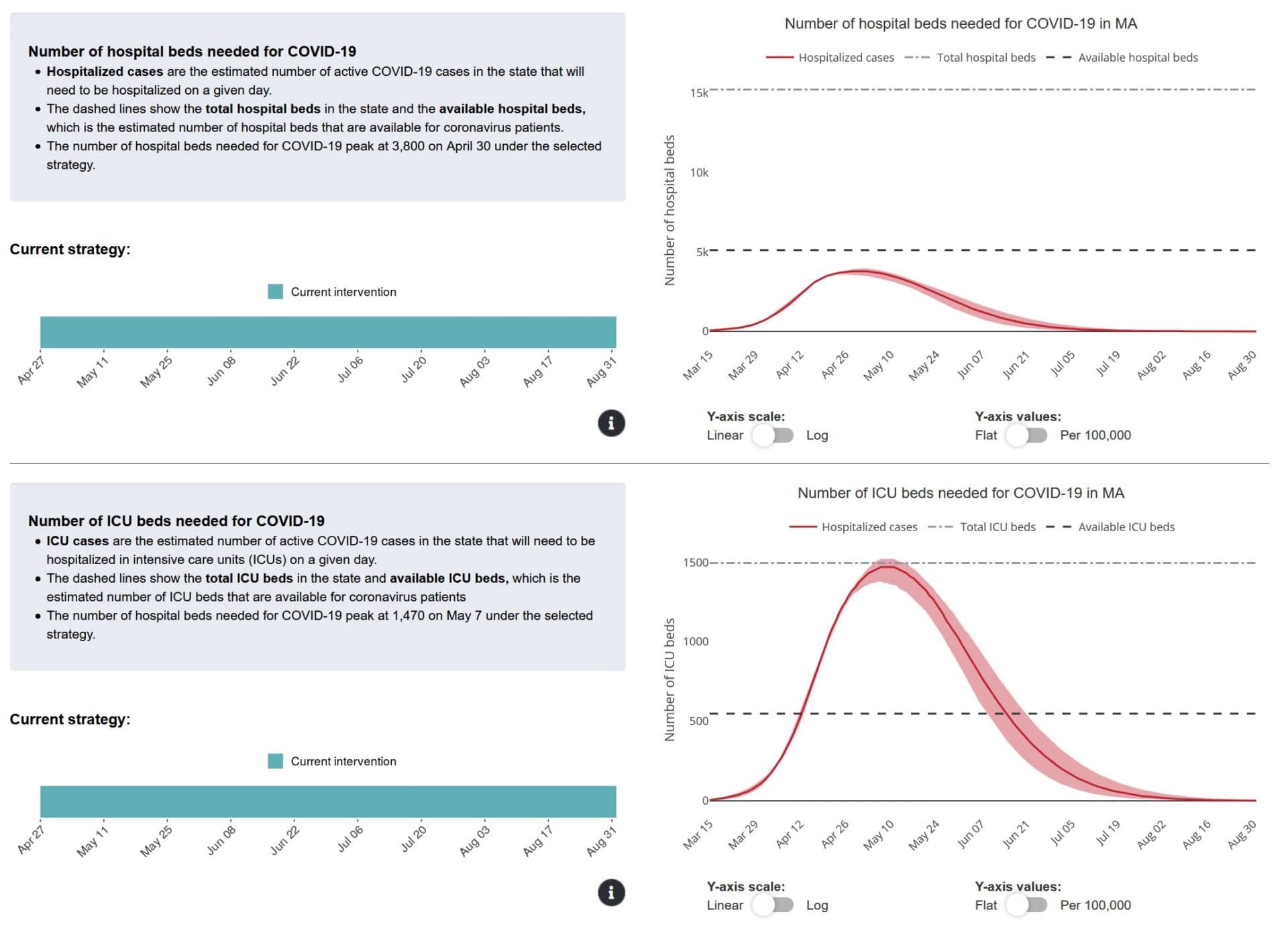 The Institute for Health Metrics and Evaluation model suggests peak hospitalizations passed in Massachusetts on April 19, and it projected that the state needed close to 3,000 beds and over 1,000 ICU beds.
Depending on how aggressive the surge response is, the Columbia University model currently suggests peak hospitalizations will occur in Massachusetts around mid-May.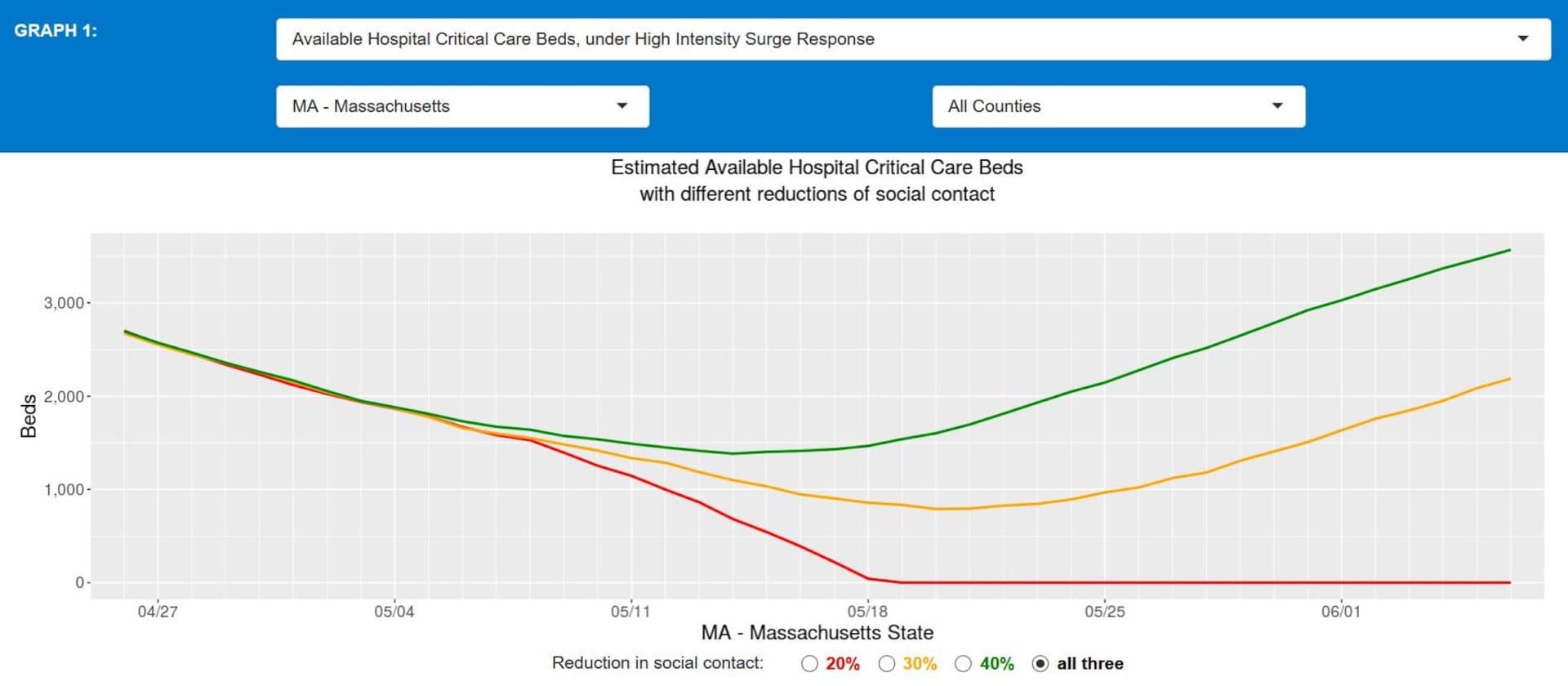 It's important to note that all these projections are highly uncertain. Being able to aggressively trace the people contacted by someone who's tested positive for COVID-19 will be the key to controlling the pandemic while reopening businesses and ending social distancing measures, according to Jeffrey Shaman, an epidemiologist at Columbia University.
As the models improve with more data over time, they may help researchers and policymakers understand when coronavirus transmission has slowed to a manageable level.

But at the moment, even mechanistic models are severely limited in their ability to predict how the COVID-19 pandemic will behave once restrictions begin lifting, Shaman said.
"We are stuck with a tremendous amount of uncertainty," Shaman said. "We don't know what fraction of restaurants will open, and we don't know how many people would actually go to them if they did open."
The one thing that the models are certain about right now is that lifting restrictions too early will result in a new wave of cases.
"All those susceptible people [who haven't had COVID-19] are like dry kindling to a fire," Shaman said. "If we don't keep our foot on its neck, it will get back up and wreak havoc on our population."
This article was originally published on April 29, 2020.