Relief, Confusion And Disappointment: Mass. Businesses Owners React To Reopening Plan
Play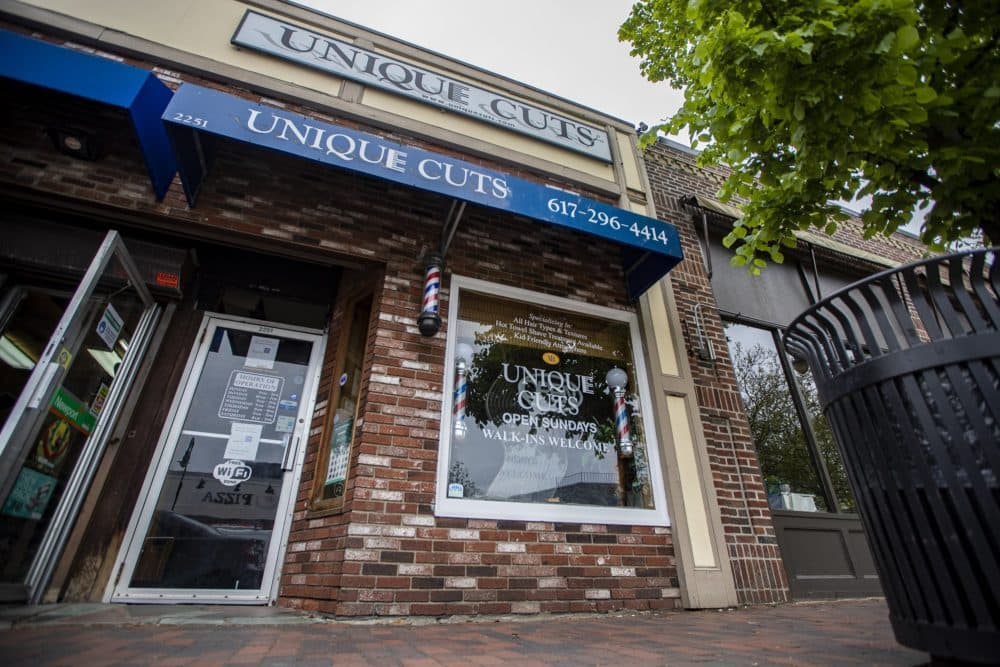 This article is more than 2 years old.
Eight weeks after the state first ordered the shutdown of all non-essential businesses to slow the spread of the coronavirus, the state on Monday released a timeline for gradually reopening over the coming weeks.
Among local small business owners, it was an announcement that was greeted with a mix of relief, cautious optimism, confusion and disappointment.
For Myriame Pierre, co-owner of Unique Cuts in Dorchester, it was a surprise to learn that barbershops and salons would be included in Phase 1 of the state's four-phase reopening plan.
"Working so close to people and the body-to-body contact," she said, "I did not think we would go under the first round."
As early as Monday, May 25, shops like hers (along with car washes, drive-in theaters, pet groomers, and laboratories) will be allowed to welcome back customers.
Luckily, Pierre has been thinking about how to reopen for weeks. She has ordered face shields, gloves and masks for the staff. She's gotten signs to remind people to stay six feet apart. Still, she's not sure when she'll start taking appointments, because the state's list of mandatory safety requirements and protocols is pretty extensive.
"It is nerve wracking, because we want to adhere to everything and so that everyone is safe and is kept healthy," she said.
In order to assist businesses in finding the necessary safety supplies and personal protective equipment (PPE), the state has provided guidelines and a list of Massachusetts vendors. In addition, all businesses reopening must develop a written "COVID-19 control plan" outlining how the business will comply with mandatory safety standards. The state has made a template control plan available at its Reopening Massachusetts website.
It is nerve wracking, because we want to adhere to everything and so that everyone is safe and is kept healthy.

Myriame Pierre
Health and safety is one of the reasons the state decided to limit the reopening of retail shops. Starting next week, previously closed retail shops — such as those that sell clothing, toys, jewelry and recreational cannabis — can begin fulfilling curbside pickup and delivery orders.
This is was not what Margee Perez, owner of Finders Keepers consignment shop in Braintree, was hoping for.
"Yesterday, I was in such a happy mood. Today, now I'm all fired up," Perez said. "In my personal situation, I'm not doing curbside pick up ... so now I can't open for another three weeks."
Three weeks from this Monday, May 18, is the earliest phase two of the reopening plan could kick in, although state officials say it could take longer if data show the outbreak is worsening.
Other businesses that will have to wait until phase 2 include hotels and restaurants, including those attached to casinos, many personal services, such as nail salons, day spas, massage therapists, tattoo parlors and electrolysis. Phase three businesses tend to veer towards indoor recreation such as gyms, movie theaters, museums and concert halls. Larger venues, such as arenas, stadiums, nightclubs and race tracks, will have to wait until phase four.
Yesterday, I was in such a happy mood. Today, now I'm all fired up.

Margee Perez
Over in Jamaica Plain, Kim Mitchell, owner of Boing! Toy Shop, is not quite as eager to throw open her doors to the public yet. For weeks, she said she has been scraping by, taking orders online and shipping them out to customers.
"My retail store has basically turned into a warehouse," she said. It's not ideal, but she said she appreciates the gradual approach to reopening. "The business side of me says, 'Sure, I would love to be open,' " she said. "But I don't really think that we're ready."
Until phase two begins, restaurants will also have to wait to accept sit-down patrons. Which is actually fine with Bessie King, who runs Villa Mexico Cafe in the Financial District.
"I think overall we need to be very conservative in our steps to reopening," King said. "And I think that is the smartest way to go about this."
The safety guidelines the state put out on Monday were pretty confusing, she said, and it'll take time figure out how to implement them. Plus, she hopes that while they're doing that, customers can take the time to educate themselves.
"I'm concerned about what customers are going to come back," she said. "Whether customers are tired of being home, and they don't want to wear a mask, and they don't want to follow these guidelines, and when they walk into my restaurant they're going to hear, 'OK, only this amount of people are permitted in at a time. Only people with masks are going to be permitted in.' Are they going to get mad? Are they going to understand?"
If they don't, and the outbreak gets worse, she worries we could be having this "reopening" conversation again in a few months.
This article was originally published on May 18, 2020.
This segment aired on May 19, 2020.