Thousands March In Boston For Black Transgender Lives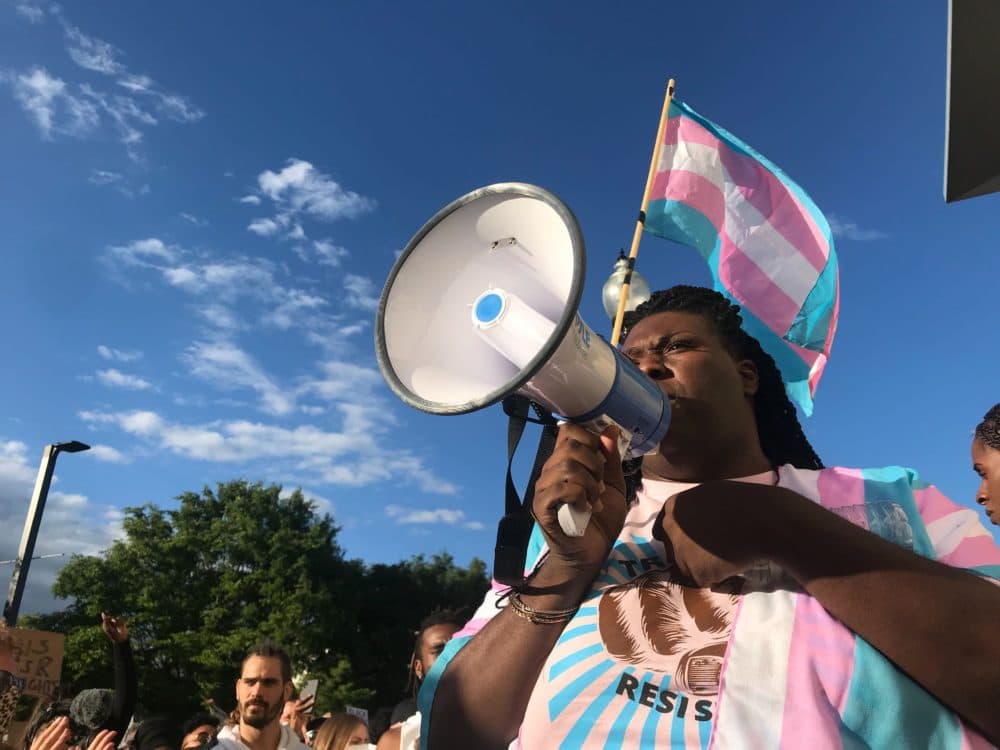 This article is more than 2 years old.
A day after the Trump administration rolled back healthcare protections for transgender people, a day after the U.S. queer community paused to recognize the 49 people killed in the Pulse night club shooting four years ago, and just days after two transgender women were murdered in the U.S., thousands gathered in Franklin Park for the "Trans Resistance Vigil and March" Saturday.
"This is not a Pride. Unfortunately, we're not celebrating happy things," said Chastity Bowick, executive director of the Transgender Emergency Fund of Massachusetts. "So it's time to put your fighting face on, your fighting shoes on, and get ready to march."
Despite Pride festivities being cancelled this year because of COVID-19, scores of people gathered at the park in Jamaica Plain to honor Black trans folks who started the Stonewall riots 51 years ago and to recognize the challenges Black trans women still face. Almost all were wearing masks.

The name of Marsha P. Johnson, credited for being instrumental in the fight for queer liberation, permeated throughout the vigil and the march.
Tre'Andre Valentine, a Black Trinidadian trans man who leads the Massachusetts Transgender Political Coalition, mentioned Johnson several times when he addressed the crowd. He said he's was happy to celebrate Black trans people instead of participating in a seemingly vacuous Pride parade.

"If it weren't my job to be at Pride, I wouldn't go," he said. "A lot of times when they talk about Black and brown people, it's just lip service. They never put community groups or organizations first in the march. It's always the corporations first: Bank of America, Liberty Mutual. If you have the money, you get put in front. And isn't that a theme throughout the history of this country?"
Valentine said he and other organizers were "floored" by the big turnout, especially during a global health crisis. But he said he wasn't completely surprised.
"Even before the pandemic, we were dying. Even before the pandemic, police were brutalizing us, dehumanizing us," Valentine said. "Pandemic or not, we're going to show up."
After the vigil and rally in Franklin Park, the thousands marched to the Boston Police Department's Roxbury station. On the way there, people waved blue, pink and white transgender pride flags, rainbow pride flags and chanted "f--k the police" and "Black trans healthcare matters" and "Black lives matter."

"Hey hey! Ho ho! These racist cops have got to go," the crowd shouted as they rallied in front of the station. About a dozen cops stood in front of the station.
Athena Vaughn, with the Massachusetts Transgender Political Coalition, energized the crowd, talking through a bullhorn, referring to the wooden batons cops brought out as "little sticks."
"You all need to do a better job at protecting and serving our community," she said to police standing silent in front of the station.
Then her voice got quieter and the crowd hushed. She turned to address the protestors.
"You cannot say all Black lives matter and the only talk about cis-gender Black heterosexual men," Vaughn said, to applause.  "It's impossible to walk around here, and want justice for Black lives, but ... [not] want justice for all Black lives."