ICE: International Students Whose Courses Are All Online This Fall Must Leave U.S.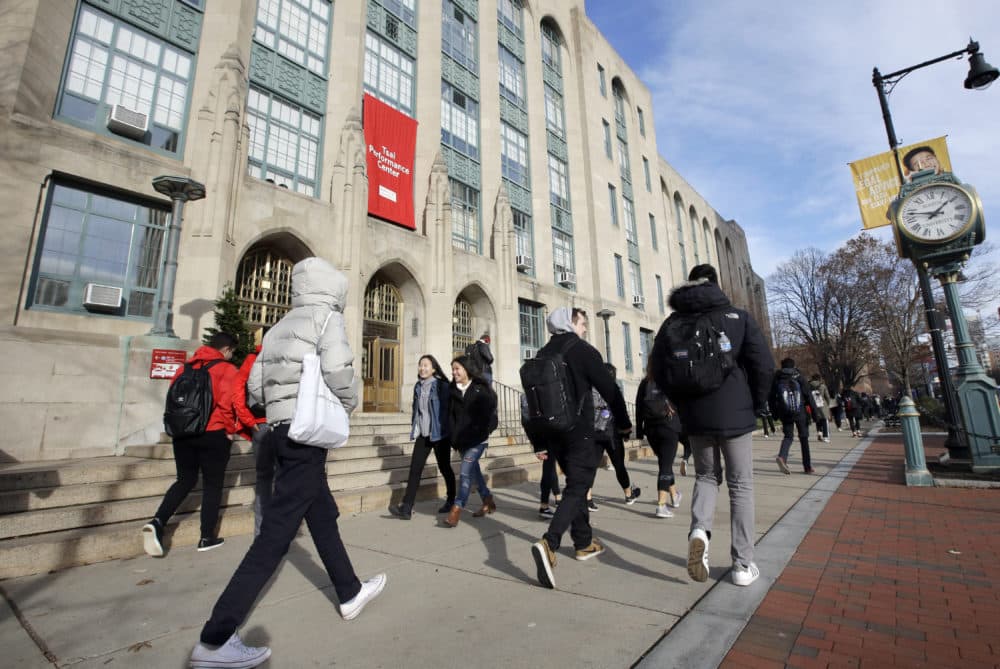 This article is more than 2 years old.
Colleges and universities continue grappling with plans to reopen for the fall 2020 semester, with some schools opting to have classes go fully online given the ever-evolving nature of the coronavirus pandemic and continued public health concerns.
But new guidance released this week by U.S. Immigration and Customs Enforcement (ICE) may change those reopening plans.
ICE, which oversees the Student and Exchange Visitor Program (SEVP), announced Monday that the agency is walking back exemptions issued in the spring which allowed international students on F-1 and M-1 visas to temporarily circumvent federal regulations around online studies.
"Due to COVID-19, SEVP instituted a temporary exemption regarding online courses for the spring and summer semesters. This policy permitted nonimmigrant students to take more online courses than normally permitted by federal regulation to maintain their nonimmigrant status during the COVID-19 emergency," the press release said.
Instead of maintaining the exemption into the fall semester, ICE will no longer permit international students studying with an F-1 or M-1 visa to remain in the U.S. if their course load for the fall is fully online.
According to the notice, the U.S. Department of State will not issue visas for students abroad who had planned to attend a school in the fall that is utilizing a fully online model, and U.S. Customs and Border Protection (CBP) will not allow students attending those schools to enter the country.
For international students already in the U.S. who are enrolled in such programs, ICE says they must either "depart the country or take other measures, such as transferring to a school with in-person instruction to remain in lawful status."
Harvard is one such school, and that poses a problem for its 8,800 students on F-1 visas.

Simge Topaloğlu — a third-year Harvard doctoral student in psychology — found out about the new rule in a group chat with other international students on Monday.
"When this was first shared... I just thought someone had misinterpreted it," Topaloğlu said. "But then I read the statement, and I couldn't believe my eyes."
If she's forced to return home to Istanbul, Topaloğlu will face late-night classes and the prospect of learning, teaching and conducting research while living with an elderly relative with a serious medical condition.
In a statement, Harvard's president Lawrence Bacow called the new rule "a blunt, one-size-fits-all approach to a complex problem," and pledged to fight to defend international students and their education.
Even at schools pursuing a hybrid model in the fall, international students have cause for worry.
Smit Kiri is seeking a master's degree in data science from Northeastern University. Kiri was born in Gujarat, India, and has asthma. He said the new policy presents international students like him with an impossible choice.
"I just feel that it's really unfair — that we have to risk our lives and go to the university even if we are, you know, at a higher risk of contracting the virus… or dying from it," he said.
Notably, ICE gave no indication as to when this rule will go into effect or whether there will be a grace period, and some colleges and universities are urging international students not to make decisions on their plans for the fall until more is known about the ICE policy.
Aaron Reichlin-Melnick, policy counsel at the American Immigration Council, says the new guidance  puts universities and colleges in the difficult position of choosing between what's best for public health and what's best for their international students.
"Why [ICE] made this decision now — four to six weeks before many schools start classes — is unclear, but what it has done is throw a lot of people's lives into confusion and put a ton of uncertainty on colleges' plans moving forward," he said.
Reichlin-Melnick said it's difficult to know the scope of the impact, since some universities and colleges may choose to alter their learning plan for the fall as a result of this new guidance. He said the rule is likely to be challenged in court.
According to the SEVP, there are nearly 77,000 international students in Massachusetts.
"All of this will of course be of a major benefit to Canada and other countries that have long competed with the United States for foreign students," he said. "And the downsides, of course, will be huge for local economies, for universities and for America's really powerful position as a world leader in education."
Gov. Charlie Baker was asked during a press conference Tuesday about the decision from ICE. He said the pandemic has created a situation where the rules governing safe travel are constantly changing.
"People ought to make the decisions they need to make at the time they need to make them with the best information they have," Baker said. "I think this one was a little premature."
This article was originally published on July 07, 2020.