A Guide To New England Drive-Ins And Outdoor Movie Pop-Ups
During this summer's COVID-cautious reality, drive-in viewing has become the go-to — often the only — way to see a movie, concert or sports event in public. Even without the usual Hollywood summer blockbusters (many releases have been pushed until indoor theaters can reopen), the region's established drive-ins and a plethora of pop-ups have stepped in to fill the void. Here's a round-up of where and when to see a wide assortment of movies and a few other events outdoors.
Please note that each venue has site-specific safety guidelines. In nearly all cases, reservations and payment, when applicable, must be made in advance. Moviegoers either need to remain in cars or wear face coverings outside of vehicles. Food and beverages can be brought and in some cases purchased on location. Attendees must carry in and carry out all trash. Sell-outs are common and, as a result, some venues plan to add more screenings to what's listed here. Reserve early and check venues frequently for updates.
Summer Selections
Where: Skowhegan Drive-In, Skowhegan, Maine
When: July 7-16
Highlights: The 23rd annual festival is part drive-in, part virtual screenings. From "Actually, Iconic: Richard Estes" — about the Maine modern artist — to a new title featuring Rhode Island's own Richard Jenkins ("The Last Shift"), this fest has the independent drive-in down pat.
Need to Know: Throwback screening "Latcho Drom" (1993), an extended music video of sorts, has never been released for home viewing.
Where: YMCA of Martha's Vineyard parking lot
When: July 8-18
Highlights: The MVFF's March festival always has a strong nonfiction line-up and this series follows suit. Titles like "John Lewis: Good Trouble" and "Us Kids," about teen students against gun violence, are planned along with locally shot "Jaws" and other classics.
Need to Know: Look for screenings with special guests like documentarian Dawn Porter, Spike Lee, and Parkland activists Samantha Fuentes and David Hogg.
Where: Topsfield Fairgrounds, Topsfield, Massachusetts
When: Every night through early fall
Highlights: So far, classics like "E.T.," "Jaws" and "Beauty and the Beast" populate the calendar but keep an eye out for new releases.
Need to Know: This could be the only drive-in serving up both fried dough and fried Oreos at its concession stand.
Where: Saugus, Massachusetts
When: Wednesdays and Thursdays
Highlights: Kowloon owner Bob Wong hit on something big with his drive-in car hop idea. "E.T." sold out. The screening of "Jurassic Park" on July 8 has already sold out. Every Thursday is "country night" with live music by Eric Grant. Check back for newly added movie titles.
Need to Know: No Scorpion Bowls, or alcohol of any kind, can be consumed in cars. Outdoor table seating available by reservation.
Where: O'Keefe Sports Complex, Salem, Massachusetts
When: Thursday, July 9
Highlights: Go for the Pride vehicle pageant. Stay for the movie. Numerous community organizations played a part in bringing "To Wong Foo, Thanks For Everything! Julie Newmar" to Salem. The city is testing the tech at this location for its series and may announce new movies soon.
Need to Know: This rescheduled Pride month event encourages attendees to dress up your vehicles but avoid hitting the horn or brakes (loud sounds are prohibited and brake lights may bother other attendees).
Where: Holmes Field, Plymouth, Massachusetts
When: Fridays, July 17-Aug. 7
Highlights: Four four Fridays this summer, a Trustees' property is transformed into a drive-in pop-up. Catch classics like "The Goonies" and "BIG" to family favorites like "Mrs. Doubtfire" and "Finding Nemo."
Need to Know: Tickets must be purchased online in advance of the film, and all visitors older than the age of two will be required to wear masks when outside their cars.
Where: Gillette Stadium Field, Foxborough, Massachusetts
When: July 9, July 16 and July 21
Highlights: See live soccer matches, played indoors with no fans, on Gillette's big screens as the Revs take on Montreal, Washington D.C., and Toronto in the MLS is Back Tournament.
Need to Know: Concessions will not be available inside the stadium but Patriot Place restaurants will be open for take-out.
Where: Marshfield Fairgrounds, Marshfield, Massachusetts
When: July 9-Oct. 22
Highlights: With no fair until 2021, Marshfield's historic fairgrounds have been transformed into a drive-in. "E.T.," "Jaws" and other classics fill the current docket with new listings added weekly.
Need to Know: The fairgrounds severed a deal with Mendon Twin Drive-In co-owner Dave Andelman after he mocked police protests on social media.
Yarmouth Drive-In on Cape Cod
Where: West Yarmouth, Massachusetts
When: Grand opening July 10
Highlights: This brand new venue boasts three screens bright enough to shine during daylight hours and one stage for live musical performances. "Jurassic Park" is slated for opening night with other movies, sports, music and comedy events to be announced soon.
Need to Know: This location housed the West Yarmouth Drive-In from 1958-1988.
Where: Cheshire Fairground, Swanzey, New Hampshire
When: Summer weekend nights starting July 10
Highlights: Tribute bands rule this drive-in concert series with Echoes of Floyd, Almost Queen, The Ghost of Paul Revere and others on deck for July.
Need to Know: You can bring your food but not your grill — cook your food in advance.
Where: Featherstone Center For the Arts, Oak Bluffs, Massachusetts
When: Tuesday nights, starting July 14
Highlights: Bring picnic fare to the free popular titles screened outdoors. The Martha's Vineyard Film Center will continue to offer virtual rentals and opens its main indoor theater on July 8. The Capawock and Strand Theaters will remain closed through 2021 due to COVID-19.
Need to Know: Though free, definitely reserve in advance. The July 14 screening of "Yesterday" is already sold out.
Where: Wellfleet Drive-In, Wellfleet, Massachusetts
When: July 16-17 at the drive-in; virtual and other events through July 19
Highlights: PIFF "reimagined" is a reboot of a festival that typically happens in June. This year, it opens with two nights at the drive-in ("I Am a Town" by Ptown native Mischa Richter and "Save Yourselves!" about a couple who can't put down their phones) with the remainder of titles to screen virtually, along with many special events.
Need to Know: John Waters will make an appearance, but those details are forthcoming.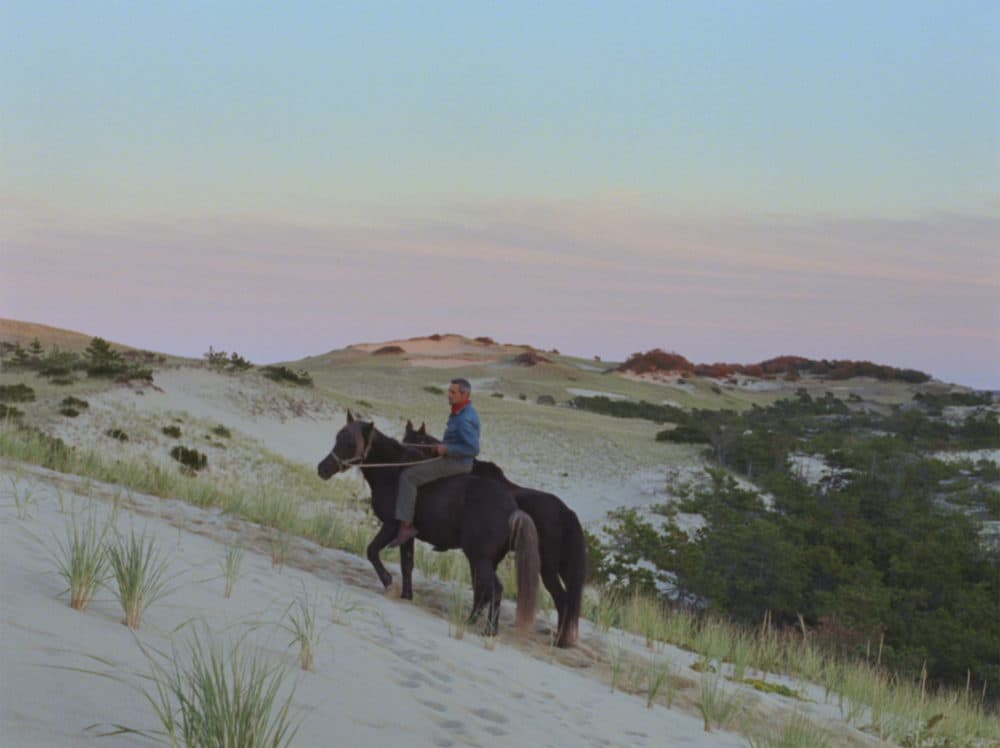 Where: Saint Theresa Avila parking lot, West Roxbury
When: July 18
Highlights: Bill Murray, Andie MacDowell, a flip number alarm clock and a song by Sonny & Cher star in this do-over (and over and over) comedy about re-living "Groundhog Day."
Need to Know: All proceeds benefit the Jamaica Plain Main Street COVID Relief Fund.
Where: Suffolk Downs clubhouse parking lot, East Boston
When: Thursday nights July 16-September 10
Highlights: The series kicks off with "Grease" and "Field of Dreams." Plans for new titles, including some Spanish language films, to be announced biweekly.
Need to Know: Known as a (now closed) race track, from 1957-1970 this site housed a drive-in.
Where: Derry, New Hampshire
When: Summer, Thursdays-Sundays
Highlights: This music venue has diligently turned dozens of canceled indoor shows into outdoor "drive-in experiences." Upcoming highlights include Eagles tribute band EagleMania and blues group Ronnie Earl & The Broadcasters.
Need to Know: In addition to the drive-in ticket option, an on-site outdoor restaurant opened in mid-June and requires a different ticket. Reservations strongly recommended.
Where: Randolph, Massachusetts
When: Wednesdays and Thursdays throughout summer
Highlights: "The Secret Life of Pets" and "Forrest Gump" are scheduled for July 8 and July 9 respectively. Food is available on-site. The "tailgate sausage" comes with peppers and onions.
Need to Know: Dogs can join you, on a leash. BYO water bowls.
Currently Sold Out
Where: Boston Convention and Exhibition Center parking lot
When: Wednesday nights in July
Highlights: All free and family-friendly, the series is heavy on Disney with a dash of Beatles ("Yesterday") and a heroine of American history, Harriet Tubman ("Harriet").
Need to Know: At press time, all events were sold out.
Where: First Beach, Newport, Rhode Island
When: July 9
Highlights: The documentary "The Cost of Silence" takes on the immeasurable costs of oil spills and the policies that protect the oil industry.
Need to Know: Future documentary titles at other venues near Aquidneck Island will be announced soon.
Where: Nantucket, Massachusetts
When: Nightly
Highlights: A newly-purchased DCP (digital cinema projector) will allow this Nantucket venue to screen "Tenet" and other new releases along with a robust selection of classics like "Easy Rider" and "The Birds."
Need to Know: Check out a live harbor view from the historic theater's webcam.
More New England Drive-Ins
TBA Pop-Ups
Past Pop-Ups — Maybe They'll Return?
This article was originally published on July 09, 2020.