Beat The Pandemic Blues With Blueberries: A Guide On How And Where To Pick Safely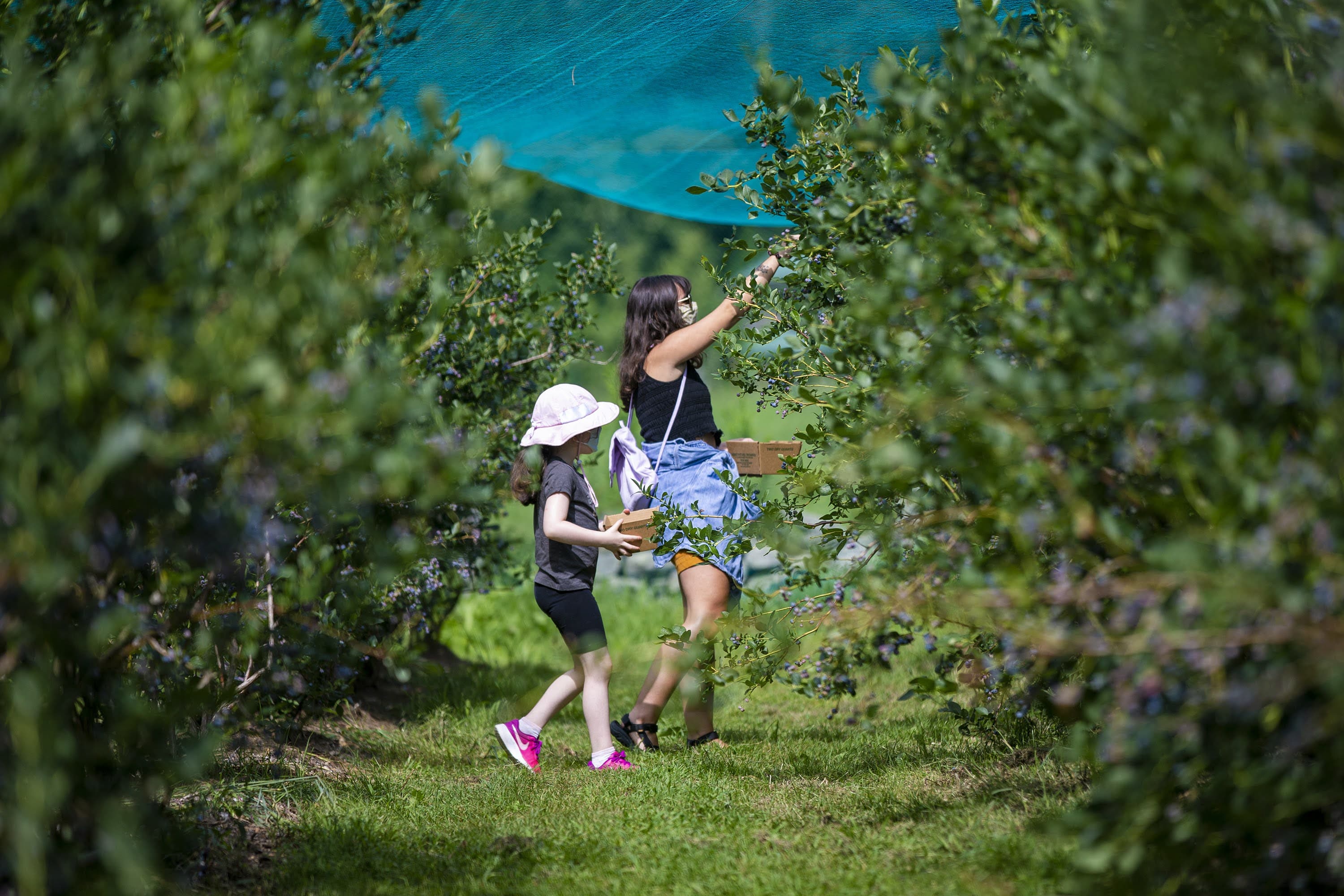 This article is more than 2 years old.
Maine might be famous for their teeny, deep blue orbs, but plenty of Massachusetts farms are bursting with ripe blueberries in August. Spending an hour filling baskets and buckets in a blueberry patch can offer some sweet meditative relief from our daily pandemic worries. But like everything these days, picking your own fruit on a farm is different this year. So we compiled a brief guide to help potential pluckers navigate their adventures.
The Massachusetts Department of Agricultural Resources created COVID-19 guidelines for Pick-Your-Own (PYO) farms and they're largely what you'd expect: wear masks, stay six feet away from other pickers, abide by the abundant signage, engage with the hand-sanitizing and hand-washing stations upon arrival, don't go to the farm if you're not feeling well, if the parking lot is full when you arrive please leave and come back later or on another day.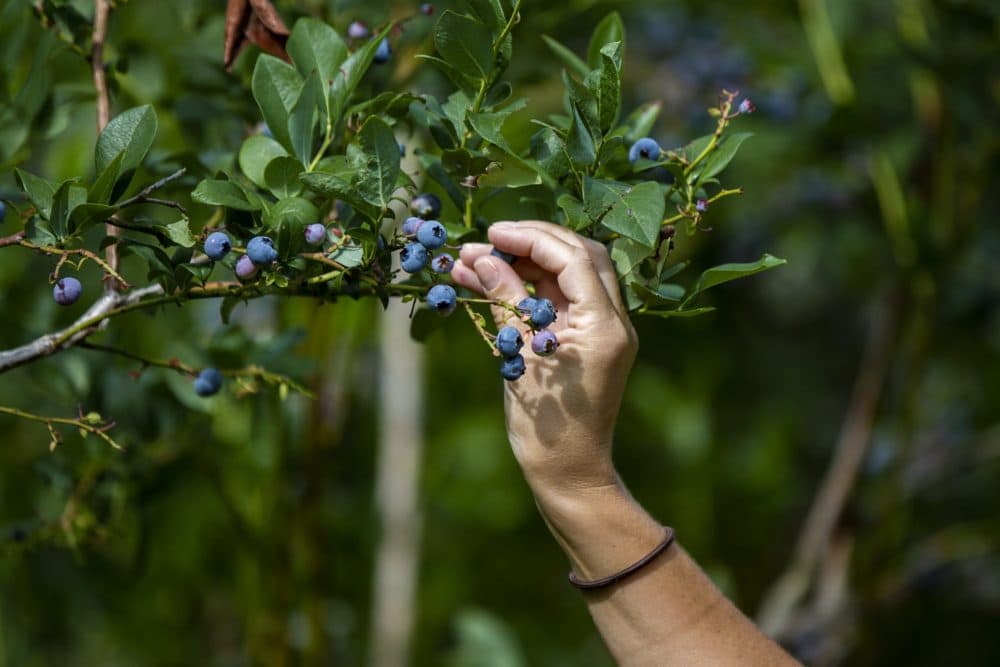 Other rules are more specific to the task at hand: don't bring your own berry containers, wash your hands before entering the blueberry patch, and — as difficult as it might be — resist the urge to pop fresh blueberries in your mouth while picking.
The farms themselves are being asked to ensure no more than 30%, or 114 customers, be allowed per acre at any one time. Smaller farms can accommodate eight to 10 customers per 1,000 square feet. Check-in tables, carts, wagons and buckets will be sanitized and disinfected frequently. Payment will be cashless. To control crowds, some farms have adopted reservation systems.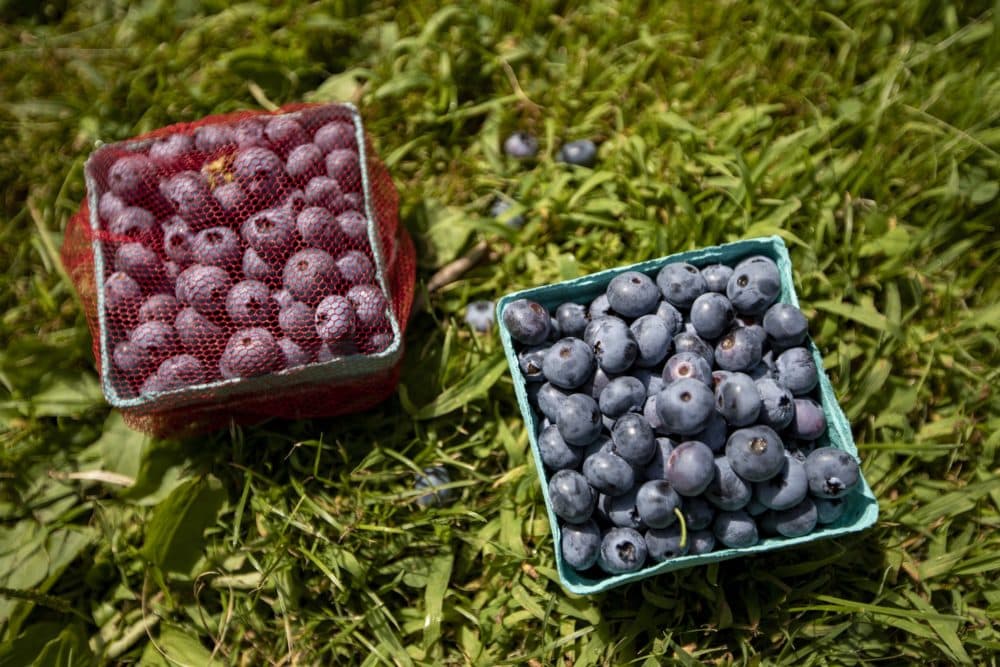 Here's a sampling of farms that have adapted to socially-distanced PYO blueberries:
FYI: At some of the farms, blueberry season has already ended so check websites or call ahead to avoid disappointment. A few are adding or switching to PYO peaches soon. Some are looking ahead to the season celebrating our quintessential New England fruit, apples.
Farms That Require Reservations
I found my thrill on a weekday morning at the family-run Honey Pot Hill Orchards, which is famed for its apple picking and has been run by the Martin family since 1923. Reservations (which allow for three visitors per reservation) are recommended, but if the headcount hasn't reached capacity walk-ins will be welcome. Please check-in at the farm stand where you'll also be purchasing your containers. They ask you to bring your confirmation email/receipt. Honey Pot has animals on-site, including piglets and a bunch of goats, so there are sinks with soap and water near their pens if you want to say hi. Farm manager Chelsea Martin said the blueberry crop was productive and picking has been steady. Now, they're bracing for the much busier apple picking season that starts around Aug. 20.
The Gianetti family's farm has scheduled picking slots through late-August on Fridays and Saturdays, but walk-ins are welcome on these days between 2 and 4 p.m. Be warned: slots could be canceled if the farms get "picked out."
C.N. Smith Farm
East Bridgewater, Massachusetts
C.N. Smith Farm's two acres of mid- to late-season blueberry varieties are open and pickers can book a slot two days in advance. Like at Honey Pot Hill, each reservation allows for three people. Admission is paid for in advance online. The family-owned farm is offering special picking hours for people ages 60 and older. In an email, farm managers Kate and Emily Smith said once people arrive they are assigned a picking location and given a one-time-use container. "We are happy to be able to offer PYO this year as it is a great way for families to safely get outside and spend time together," they wrote, adding this year's crop has been great and is peaking right now. Apple picking is up next beginning Labor Day weekend and will also require reservations.
No Reservations Needed
When I spoke with Pat Concree at The Blueberry Farm (the name says it all!), she and her husband Jack were praying for rain but said their sole crop has been thriving this summer. They bought the land and its 2,000 blueberry bushes 33 years ago. The 75-year-old bushes have provided a bumper crop that can be picked Monday, Tuesday and Wednesday between 8 a.m. to 2 p.m., and Saturday and Sunday 8 a.m. to 4 p.m., weather depending.
The blueberry bushes are open daily for picking at Sunshine Farm, from 9 a.m. to 3 p.m. According to the farm's website, peaches are also ripe for the picking in August. They say it will be a light one this year. Be warned, no dogs are allowed. Check the farm's Facebook for conditions.
Blueberry picking has already closed for the season at Boston Hill Farm, but peach picking is still happening. In an email, farm manager Cheryl Farnum said the fields are spread out so the experience doesn't feel much different. They just ask customers to purchase a bag or container in the farm store and to wear a mask in the orchard. Boston Hill Farm is open from 9 a.m. to 6 p.m. every day.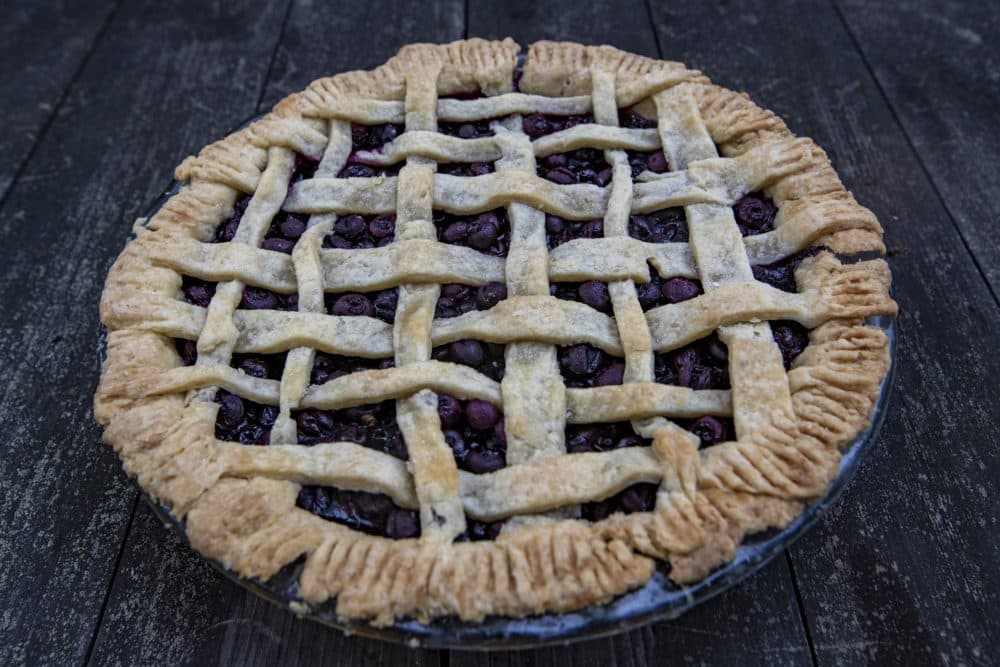 Once you have your blueberries, you might be wondering what to do with them. Well, we have an idea: make pie! The ARTery is going to be celebrating this classic baked dish Sept. 8-10 with our first-ever Pie Fest. We'll be hosting a live event with Elle Simone of America's Test Kitchen and sharing a roundup of reader recipes. Have a favorite you'd like to share? Send it to us here: Pie Fest recipe submission form.