Apple, Peach, Potato And Pork — It's The WBUR Pie Fest Reader Recipe Roundup
This article is more than 2 years old.
From cranberries to blueberries, to savory spinach and leek — WBUR readers sent in their favorite pies for our Pie Fest recipe roundup and there is a type of pie for whatever mood you might find yourself in. Have a hankering for a silky pie? Try Jessica Coughlin's Star of David Pie. Craving something with a more tart taste? Whip up Judith Chasin's Cape Cod Cranberry Pie.
Try out the recipes below and if you make one you're particularly proud of, share a photo with us on social media!
SWEET PIES
Marlborough Pie
From Paula Marcoux
A lemon-inflected rich apple custard, this once-popular, now-vanished pie is as quick to put together as it is delicious. Its extinction by the early years of the 20th century is a mystery.
Ingredients:
4 eggs
4 ounces sugar
4 large apples, stewed and strained, or 1 cup fresh, tart applesauce
1 lemon, zested and juiced
4 ounces butter, melted
unbaked pastry shell
Directions: Preheat the oven to 350 degrees. Whisk the eggs until frothy, then whisk in all the other filling ingredients. Pour into pastry shell and bake for 50-65 minutes, depending on your pan choice and oven. The pie should be just set up and the palest golden brown. Cool on a rack and serve warm or cold.
---
Berry Cordial
From Melissa at Blackbird Baked Goods
Ingredients:
525 grams fresh berries: strawberries, blueberries, raspberries and blackberries (frozen work just as well)
108 grams granulated sugar
1 1/2 teaspoon lemon juice
20 grams corn starch
1 tablespoon unsalted butter
1/4 cup heavy cream
3 ounces dark chocolate (cut into small bits for easier melting)
Directions: Partially bake your base crust. [Perhaps try your hand at making one of the other contributors' homemade crust recipes!] In a double boiler, add the heavy cream and mix in the dark chocolate. Mix until the chocolate is fully melted and incorporated. Pour into parbaked crust to cool.
In a medium saucepan, combine berries, sugar and lemon juice over medium heat. Simmer the berries until very juicy. Be gentle to keep as many berries together as possible. Take out 1/4 cup of juice and discard. (It would be too much liquid if you left it in.) Take out another 1/4 cup of juice and whisk well with the corn starch to make a smooth slurry. Pour the corn starch slurry back into the saucepan until the berry mixture thickens to a usual pie filling consistency. Carefully, pour berries over the chocolate to maintain the layers. Top with your favorite crust design, then egg wash and sugar the top. Bake at 400 degrees for 40 minutes. (Check after 20 to see if you need to cover it with foil.)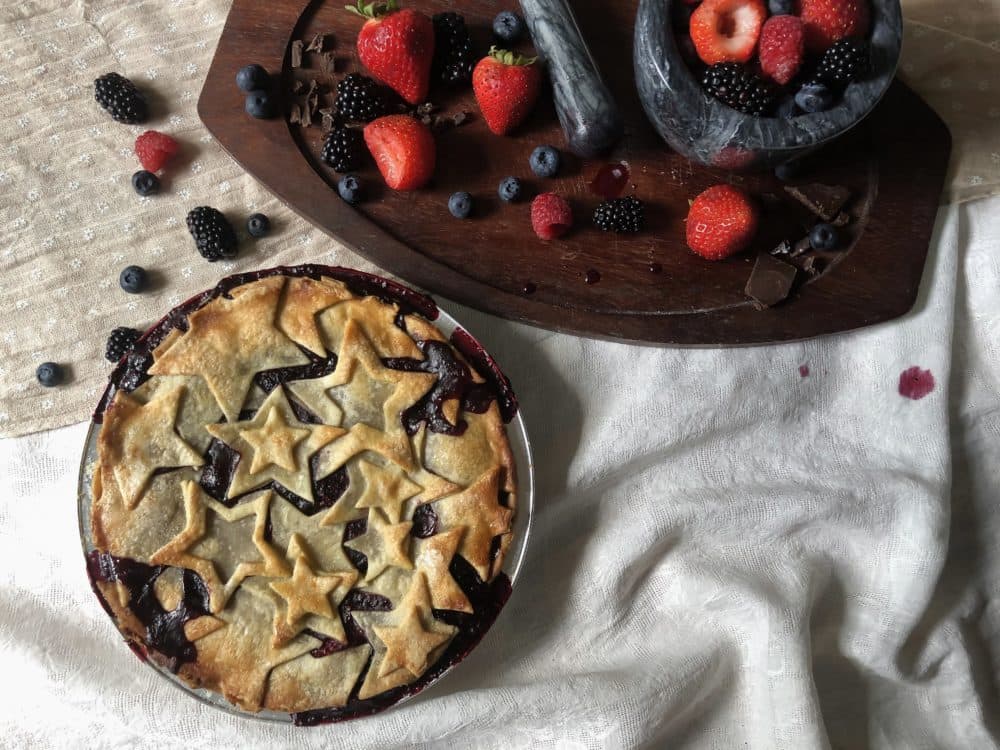 ---
Star of David Pie
From Jessica Coughlin
Crust
Ingredients:
4 egg whites
1/4 teaspoon cream of tartar
1 cup sugar
Directions: Combine egg whites and cream of tartar. Beat well. Add sugar slowly, continue beating. Spoon into well-buttered, 9-inch pie plate. Bake at 300 degrees for one hour and cool completely.
Filling
Ingredients:
8 egg yolks
1 cup sugar
3 teaspoons zested lemon rind
6 tablespoons lemon juice
1/2 pint heavy cream
Directions: Beat egg yolks and add sugar slowly. Add rind and juice. Place in top of double boiler and cook, beating continuously until thick. Cool completely.
When the crust is cold and filling cooled, beat whipping cream until thick. Place a layer of cream on the meringue crust. Fold the rest of the cream into the thickened lemon filling and refrigerate. The pie will be ready to serve in two hours.
---
Nantucket Cranberry Pie
From Laurie Colwin by way of Margaret Low
Ingredients:
2 cups chopped cranberries
1/2 cup chopped walnuts
1 1/2 cups sugar
2 large eggs
1 1/2 sticks butter, plus enough butter for a 10-inch pie plate or springform pan
1 cup flour
1/4 teaspoon salt
1/4 teaspoon almond extract
Directions: Preheat the oven to 350 degrees. Mix the 2 cups chopped cranberries and 1/2 cup chopped walnuts and 1/2 cup sugar and put in a buttered 10-inch pie plate or springform pan. Mix 2 large eggs, 1 1/2 sticks butter (melted and cooled), 1 cup sugar, 1 cup flour, 1/4 teaspoon of salt and 1/4 teaspoon almond extract. Stir the batter until it is smooth and pour it over the cranberry walnut mixture. Bake the pie (that's kind of like a cake!) in the middle of the oven for 40 minutes, or until a toothpick comes out clean.
---
Hand Pies
From Amy Halloran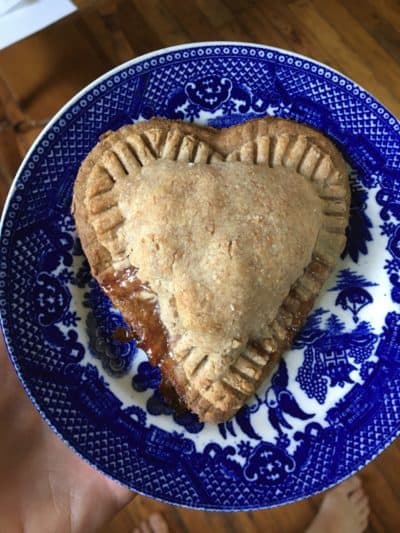 Ingredients:
2 cups whole grain flour (spelt is my favorite)
1/4 teaspoon salt
1/2 cup (1 stick) cubed butter
1 egg
1/4 cup ice water
Jam or cooked fruit of your choice
Directions: Cut the butter into the flour and salt using a pastry cutter, or a food processor. Lightly whisk together the egg and ice water, and add to the flour mixture. Divide dough into two rounds and refrigerate for an hour, or overnight.
On a lightly floured surface, roll each half into a 10x10-inch square. Cut into four rectangles or use a biscuit cutter to make rounds. Put 1 to 1 1/2 tablespoons jam in the center. Be careful not to add too much! Fold one side of the rectangle over, or double up circles of dough. Pinch edges with a wet fork, and poke some vents on the surface.
Place on a greased cookie sheet and brush with milk to get a shiny crust. Bake in a preheated at 375 degrees oven for about 15-20 minutes, depending on size.
Note: If you use uncooked pie filling, it will take a bit longer to cook.
---
Cape Cod Cranberry Pie
From Judith Chasin
Ingredients:
2 cups cranberries
1 cup sugar
1/2 cup chopped walnuts
2 eggs well beaten
1 cup flour
1/2 cup melted butter
1/4 cup melted coconut oil
Directions: Preheat oven to 325 degrees. Spread cranberries in the bottom of a well-greased 10-inch pie plate. Sprinkle half of the sugar and the walnuts on cranberries. Beat remaining sugar with eggs, add butter, flour and oil and pour over cranberries. Bake about an hour, until crust is golden brown.
---
Quadruple Berry Pie
From Kristi Perry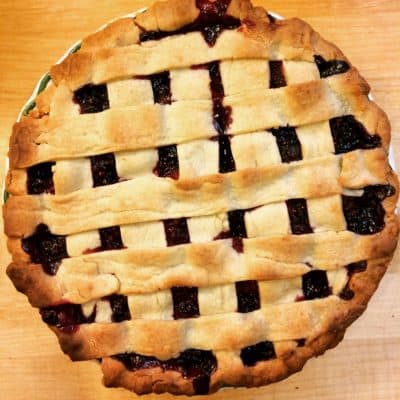 Ingredients:
1/2 to 3/4 cup white sugar (depending on level of desired sweetness and ripeness of berries)
1 tablespoon lemon zest
3 tablespoons cornstarch
1/4 teaspoon salt
4 teaspoons ground cinnamon
4 to 4 1/2 cups fresh blueberries, blackberries, raspberries, strawberries (or 2 packages frozen berries, thawed and drained). Note: Chop the strawberries in half or quarters if large; use 4 cups if berries are large.
2 pre-made or handmade pastry dough for a 9-inch pan, double-crust pie
2 tablespoons unsalted butter
Directions: Preheat oven to 375 degrees. Mix sugar, lemon zest, cornstarch, salt and cinnamon and then toss gently into berries. Line the pie dish with one of the rolled out pastry crusts. Pour the berry mixture into the crust. Cut butter into small pieces and dot around the berries. Cut the second pastry into 1/2 to 3/4 inch wide strips and make a lattice top and then crimp/flute the edges. Bake on the lower shelf of your oven for approximately 45-50 minutes, or until the crust is golden brown. Line rack below with foil to catch possible drippings.
---
Palisade Peach Pie
From Beth Bianchi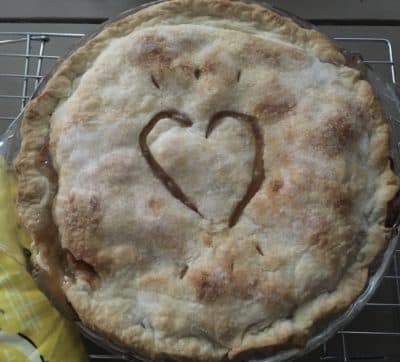 Ingredients:
Pastry for a double-crust pie (I use a pâte brisée butter crust)
6 cups peaches (Palisade peaches are from Colorado)
1/2 cup sugar
2 tablespoons tapioca or 3 tablespoons tapioca flour
2 tablespoons cornstarch
1/2 teaspoon cinnamon
1/8 teaspoon salt
Directions: Stir together dry ingredients and pour over sliced and peeled peaches. Pour into chilled pie dough and cover with top crust. (I draw a design on my top crust.) Bake at 375 degrees for 50-60 minutes, until golden and bubbly. Let cool for 1 hour before serving. Enjoy!
---
Martha's Pies
From Martha Eddison Sieniewicz
Crust
Ingredients:
2 sticks unsalted butter (out of the fridge for 20 minutes)
2 and 5/8 cups flour
1 teaspoon salt
1 handful sugar
Directions: With a pastry blender, cut together flour and butter until the lumps of butter are the size of lima beans. Add approximately 1/2 cup of very cold water. Cut together until the mixture starts to hang together in little "rags." (Beware of overmixing!) Ball up this miserable-looking mess rather roughly and chill for two hours in a big ziplock bag. (It also works to chill it overnight.)
After chilling, take out the dough and let it sit for 20 minutes before rolling into a miraculous crust. Remember: At this stage, visible smears of butter are not a sign of failure, but rather a thrilling promise of flakiness to come. This recipe will produce a full top and bottom crust — or a bottom crust and a lattice.
Fillings
Apple Pie:
5 big or 6 medium apples (I like Cortlands or Granny Smiths or a mix), peeled, cored and sliced
3/4 to 1 cup sugar (white, brown or a mix), according to your taste
Handful of flour
Cinnamon until it's the right taste/color
Directions: Pile the mixture in the lower crust and dot the top with little bits of butter (approximately 1.5 tablespoons total). Bake at 400 degrees for 45 minutes. Check the pie and add more time (likely 5-7 minutes) until the fruit has just boiled over and the crust is nicely browned at the edges. Browner is better!
Strawberry-Rhubarb Pie:
4 cups chopped rhubarb (if you have washed it, make sure you dry it before chopping)
1 cup sliced strawberries
1 1/4 cups sugar
A few drops of vanilla
Several handfuls of flour
Directions: Mix the ingredients and pour into the pie shell. Dot the top of the mixture with little bits of butter (around 1.5 tablespoons total). Cover with the top crust. (This one is especially nice when it has cooled a bit but is still warm. Try adding a scoop of vanilla ice cream.)
Peach Pie:
5 big or 6 medium ripe peaches
3/4 to 1 cup sugar, according to your taste. (White, brown or a mix. I prefer dark brown.)
Handful of flour
1/8 teaspoon of ground ginger (Not necessary if the peaches are perfectly ripe)
Directions: Put the peaches in a heat-proof bowl. Pour boiling water over them until they are covered. Let stand for 3-5 minutes and then drain the water. (You can cool the peaches down by adding some cold water at this point, or by just waiting a few minutes.) Use a sharp knife to make a slit in each peach; thanks to the boiling water, the skins should come off easily.
Slice the peaches just as you would apples, discarding the pits. Mix them in a bowl with the sugar, flour and ginger, and then pile them into your bottom crust. Dot the top of the peaches with little bits of butter (about 1.5 tablespoons total) and cover with a lattice crust. Bake at 400 degrees for 40 minutes. Check the pie and add more time until the fruit has just boiled over and the crust is nicely browned at the edges.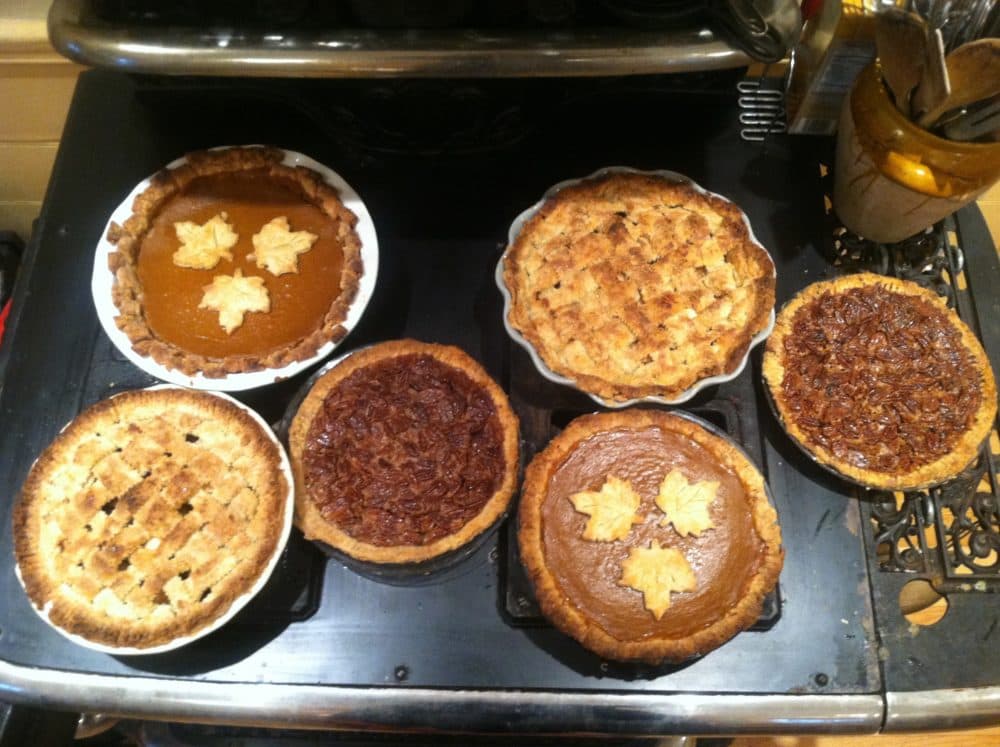 ---
Granola Crumble Breakfast Pie
From Ellen Gray
Crust
Ingredients:
1 cup white whole-wheat flour (I use King Arthur)
3/4 cup old-fashioned oats
2 tablespoons dark brown sugar
1/4 teaspoon kosher salt
2 teaspoons ground cinnamon
1/4 teaspoon ground cardamom
1/2 cup (4 ounces) cold, unsalted butter cut into cubes
2 tablespoons cold apple cider
Directions: Preheat the oven to 375 degrees. In a large bowl, whisk together flour, oats, brown sugar, salt, cinnamon and cardamom. Use your fingertips to incorporate the butter cubes with the dry ingredients making sure it is well combined but there are still some larger pieces of butter in the mix. Drizzle in the cold apple cider and use a fork or your fingers to incorporate it into the crust. Loosely gather the mixture together (without packing it tightly) and cover the bowl with plastic wrap. Refrigerate the crust mixture for 15 minutes. Lightly butter a 9-inch glass Pyrex pie plate. Retrieve the crust mixture from the fridge and sprinkle it evenly over the bottom of the pie plate (it should be about a 1/4-inch thick) and then use your fingers to evenly pat the remaining crust mixture up the sides of the plate. Refrigerate the pie crust for 10 minutes. Place the pie plate on a baking sheet and bake on the middle shelf of the oven for 8 minutes. Carefully remove the baking sheet from the oven and set it down on a heatproof surface. Use a 1/4-cup measuring cup to gently press the crust down. Return the baking sheet with the pie plate to the oven and bake an additional 6-8 minutes, just until golden. Set aside to cool on a rack while you prepare the topping and the filling.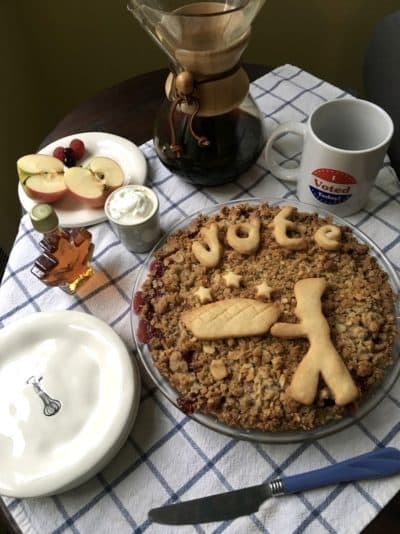 Crumb Topping
Ingredients:
1/4 cup dark brown sugar
2 tablespoons granulated sugar
3/4 cup old-fashioned oats
1/3 cup white/whole wheat flour
1/2 teaspoon kosher salt
1/8 teaspoon cinnamon
1/8 teaspoon cardamom
1/4 cup (2 ounces) cold, unsalted butter, cut into 1/2-inch pieces
1/4 cup walnuts, almonds or pecans, coarsely chopped
Directions: In a large bowl, stir together the brown and granulated sugar, the oats, flour, salt, cinnamon and cardamom. Add the butter pieces, tossing them to coat with the crumb mixture until the butter is incorporated with small pieces of butter still visible. Stir in the nut pieces. Place the topping mixture in the refrigerator for 15 minutes.
Filling
Ingredients:
2-3 baking apples (about one pound) peeled, cored, sliced thin (choose apples that are flavorful and hold their shape; I used Macoun and Honeycrisp)
2-3 firm but ripe pears, peeled, cored, sliced thin (I used Bosc and Anjou)
1 cup assorted fresh or frozen berries (raspberries, strawberries and/or blueberries)(Note: You should have 5 cups of fruit, total)
zest and 1 tablespoon of juice from one small lemon
1/4 cup dark brown sugar
1-2 tablespoons good quality maple syrup (depending on sweetness of fruit)
1/2 teaspoon cinnamon
1/4 teaspoon cardamom
2 tablespoons cornstarch
Directions: Place the fruit in a large bowl and toss with the zest and lemon juice. In a medium bowl, whisk together the sugar, maple syrup, cinnamon, cardamom, and cornstarch. Add the sugar/spice mixture to the fruit, turning to combine with a rubber spatula.
​
Scrape the mixture into the cooled pie shell. Retrieve the crumb topping from the fridge and sprinkle it evenly over the fruit. Place the pie on a baking sheet and bake on the middle rack of the oven (heated to 375 degrees) for 30 minutes. Cover the top of the pie with parchment paper (to prevent over-browning) and bake for an additional 10-15 minutes. The fruit should bubble around the edges and the crumb topping should be golden. Set aside to cool before slicing. Serve with plain, unsweetened yogurt and a drizzle of maple syrup, if you wish.
---
SAVORY PIES
Spinach Pie (Gluten-Free)
From Robin Inman
Ingredients:
3 eggs
16 oz. cottage cheese
1/8 teaspoon salt
1/8 teaspoon cayenne
pinch nutmeg
10-ounce box frozen spinach, thawed and squeezed dry
1 1/2 cup shredded cheddar cheese
1/2 red pepper, diced
Directions: Whisk together eggs; whisk in cottage cheese and spices. Stir in remaining ingredients. Bake in a greased pie plate at 325 degrees for 40 minutes.
---
Leek and Potato Pie
From Kate Macdonald by way of Cindy Chabot
Ingredients
Vodka Pie Crust:
2 1/2 cups (12.5 ounces) unbleached all-purpose flour
1 teaspoon table salt
cayenne pepper (optional)
12 tablespoons (1 1/2 sticks) cold unsalted butter, cut into 1/4-inch slices
1/2 cup cold vegetable shortening, lard, or additional butter
1/4 cup cold vodka
1/4 cup cold water
Filling:
3 small potatoes (about 225 grams or 8 ounces) cut into small pieces
2 small leeks (if you double the recipe, 3 big leeks), wash and thinly slice white and green parts into rounds
60 ml (4 tablespoons) olive oil
2 garlic cloves, diced
10 ml (2 teaspoons) each chopped fresh thyme and sage
30 ml (2 tablespoons) Basil pesto (or any saucy thing)
30 ml (2 tablespoons) capers in brine, drained
125 grams (4 ounces) Gruyere or cheddar cheese, grated
salt and pepper to taste
Directions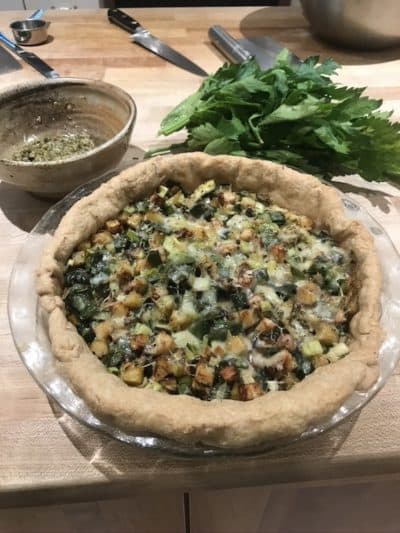 Pie Crust: Process 1 1/2 cups flour and salt in a food processor until combined, about two one-second pulses. Add butter and shortening and process until homogeneous dough just starts to collect in uneven clumps, about 15 seconds (dough will resemble cottage cheese curds and there should be no uncoated flour).
Scrape dough off the sides of the bowl to redistribute evenly around the processor blade. Add remaining cup flour and pulse until mixture is evenly distributed around the bowl and mass of dough has been broken up, four to six quick pulses. Empty mixture into a medium bowl.
Sprinkle vodka and water over the mixture. Fold the dough and liquid together. Divide dough into two even balls and flatten each into a 4-inch disk. Wrap each in parchment paper then put in a plastic bag and refrigerate at least 45 minutes or up to two days.
Roll out pastry dough, place in pie plate, prick with a fork, support with parchment paper and tin foil, pre-bake for 12 minutes at 375F
Filling: Cook the potatoes (boil, roast or grill) until just tender.
Heat oil in a frying pan and add leeks until almost softened. Add garlic, herbs, salt and pepper and fry gently another 3-5 minutes, or until softened and lightly golden, remove from heat. Mix in potatoes and capers.
Spread the pesto on the pastry base, then top with the leek and potatoes mixture.
Scatter grated cheese on top. Bake the tart in the oven for 20-25 minutes at 375 degrees until the cheese is melted and golden. Serve with a salad of your choice.
---
My Mother's Canadian Pork Pie
From Helen Boudreau
Ingredients
Pie Crust:
1 cup Crisco or other solid, white vegetable shortening
2 3/4 cups all-purpose flour, plus some for rolling crust
1/4 cup Bisquick or Jiffy mix
1 1/2 teaspoons salt
1/4 to 1/3 cup very cold water, add as needed
Filling:
1 pound ground pork
1 tablespoon dried minced onion
Salt and pepper, to taste
Water
1 teaspoon ground cloves
1 teaspoon ground cinnamon
1 teaspoon allspice
Approximately 3/4 cup dry mashed potato flakes
Directions: For the crust, stir salt into the flour, then cut in the shortening with a pastry blender or two table knives until mixture is coarse, with no lumps of shortening larger than a pea. Add water a few spoons at a time until the crust holds together in a ball. Set aside while you prepare the filling.
Put the pork in a 3-quart kettle. Break up with a spoon. Add dried onion, salt and pepper to taste and cover with water to a depth of approximately 3/4 to 1 inch above the meat. Cook over medium heat, stirring frequently to break up any clumps until all pink color has disappeared and meat is cooked through. Add spices. Stir well to distribute seasoning. Gradually stir in mashed potato flakes until the mixture resembles slightly loose mashed potatoes. Adjust seasonings if you prefer a more heavily spiced pie. Remove from heat.
Roll one half of the crust to fit a 9-inch pie plate. Add filling. Roll remaining crust to cover. Seal and crimp edges in whatever style you like. I press the edges together with tines of a fork. Cut a few vents to allow steam to escape. Bake in the center of oven at 400 degrees for 20 to 25 minutes, until crust is nicely browned.
Serve hot, or refrigerate and reheat on another day. The entire pie or individual slices freeze well. (I do not recommend heating in the microwave as it ruins the crust.)
This pie is a traditional French Canadian Christmas Eve treat. I make this pie often during the winter months, freezing to dole out as wanted or needed. A number of special friends have come to expect this pie each year as their Christmas or birthday gift.